What The Cast Of Ned's Declassified School Survival Guide Looks Like Today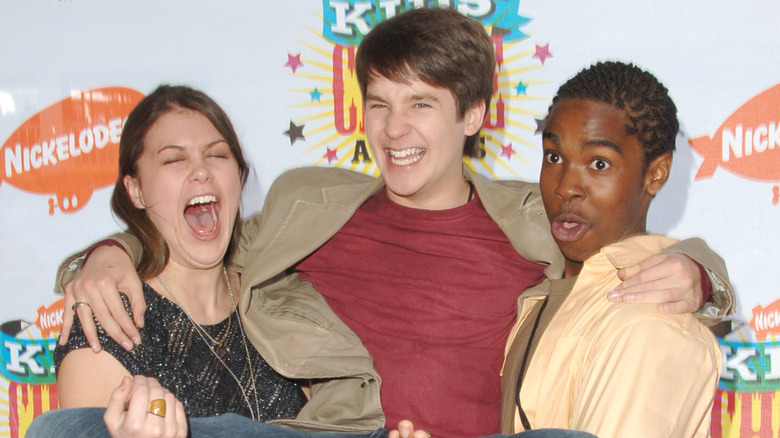 Jon Kopaloff/Getty Images
If you grew up in the 2000s and were a fan of Nickelodeon shows, you definitely saw at least one episode of "Ned's Declassified School Survival Guide." The show followed Ned Bigby and his friends and classmates at James K. Polk Middle School as they tried their best to survive middle school. In the meantime, Ned shared with audiences what he learned along the way. The show was known for the characters' silly antics and humor, and it left a legacy as an unproblematic and beloved show that many fans believe deserves a reboot.
The cast of "Ned's Declassified School Survival Guide" apparently did survive middle school, and they're doing quite well for themselves. Some are still acting while others have taken different paths, but they could all add a few chapters to an adulthood survival guide. Here's what the cast of "Ned's Declassified School Survival Guide" looks like today.  
Devon Werkheiser has two podcasts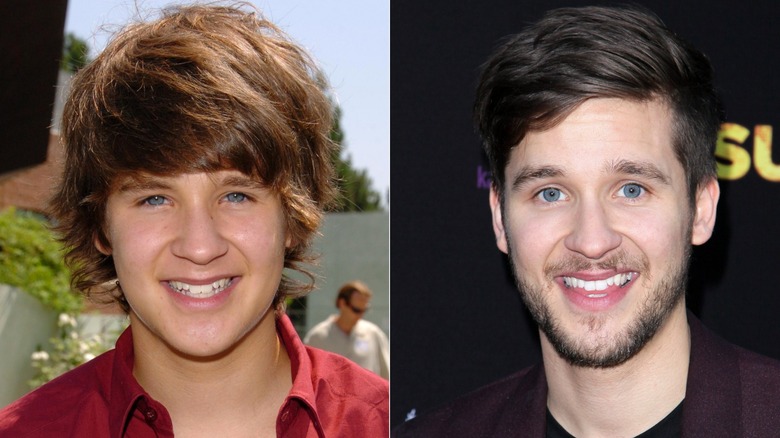 Paul Redmond/Getty & s_bukley/Shutterstock
If there's one character from "Ned's Declassified School Survival Guide" you'd recognize, it's Ned Bigby himself, the character who wrote the titular survival guide and narrated the series. Devon Werkheiser, who played Ned, has been keeping busy since the show ended, pursuing multiple creative outlets. Werkheiser still acts, and he releases music under the name Good/Vlly. But perhaps what he's best known for today are the two podcasts he hosts. One of his podcasts, "Growing Up with Devon," he hosts on his own. Werkheiser said in the podcast's trailer, "I'm going to be interviewing a ton of great guests, exploring what matters in life, and how do we get through it."  Some of his guests have included former child actors like Nolan Gould, Jennifer Stone, and Alyson Stoner.
Werkheiser's second podcast is arguably more nostalgic. The actor co-hosts "Ned's Declassified Podcast Survival Guide" with his former co-stars Lindsey Shaw and Daniel Curtis Lee. "We talk about the making of our favorite moments, things we remember from that time in our lives, and also tangents about our adult lives," Werkheiser said in the trailer for that podcast. "We're gonna relive it so that you can relive it with us," he added.
Lindsey Shaw went on a sobriety journey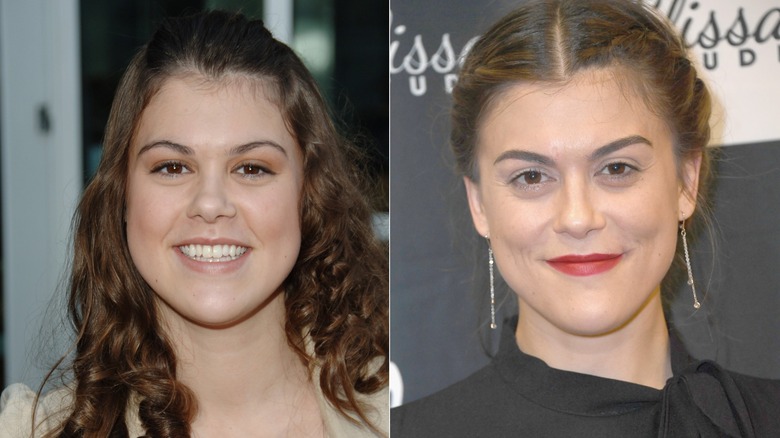 Jon Kopaloff & Albert L. Ortega/Getty
Lindsey Shaw played Jennifer Mosely, better known as Moze, on "Ned's Declassified School Survival Guide." For most of the show, Moze is one of Ned's best friends, but by the end of the series, the two realize they have feelings for each other and start a romantic relationship. A few years after "Ned's Declassified" wrapped, Shaw went from one teen show to another, landing a recurring role on "Pretty Little Liars." However, her time on the show was cut short as she battled drug addiction, catalyzed by body image issues, that was affecting her on-screen performance.
On an episode of "Ned's Declassified Podcast Survival Guide" — the podcast Shaw co-hosts with her former co-stars — the actor recalled sitting down with the showrunner of "Pretty Little Liars" who asked if she had anyone to talk to about her addiction. Shaw went on to note that she hasn't felt as professionally successful since becoming sober, but she's made peace with it. "That was a wild time, and it kind of brought me here to where I am now. For better, for worse, whatever happens in the future, this is the only life that I can be living." She added, "For whatever professional success was in the past, it's not comparing to the Friday nights I can sit and enjoy a movie on my couch."
Daniel Curtis Lee hosts a podcast with his former co-stars
There have been plenty of loveable nerds in television history, and "Ned's Declassified" had Cookie, played by Daniel Curtis Lee. Cookie was Ned and Moze's friend, and he was often seen tinkering with computers and robots. After "Ned's Declassified School Survival Guide," Lee took his talents to "Zeke and Luther," where he appeared in nearly every episode. More recently, Lee can be seen in an episode of the Netflix original "Dahmer — Monster: The Jeffrey Dahmer Story."
Now, as noted, Lee is co-hosting "Ned's Declassified Podcast Survival Guide" with his former co-stars. The podcast began with the three former co-stars wanting to provide their fans with intimate conversations controlled by them rather than a studio. But Lee would like to see the podcast manifest into a reboot of "Ned's Declassified," and shared that he and Devon Werkheiser have already tried to make it happen. The co-hosts wrote a script and pitched it to Netflix, which streams a couple of the show's seasons, but the platform declined. The two took the rejection as fuel to produce a popular podcast. "We're like, 'Yo, we're gonna show y'all the metrics, generate the income ourselves, and then y'all will be fools to not do the reboot," Lee said in an episode. And we agree with Lee: Streaming platforms would be foolish not to reboot "Ned's Declassified School Survival Guide."
Kyle Swann doesn't act anymore
James K. Polk Middle School had one resident trio of bullies, and it was led by Billy Loomer, played by Kyle Swann. Loomer was only nice to one student — Moze, whom he had a crush on — and he was an abject terror to the rest of his classmates. Swann's acting career was ultimately limited to his childhood, and aside from "Ned's Declassified School Survival Guide," his only role in a major project was in the film "Big Fat Liar," which starred Frankie Muniz, Amanda Bynes, and Paul Giamatti.
Like many former actors, Swann pursued a different passion in his adult life. Swann visited with his former castmates on the "Ned's Declassified Podcast Survival Guide" to rehash old memories and discuss what he's doing now. After the Nickelodeon series ended, Swann tried to find more acting work and struggled with the idea of leaving the profession. But when he wasn't getting hired, he saw it as an opportunity to pursue his education without any guilt. Swann studied marine biology and took some filmmaking courses in college, which led him to his current career as a nature documentary filmmaker. Swann helped create the show "Our Big Blue Backyard," and he shared with his former castmates that a previous project had revolved around mammals. He's hoping his next project will take him around the Arctic Circle and Antarctica.
Daran Norris does lots of voice work
We came to know Daran Norris as a live person in "Ned's Declassified School Survival Guide" where he played Gordy the janitor. Gordy was constantly cleaning up after the students and often helping Ned and Cookie with their odd plots, memorably their Atomic Flush mission (if you know you know). But we knew Norris' voice long before we ever saw his face on Nickelodeon, even if we didn't realize who was speaking. Of all the former "Ned's Declassified" characters, Norris has the highest number of professional acting credits by far, and it's not just because he's older than most of them. Norris is a seasoned voice actor who's lent his pipes to hundreds of projects over his career.
One project all Nickelodeon kids will be familiar with that Norris starred in is "The Fairly OddParents." Norris voiced multiple characters — most notably, Cosmo, Jorgen, and Mr. Turner — in the animated classic during its 17-year tenure, and he reprised two of his roles for the show's live-action spin-off "The Fairly OddParents: Fairly Odder." And as Norris will tell you, we have "The Fairly OddParents" to thank for his role on "Ned's Declassified." Norris had transitioned out of appearing on camera, but a colleague of his at "The Fairly OddParents" recruited him for his role in "Ned's Declassified."
Christian Serratos is a successful actor and model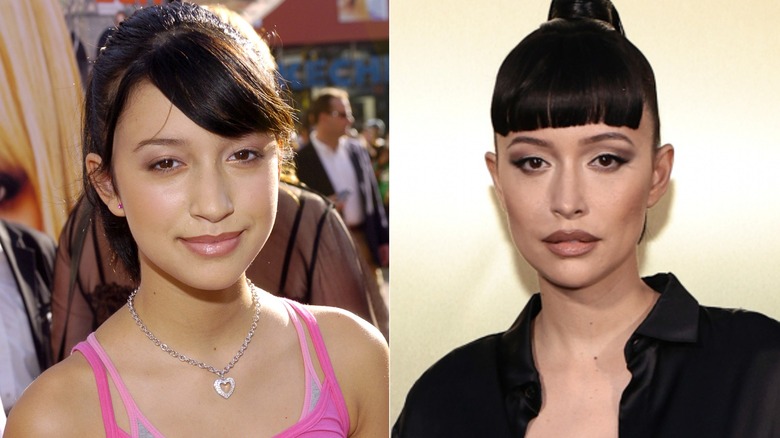 L. Cohen & Dimitrios Kambouris/Getty
Christian Serratos played Suzie Crabgrass on "Ned's Declassified School Survival Guide," a popular girl at school who was friends with Moze and was Ned's long-time crush. While Suzie is one of Serratos's most notable roles to date, it's hardly her only mentionable character. "Twilight" fans will remember Serratos as Angela, a girl who befriended Bella at school, while "The Walking Dead" fans will claim Serratos as Rosita Espinosa, a role she played for several years in the series. Another notable role Serratos had was Selena Quintanilla, the singer who tragically died in 1995 and whose life was again portrayed on screen in Netflix's "Selena: The Series." As Serratos told Tamron Hall on her talk show, "I grew up really admiring Selena and listening to her music and feeling that closeness with her that so many others felt, so to be given the opportunity to honor her in this way by getting to play her is just really kind of unbelievable for me."
Serratos has also had a successful modeling career, too, alongside becoming a mom. The former "Ned's Declassified" star shares some of her work on Instagram, is an ambassador for Dior, and has been featured on the covers of multiple magazines, including InStyle Mexico, Vogue Mexico, and Elle.
Teo Olivares was active on Twitch for a while
Teo Olivares played Jerry Crony on "Ned's Declassified School Survival Guide." If you don't recognize his character name, it's probably because it wasn't mentioned much. Crony was one of Billy Loomer's cronies (see what they did there?) who bullied other students alongside Loomer, all the while hiding his secret love of sewing. Olivares has been quite busy since "Ned's Declassified" ended. He continued acting for a while, but since then he's explored other interests, even carving out a presence on Twitch.
Now Olivares works as a creative. Per his website, he is a "Freelance Creative Producer, Latine Activator, and Production Manager for white-glove clients." He also wrote, "The work I'm most proud of is developing strategy, identity, and creative for artists and visionaries, in English or Spanish." One of Olivares' clients was none other than Devon Werkheiser, who played Ned on "Ned's Declassified." As noted, Werkheiser has grown in his musicianship since the TV series ended, and he enlisted Olivares' help to connect him with a wider fanbase. Olivares filmed a music video for Werkheiser, traveled with him to various locations to film performances, and even designed cover art for one of Werkheiser's singles. "I wanted people to see that he was a serious artist, he was in demand, and he was accessible," Olivares said of his collaboration with his friend and former on-screen castmate.
Don Creech kept acting after the show ended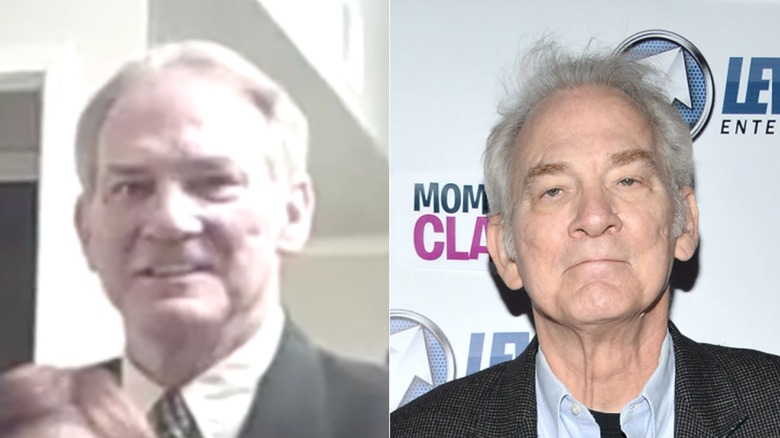 Araya Doheny/Getty
Every school needs an evil teacher, and at James K. Polk Middle School, that was Mr. Sweeney. Sweeney, portrayed by Don Creech, taught science, and while Ned and Cookie felt that their teacher was out to get them, adults watching the show may recognize that Mr. Sweeney was actually a caring, albeit strict, teacher who just wanted his students to learn. Creech is one of those actors that you recognize, but you're not quite sure why. That's because he's appeared in an impressive breadth of projects over the years. "Ned's Declassified School Survival Guide," however, is arguably his most notable role.
Parents who watched "Ned's Declassified" with their children might have recognized Creech from his previous roles in shows like "Law & Order," "Law & Order: Special Victims Unit," and "Law & Order: Criminal Intent," or perhaps from movies like "The Tavern" or "The Island." Creech continued acting after "Ned's Declassified" ended, popping up in episodes of shows like "How I Met Your Mother," "Criminal Minds," and "Brooklyn Nine-Nine." But no matter what else Creech appears in, he'll always be Mr. Sweeney to us.
Rob Pinkston is a DJ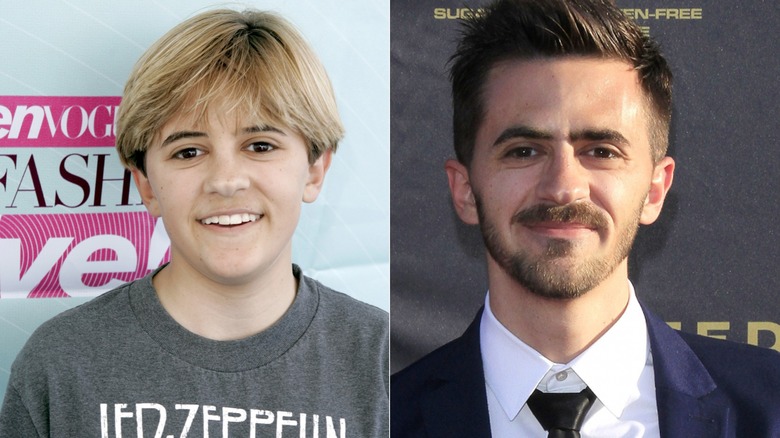 Joe Seer/Shutterstock & J. Vespa/Getty
One of the least popular kids at James K. Polk Middle School was Coconut Head. The character's given name was never actually revealed, but everyone at school called him Coconut Head because of his bowl cut, which resembled a coconut. Coconut Head, played by Rob Pinkston, was friends with Ned, Cookie, and Moze, and he popped up in a majority of the series' episodes. Pinkston started his career as a child actor, appearing in several projects before joining "Ned's Declassified School Survival Guide." Pinkston kept acting after the show, too, and he even dipped his toe into writing, producing, and directing — most notably for "This Just In," a TV series for which he garnered those three credits, as well as acting.
These days, Pinkston doesn't seem to be as focused on acting ("This Just In" is his last professional acting credit, and it ended in 2017). Instead, he is working regularly as a DJ. Pinkston still has love in his heart for the show that made him semi-famous, though. The actor who played Coconut Head visited Devon Werkheiser for an episode of his podcast. Pinkston said of the show, "It's like my favorite thing I've ever done." He added, "We got so lucky ... All those other Nick shows were having some pretty dark stuff happening not only behind the scenes but between the cast and crew ... We never got any of that."
Alex Black is no longer acting on screen
Alex Black played Seth Powers on "Ned's Declassified School Survival Guide." Seth was the stereotypical dumb jock at school who was many of his classmates' crush, including Moze. Seth was also always spinning a basketball on his finger because, you know, he's a jock. Prior to his recurring role on "Ned's Declassified," Black had a variety of roles in made-for-TV movies, as well as one or two-episode arcs on shows like "Charmed," "CSI: Miami," and "ER." Black was even in the classic rom-com "13 Going on 30."
It seems that Black took a step back from acting after "Ned's Declassified" ended. The former child actor has one credit on IMDb listed after the Nickelodeon show: A made-for-TV movie released in 2008. But Black still has one impressive credit to his name that his former castmates don't: In 2021, rapper Lil Nas X dressed up as Black's character Seth Powers for Halloween.
Dave Florek is still acting
Another teacher at James K. Polk Middle School was Dusty Chopsaw, played by Dave Florek. Mr. Chopsaw didn't interact with all the students as he only taught elective shop classes, but one of his most faithful students was Moze. The two had a sweet mentor-mentee relationship, despite Mr. Chopsaw being, by most accounts, a total oddball. And if you found yourself wondering how good of a shop teacher Mr. Chopsaw actually was, you weren't alone. The man did cut off his own hand with a table saw, for goodness sake.
Florek has been steadily finding professional acting work since the mid-'80s, and he continued acting in Tinsel Town after "Ned's Declassified" ended. While Chopsaw is one of his most notable roles, he's been in so many projects that you might recognize him from more than one movie or television show you've seen. Florek memorably played Frank in "Grace Under Fire," and after "Ned's Declassified" he had small roles in some of the most famous shows in history, including "Grey's Anatomy" and "NCIS."