The Real Meaning Behind Joe Jonas' Sophie Turner-Inspired Song Hesitate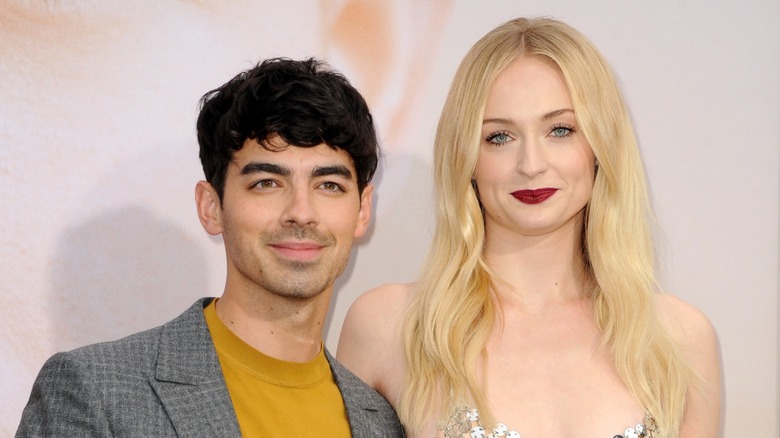 Tinseltown/Shutterstock
The internet began buzzing with questions and theories after Joe Jonas filed for divorce from Sophie Turner. Then, the duo both shared an official statement confirming the end of their marriage on Instagram. At a recent Jonas Brothers concert in Los Angeles, Jonas addressed the rumors flying about the situation and said, "I just want to say, if you don't hear it from these lips, don't believe it. Okay?" (via People). After thanking fans for their support, the band played "Hesitate," the touching song Jonas wrote about Turner for their "Happiness Begins" album.
The song's lyrics begin with, "Kiss the tears right off your face / Won't get scared, that's the old, old, old me." Jonas is telling Turner that she can be vulnerable with him. He goes on to sing that he'll be there for her and asks her to share her burden with him.
Spinning the adage "Time heals all wounds," Jonas sings, "Time, time only heals if we work through it now / And I promise we'll figure this out." He wants to help Turner work through her struggles and is confident they can overcome them together. The struggles referenced in the song are most likely alluding to Turner's experiences with mental illness.
What promise does 'Hesitate' make?
Although there were signs Joe Jonas and Sophie Turner's marriage wouldn't last, the lyrics of "Hesitate" show unyielding love. The song continues with an emotional promise: "I will take your pain / and put it on my heart." Jonas sings his gratitude for having Turner in his life and adds, "You saved me once and now I'll save you too / I won't hesitate for you." Jonas' affirmation to not hesitate implies that he is strong in his convictions and that he doesn't second-guess his love for Turner. His emotional display singing "Hesitate" at the recent Los Angeles concert — where he teared up, according to Page Six — implies he may still carry love for her through their amicable divorce.
The second verse of "Hesitate" is sung by Joe Jonas' brother Nick Jonas and includes a line that especially did not age well: "Don't you ever say goodbye / cross my heart, and you can keep, keep, keep mine." Nick (or Joe, the Jonas Brother who helped write this song) also wishes for the ability to read his love's mind to know exactly how to help them through difficult times.
Listening to 'Hesitate' hits different after the divorce news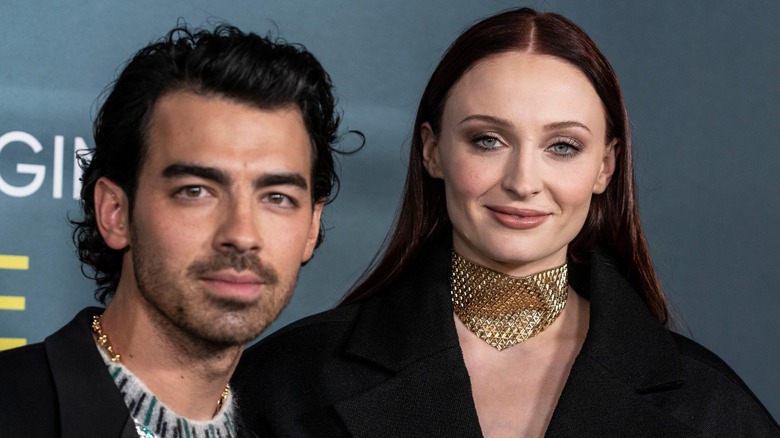 lev radin/Shutterstock & undefined
In the bridge of "Hesitate," the following lines repeat twice: "Pull me close and I'll hold you tight / don't be scared 'cause I'm on your side / know there's nothing I wouldn't do for you." With these lyrics, Joe Jonas states he will support Sophie Turner through the tough times. The song ends with Joe and Nick Jonas singing the chorus once more, with the final "for you" in "I won't hesitate for you" sung by Joe alone.
"'Hesitate' is a song I wrote," Joe said in the "Chasing Happiness" documentary about the Jonas Brothers. "It's like my vows before I wrote my vows. It's my promise to [my wife] Sophie. ... For me, it takes me to a whole different universe. I'm seeing her walk down the aisle again every time I close my eyes" (via Us Weekly).
Listening to "Hesitate" after the divorce drama is a very different experience. Unfortunately, the heartfelt lyrics were not enough to keep Jonas and Turner from breaking up. According to TMZ, sources close to Joe Jonas say he saw Ring camera footage of Sophie Turner that solidified it was time to end the relationship. Jonas has not confirmed whether that is true, and based on his statement at the L.A. concert, he will not be feeding the rumor mill.