How Suri Cruise Reacted When She Finally Saw Mom Katie Holmes In Dawson's Creek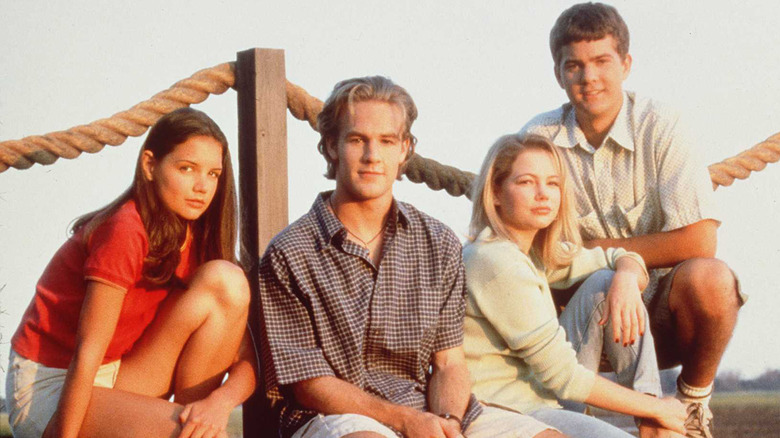 Getty Images/Getty Images
No matter how famous one gets, you are never too famous to be laughed at by your children — something Katie Holmes quickly found out after having a television watch party with her daughter, Suri Cruise. The "Batman Begins" actress shared the comical family moment in a March 2023 interview with Variety, recalling the moment her teenage daughter discovered the sun-soaked TV drama that made Holmes famous: "Dawson's Creek."
The Y2K-era teen drama ran from 1998 to 2003, meaning the last episode aired only three years before Suri Cruise was born to Holmes and her ex-husband, Tom Cruise. Holmes played Joey Potter, the book-smart girl next door with a troubled family history, winning audiences over with her unassuming charisma and signature sideways grin and toothy smile. Holmes' daughter, however? Well, smitten might not be the word we'd use to describe her reaction. 
Luckily, Holmes' relationship with her daughter Suri is incredibly positive, which helped smooth over the laughably awkward moment the two shared over the show.
Suri Cruise was almost as old as Katie Holmes was when she started in the series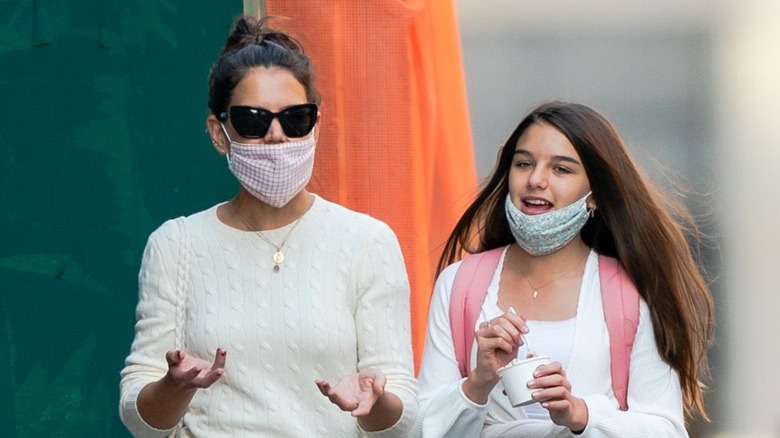 Gotham/Getty Images
Watching your parents act in movies and television is surreal enough — a reality difficult to avoid when your parents are Tom Cruise and Katie Holmes. But for Suri Cruise, who first watched her mother star in "Dawson's Creek" at around the same age Holmes was when she first started on the series, it made the entire experience even more surreal. 
"I think it's probably weird since she's a teenager," Holmes told Variety. "I'm not like, 'You need to watch mommy's work.' But during the pandemic, we had a good laugh about it. It's wild to have a daughter who's almost the same age as I was when I began all this." Still, Suri might be able to glean the same insights her mother was able to take away from the show as a teen. 
Holmes discussed her teen soap roots for the April 2023 Glamour cover story, saying, "I was just 18 when we started, and I really appreciated the writing because I felt like, as a teenager, I had so many different feelings, trying to go from being a girl to a woman. And I felt like [creator Kevin Williamson] had this way of putting words to those feelings."
Katie Holmes has welcomed Suri Cruise into her professional world with open arms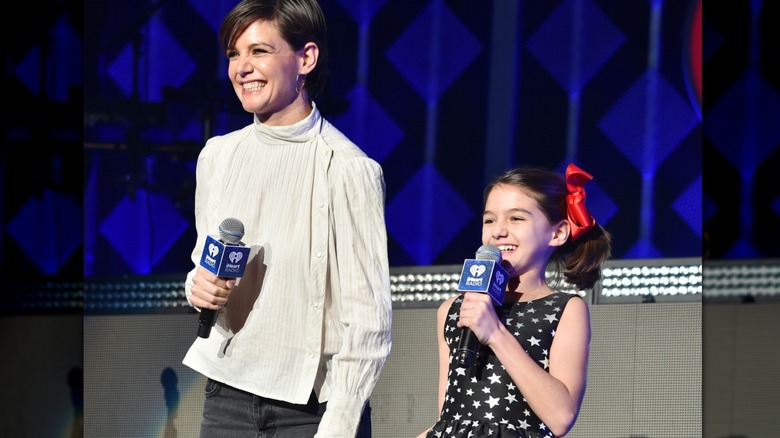 Theo Wargo/Getty Images
Suri Cruise might have had to awkwardly laugh off the half-cringe, half-heartwarming behemoth that was her mother's breakthrough show, but this is not the first time Suri has gotten an up-close look at Katie Holmes' professional life. The mother-daughter duo collaborated on Holmes' 2022 film, "Alone Together," for which Suri sang a cover of Frank Sinatra's "Blue Moon."
"I always want the highest level of talent, so I asked her," Holmes said in an interview with Yahoo! Entertainment. "She's very talented. She said she would do it, and she recorded it, and I let her do her thing. That's the way I direct in general. It's like, 'This is what I think we all want, and then go do your thing.'" Suri's vocals were also featured in Holmes' 2023 film, "Rare Objects." 
As Suri continues to grow up into Katie Holmes' mini-me, it's clear that Holmes is interested in continuing her professional collaboration with her daughter. "I hope [Suri] always does something on my films. I always ask her. It was very meaningful to me to have her there because she's my heart," Holmes told Glamour. Who knows — with Suri now flashing Holmes' signature smile, maybe she could star in a "Dawson's Creek" reboot someday soon.