Suri Cruise Flashes Katie Holmes' Signature Smile While On The Go In NYC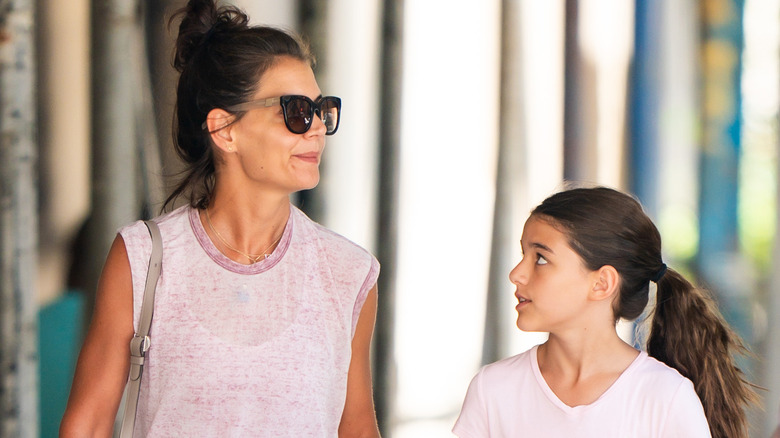 Gotham/Getty Images
As the only daughter of Tom Cruise and Katie Holmes, Suri Cruise has been making headlines essentially since she was in the womb. Amid her parents' highly publicized relationship — from Scientology scandals to a purported set-up by Oprah Winfrey to their 2012 divorce — we've watched Suri grow up under the shadow of her famous mom and dad, albeit privately. 
Nowadays, she's anything but the shy, young Tom Cruise mini-me she once was. Following Holmes' divorce from Tom, Suri's relationship with her parents changed drastically. There have been clear signs that Tom has been estranged from Suri since the early aughts, while Holmes' relationship with her daughter has only deepened since this tumultuous time in their lives. 
However, it isn't just an emotional connection that Suri and her A-list mother share. In fact, one could argue that Suri is becoming more and more of a carbon copy of the "Dawson's Creek" alum, and these photos of Suri from a recent stroll in New York City prove how much the two women resemble each other.
Suri shares her mother's signature smile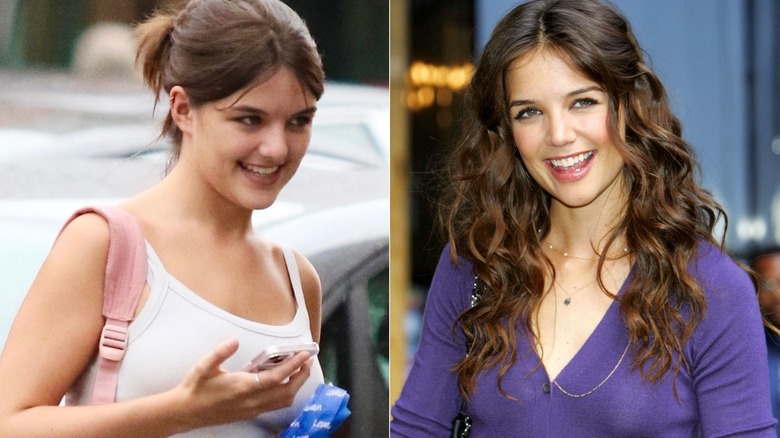 Backgrid/Everett Collection/Shutterstock
The world has been transfixed by Katie Holmes' trademark toothy grin since her time playing lovable tomboy Joey Potter on the late '90s TV drama "Dawson's Creek," and it appears as though Suri's inherited the same smile. The likeness between mother and daughter is uncanny, proving that Suri really has grown up to be Holmes' mini-me. The similarities between the two women don't stop there, either. 
An insider told Us Weekly, "You'd struggle to find a mom-daughter duo who are more in sync with each other. They're a real team — their connection is a beautiful thing to witness. If Katie's feeling stressed or down, Suri's very compassionate and loving. Katie feels like her daughter is her little angel." Since obtaining full custody of Suri, Holmes has been highly protective of her daughter, opting to keep her out of the limelight as much as possible. 
Likewise, the actor seldom discusses her in interviews. Holmes briefly talked about what it's like being Suri's mother in Glamour's August 2014 cover story, saying, "I didn't know how much love I had in me. It's overwhelming. Every day I discover more about this spectacular human being I get to be the mother of," (via People). And indeed, if these pics of Suri are any indication, raising the young woman must feel like looking into a mirror for Holmes.