What Jimmy Buffett Was Doing In His Final Days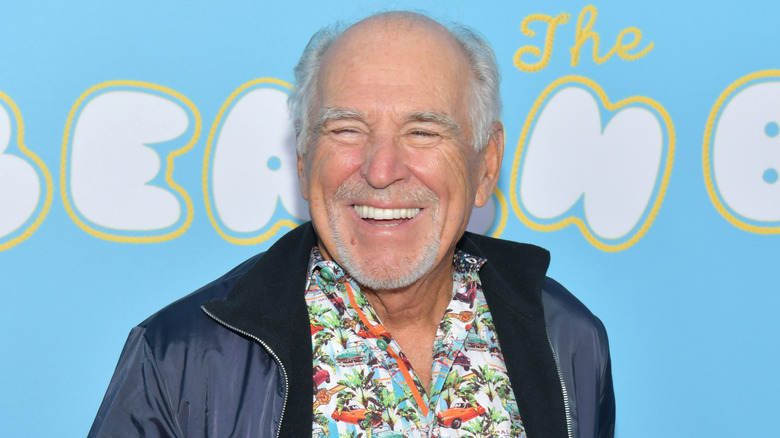 Rodin Eckenroth/Getty Images
Jimmy Buffett died on September 1, 2023, four years after he was diagnosed with Merkel Cell skin cancer, according to an announcement made on his official website. Merkel Cell carcinoma is extremely rare and often marked by a "flesh-colored or bluish-red nodule, often on your face, head or neck," according to the Mayo Clinic. The "Margaritaville" singer was at his home on Long Island surrounded by his loved ones when he took his last breath, per his website. Buffett was still playing music and performing up until his last few months of life. His last show was in Rhode Island in July 2023. Buffett didn't openly share his diagnosis — and he also didn't let his prognosis bring him down.
Following his death, Buffett's sister Laurie Buffett McGuane spoke with People magazine about the final days of her brother's life. "He was always high-spirited, fun-loving, hard-working, and creative," she told the outlet. "It is remarkable to be able to say that he remained the same during the last month of his life. His sense of humor was fully intact. God bless him for keeping himself that way," she continued, adding, "We shared memories of our childhood with Jimmy during his last days. We would repeat stories, and Jimmy would laugh and nod his head to let us know that he remembered." McGuane had nothing but wonderful things to say about her brother and stressed the positive frame of mind that he kept throughout his cancer treatment. 
Jimmy Buffett was 'never' depressed, even after his diagnosis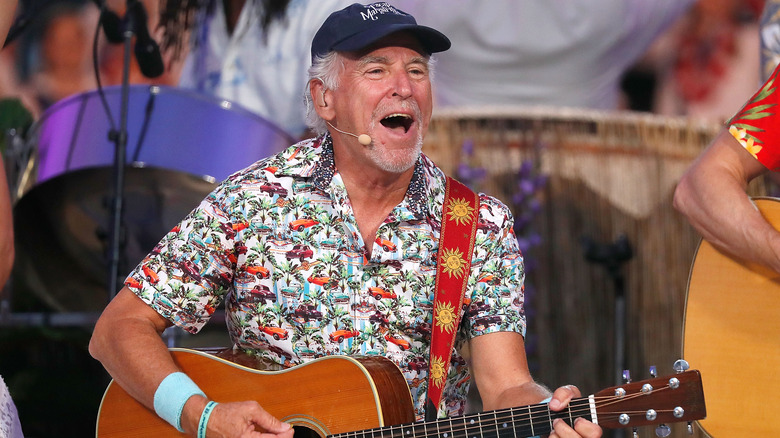 Paul Morigi/Getty Images
Jimmy Buffett is known for his fun, upbeat music that he often referred to as "drunken Caribbean rock 'n' roll." And his upbeat attitude stretched far beyond his music. "I have never seen Jimmy depressed ever. Not even at the end. We all like to joke and laugh and that was very much Jimmy," sister Laurie Buffett McGuane told People. And she's not the only one who noted just how happy and positive Buffett was, especially following his diagnosis. According to the Cancer Institute,  Merkel Cell carcinoma is fast-growing and can often spread through "tissue, the lymph system, and the blood," and can be treated in various ways, including with radiation and chemotherapy. 
In another article, his friend Carl Hiaasen told People that Buffett traveled to the Bahamas in 2022 and although he was supposed to take it easy, he was "so excited" to be on the trip. "There was no way to slow him down," Hiaasen recalled. Meanwhile, Buffett's daughter, Sarah "Delaney" Buffett, shared an Instagram post on September 6, 2023, in which she shared one of her dad's final wishes. "Despite the pain, he smiled every day. He was kind when he had every excuse not to be. He told us not to be sad or scared, but to keep the party going," Delaney wrote. 
Buffett is also survived by his daughter, Savannah Buffett, and son, Cameron Buffett.
Jimmy Buffett's wife, Jane Slagsvol, penned a letter and noted her husband's constant smile
Bruce Glikas/Getty Images
On September 9, 2023, Jimmy Buffett's wife of 45 years, Jane Slagsvol, posted a tribute to her late husband on jimmybuffet.com. She echoed some of the same things that others close to Buffett have said. "Jimmy was love. Every cell in his body was filled with joy. He smiled all the time, even when he was deeply ill. And his sense of humor never wavered. Jimmy was always the optimist, always twinkling, always making us laugh," she wrote.
Over the last year of his life, Buffett's official Instagram account remained active and he shared quite a few special memories with family, friends, and fans, the majority of the latter had no idea that he was battling terminal cancer. In February 2023, Buffett shared an Instagram photo from his time snorkeling in Key West, Florida. Then, in July 2023, he posted an Instagram snap from his interview on WNLG where he chatted about his new album. Indeed, Buffett was recording music until he couldn't. His final studio album, "Equal Strain on All Parts," which consists of 14 tracks, is slated to be released in November 2023, according to Billboard.