Joy Behar Shared Her Theory About Ron DeSantis' Presidential Campaign On The View
Chance Yeh/Getty Images
"The View" is a mainstay for discussion of hot topics plaguing women in today's society — from style dos and don'ts to the future of our nation. And as the 2024 presidential election heats up, it's no surprise that the ladies of "The View" are weighing in with their thoughts. Joy Behar, who has been a host since the show's start in 1997, made some bold claims about one potential presidential nominee.
Behar wagered that Florida governor Ron DeSantis is actively pandering to conservative voters while intentionally alienating the minority groups he continually offends. "He doesn't want the Black vote 'cause he knows he's never gonna get it," she said (per The Wrap). "So, you know, he says a lot of racist things. This is just one of them." Tenured host Whoopi Goldberg shared similar sentiments, making her dislike of DeSantis and his "anti-woke" platform clear.
"Anti-woke" refers to an ideology that goes against the belief in systemic injustices in the United States — many of which are based on race, immigrant status, gender, and sexuality (per ABC News). "The anti-woke means, you know, 'whatever Black people are talking about ... you shouldn't be listening to what happened,'" Goldberg added (via The Wrap). "But the history is the history. The country is the country, and we know what happened!"
DeSantis' path to the presidency has been laden with controversy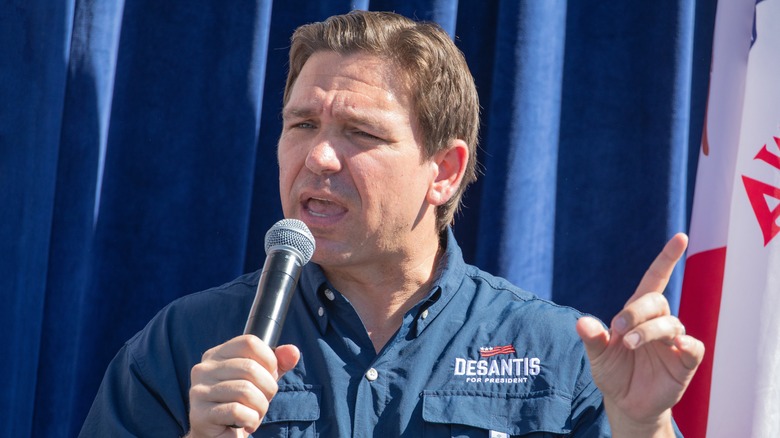 Juli Hansen/Shutterstock
Ron DeSantis was an unlikely frontrunner for President of the United States, but the Florida governor is getting dangerously close to the finish line. DeSantis is running against fellow Republican nominees such as former VP Mike Pence and former President Donald Trump, who could still run even if he served prison time. As an outspoken candidate, just one of DeSantis' platforms has been the importance of education — specifically, avoiding "woke ideology."
In Florida, some of these lesson plans have already been put into place. These adjustments include teaching the "benefits" of slavery, as well as limiting discussions on identity. DeSantis' "Don't Say Gay" law passed in 2022 and prohibits Floridian students from being required to learn about gender or sexuality. The law applies to all grades, from elementary through high school (per Associated Press). In addition to condemnation from public figures, fellow politicians on the right and left have criticized DeSantis' stance.
Vice President Kamala Harris condemned Florida's new educational curriculum and the part Florida's governor played in it. "I'm here in Florida and I will tell you, there is no roundtable, no lecture, no invitation we will accept to debate an undeniable fact: There were no redeeming qualities of slavery," Harris said while visiting Orlando (per The Hill).
The View used to shy away from discussing politics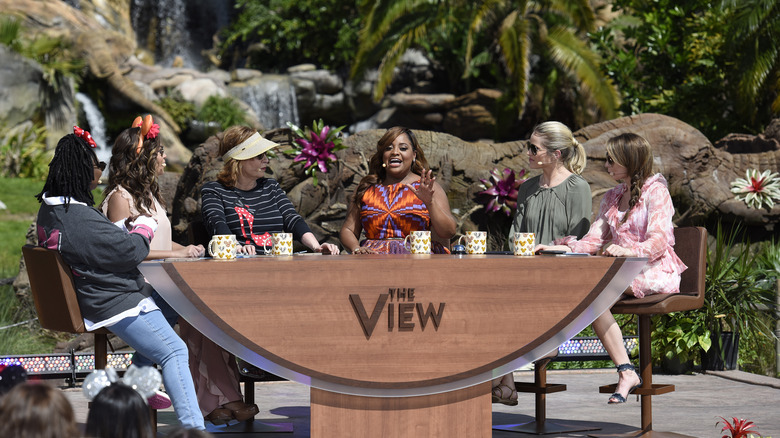 Handout/Getty Images
"The View" was created by renowned journalist Barbara Walters in 1997. While she originally founded the show in order to give women from all walks of life a platform, network executives had their own plan. Former host Rosie O'Donnell famously pioneered the "The View's" political coverage. Steering the daytime talk show away from strictly pop culture and fashion, O'Donnell found it important to discuss the wide range of issues faced by women in America.
"The show needed to change because it was a show created by a woman with hosts who were women, run by men," the "Queen of Nice" told The Hollywood Reporter. Now, some of the biggest arguments on "The View" have involved politics, such as blowouts between famed political commentator Meghan McCain and Goldberg.
McCain was one of the show's most infamous hosts and the resident conservative for several years. She left "The View" in 2021, attributing her exit to a toxic work environment due to her political affiliation. "I was working on the show as the only conservative during the Trump years," McCain explained to Variety. "I felt like a lot of people took out their anger on the administration on me because I was the only person in the building who was a Republican." Since then, executives have actively hired more hosts who land on both sides of the political spectrum.