Tom Cruise Reportedly Skipped The 2023 Oscars To Avoid Seeing His Ex Nicole Kidman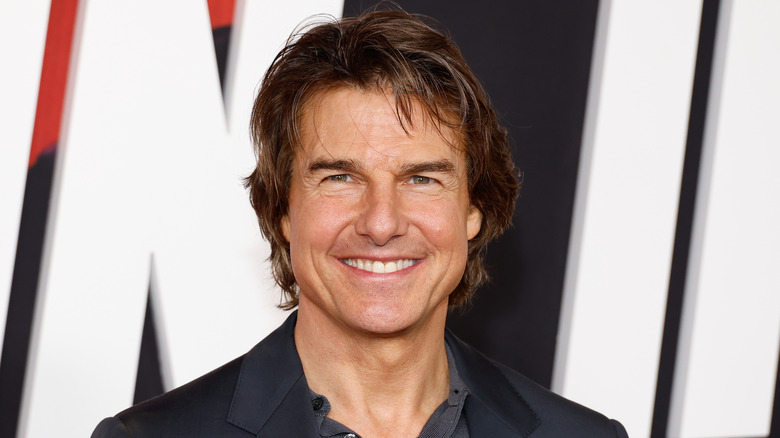 Mike Coppola/Getty Images
Ultra-glam Hollywood nights like the Oscars are great for rubbing elbows with the rich, famous, and talented — which is fun and exciting, unless those rich, famous, and talented people also happen to be your ex. And, as an inside source told the Daily Mail, that's exactly what prevented Tom Cruise from attending the 2023 Academy Awards celebration.
Making his absence even more noticeable was the fact that Cruise's latest action film, "Top Gun: Maverick," was nominated for a whopping six awards, including Best Sound, Best Film Editing, Best Adapted Screenplay, Best Visual Effects, Best Original Song, and the award ceremony's highest honor, Best Picture. However, the Daily Mail's inside source suggests that the "Maverick" star skipped the 95th Academy Awards to avoid a run-in with his ex-wife, Nicole Kidman. 
Indeed, it would've been hard to avoid at least seeing his ex, who served as one of many A-list presenters for the March 2023 celebration. However, other sources claim his absence had nothing to do with his past marriage. 
Sources differ on why Cruise was absent from the 2023 Oscars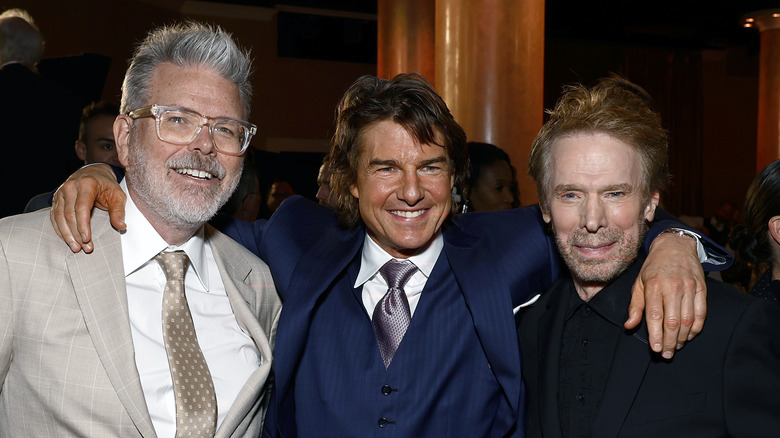 Frazer Harrison/Getty Images
Daily Mail's unnamed source claims that "Tom [Cruise] was not there because [Nicole Kidman] was there, and he did not want a run-in." And to be fair, it's a relatively believable story, as anyone who has tried to awkwardly dodge an ex in public before can attest. However, other sources claim that the "Mission Impossible" actor's absence was "nothing personal" and due to schedule conflicts.
Entertainment Tonight confirmed the second source's account, reporting that Cruise skipped the Oscars to continue shooting "Mission: Impossible — Dead Reckoning Part II" in the United Kingdom. Though he wasn't at the official awards ceremony, Cruise attended other Oscars events, including the 95th Oscars Luncheon in February 2023 (pictured here with director Christopher McQuarrie and producer Jerry Bruckheimer). Vanity Fair reported that Cruise stole the show at the event, mingling effortlessly and joyfully with Hollywood's largest bigwigs. 
He even commiserated with fellow long-time A-lister Jamie Lee Curtis on her first nomination for Best Supporting Actress after decades in the industry (via YouTube). Ultimately, the "Top Gun" reboot would only take home one of the six awards for which it was nominated: Best Sound. The 1986 original was also nominated for this award, but lost.
It isn't hard to see why rumors would circulate around his absence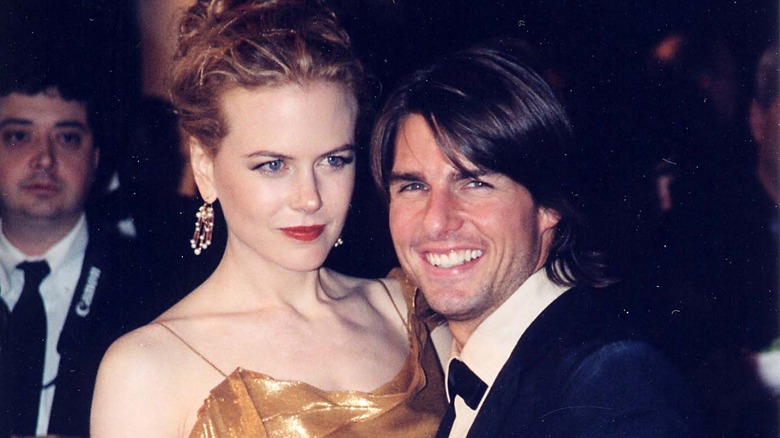 Jeff Kravitz/Getty Images
Regardless of the reported or real reason behind Tom Cruise's absence from the 95th Academy Awards, it's clear why some would speculate that it had to do with his ex-wife, Nicole Kidman. Cruise's relationship with Kidman took the world by storm in the 1990s (pictured here at the 72nd Academy Awards in 2000), and their sudden divorce announcement in 2001 was equally as stunning. 
Adding to the mystery behind the seemingly abrupt split is that both parties have chosen to keep the reason behind their divorce private. Kidman doesn't talk about her ex out of respect for her current husband, Keith Urban, and Cruise offered a curt, tight-lipped response when asked about the split by Vanity Fair in 2013. "She knows why, and I know why. She's the mother of my children, and I wish her well. I don't care if it piques people's interest. Honestly, people should mind their own d*** business and get a life of their own." 
The Daily Mail suggests that the split might have had something to do with Kidman's refusal to join the Church of Scientology, which Cruise has been a member of since the late '80s. But as far as the 2023 Oscars are concerned, the official story appears to be that Cruise's absence had nothing to do with his ex-wife, regardless of why they split.