Dylan Efron: 10 Facts About Zac's Younger Brother With A Big Social Media Following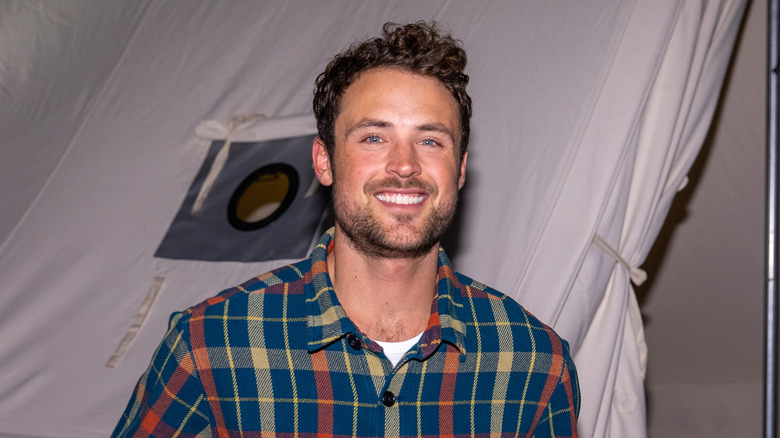 Mat Hayward/Getty Images
 If you were a teen in the '00s and had crushes on boys, chances are you were probably into Zac Efron at some point or another. What you might not have known was that Zac has a younger brother, Dylan Efron.
Born Nicholas Dylan Harrison Efron, he told BroBible that the decision to go by his middle name was not his own, but his parents'. "They named me Nicholas, but I've always gone by Dylan. Funny story, actually! There was a time in first grade when I had to write out Nicholas and I didn't know how," he told the interviewer, saying he still remembers the feeling of embarrassment at not being able to spell his own name. As for the origin of Dylan, he credits his mom, who "was a big hippie and loved Bob Dylan."
In recent years, however, the youngest Efron brother has gained a huge social media following on both Instagram and TikTok, so if you've been seeing him around and wanted to learn more, we have the scoop! 
He has adventurous hobbies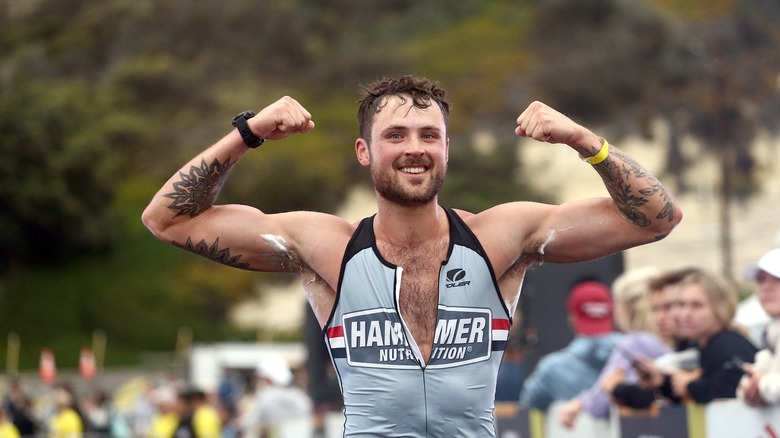 Tommaso Boddi/Getty Images
You only need to have a quick scroll through Dylan Efron's social media to see that he is a man of adventurous hobbies. With hiking, highlining, sky diving, and even fly fishing on the LA River in his and his brother Zac's YouTube series, "Off The Grid," Efron seems to love living his life to the fullest and experiencing what our planet has to offer. 
In an interview with Just Jared, Efron revealed that he's been participating in triathlons since 2015, including Ironman. "I ran the Boston Marathon sub-three hours in hail and pouring rain," he added, "then flew to Nepal the next day with my brother to trek and stay in remote villages for three weeks." 
Aside from requiring a lot of training, Efron's hobbies and the career he has built on them have taken him all over the world, explaining the beautiful landscapes (and, of course, plenty of shirtless pictures) on his social media.
He loves golf
In recent years, the Efrons have worked on plenty of projects together, including a YouTube series and Netflix's "Down to Earth with Zac Efron," where they search around the world for sustainable ways to live. 
Besides moments when their careers have overlapped, the brothers still enjoy spending time together by themselves, often going golfing. In multiple TikToks, they have been out on the green, often receiving comments asking if Zac sang "Bet On It" from "High School Musical" (probably much to his chagrin, given that the star reportedly hated his role in the franchise).
Between the two brothers, however, these matches seem to be a fun time, even if they provoke some brotherly competition. "He beat me at golf, I pushed him in the lake. Just like old times," Dylan wrote in a recent Instagram caption showing them at the golf course and, later, surfing at a lake. The younger Efron has also previously partnered with golf club brand PGX.
He is afraid of sharks
Dylan Efron opened up about his fear of sharks in a recent YouTube video published on his channel. In the description, the adventurer talked about how his fear grew from hearing about Great White attacks while growing up in California, as well as many rewatches of the classic film, "Jaws." 
After having his perception of sharks challenged in a conversation with friends, Efron took the opportunity to learn more about these fascinating animals by getting up close and personal. He flew down to The Bahamas where he was joined by friends, including scientist and "Animal Kingdom" actress Christina Ochoa, to go free diving with sharks at Tiger Beach.
Over the course of the video, Efron goes from apprehensive to excited and eventually becomes pretty comfortable having faced his fear. "We're all afraid of things we don't know," he tells the camera. "And all it takes is a little bit of time to spend with what you're afraid of." 
He and Zac Efron have a friendly brother rivalry
Just like many sibling relationships, Dylan and Zac Efron have a healthy brotherly rivalry going. When discussing their relationship growing up, Dylan told BroBible, "I would say that we grew up super combative, just because we're so different and he was so much older. We were just into different things." 
However, it's clear from a poem Dylan wrote about Zac in the 6th grade — which his older brother Zac posted to Instagram — that they loved each other back then despite their differences. Dylan also told BroBible that they grew closer after he graduated from college and moved to Los Angeles, where he got to live with Zac. He shared, "Our relationship was something that developed more as we both became adults and stopped fighting so much." 
This much has become evident in the years since, considering they seem to have found a shared interest in wellness and the outdoors and developed plenty of content together. But if you're wondering if their competitive streak has completely died down, we're here to tell you it hasn't: In a recent adorable compilation of their little sister Olivia that went viral on TikTok, she gushes over Dylan the whole time, a video he captioned, "Sorry Zac, I'm winning."
He once got into a bad bike accident
Back in 2016, Dylan Efron experienced a pretty bad bike accident. According to Efron, he'd been heading home from work on his triathlon bike when another cyclist, coming uphill, crashed into him and sent him careening back-first into the curb. "I fractured three ribs, three transverse processes (vertebrae) and my tailbone," he told Just Jared. However, these injuries didn't stop him from racing in half an Ironman only a month later.
Discussing the crash on his friend Wil Dasovich's podcast, "SuperHuman," he recalls the surge of adrenaline he experienced as he lay there, which made him think that perhaps it wasn't that serious. "I'd never been this injured, so ... as I'm not feeling it as much, I'm like, maybe my back just popped," says Dylan, laughing, before adding that as soon as he tried to move he realized he would need an ambulance. 
Fortunately, the person who caused the accident, a man ironically named Angel, was very apologetic and ensured Efron got the help he needed.
He studied business and economics at Cal Poly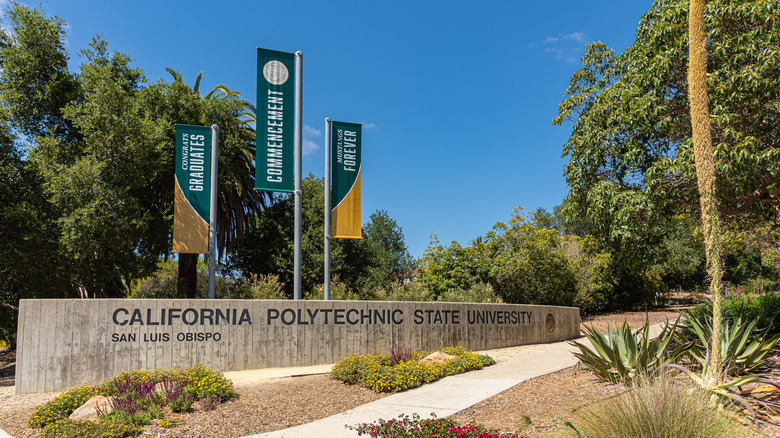 Claudine Van Massenhove/Shutterstock
After high school, Dylan Efron attended the California Polytechnic State University in San Luis Obispo, not too far from where the Efron siblings grew up. He went on to graduate with a Bachelor's in Business Administration and a minor in Economics, a very different path than his actual career ended up taking. 
However, when asked about it by BroBible, Efron talks about how he intended to go to Sacramento and lean into a career in economics until his first boss, who worked at Warner Brothers, sold him on the idea of working on movies behind the scenes. At the time, Dylan recalls having no interest in being on screen, but said working in production "really caught my interest because I was incorporating economics and budgets, schedules, etc." 
As for eventually appearing in front of the camera, Efron said that, while it did not come naturally to him, the breakthrough came with "a big realization that there are different ways to be on screen and make a career than just acting."
He's tried his hand at the film industry
Despite not being interested in acting, Dylan Efron's willingness to say yes to new experiences meant that in recent years he's dipped his toes into that world with the occasional commercial spot. But Efron still prefers being himself on screen, as you can see on his YouTube channel. There, you can watch a number of series he's hosted, including "Flow State," where he challenges athletes to do something out of their comfort zone, and "Slocal," where he shares his favorite highlights of the area he grew up in to help foster tourism in San Luis Obispo County.
Regarding his behind-the-scenes work, Dylan told Just Jared, "I love producing things. I was a coordinator on 'A Star Is Born,' ... a producer on Netflix's 'Down To Earth' and 'Off The Grid.'" In his BroBible interview, he added that while he doesn't regret working as a coordinator, it didn't feel true to who he is at his core.
His first foray into the entertainment business, however, was in scriptwriting. "While I was working the nine to five," he told the podcast "Wild Ideas Worth Living," "I was writing scripts because I wanted to be a scriptwriter." Efron recalls writing a few of those, eventually selling one to the Lifetime Channel — and while it has yet to see the light of day, Dylan still credits it as having given him "the financial freedom to take some risks."
He is a Lakers fan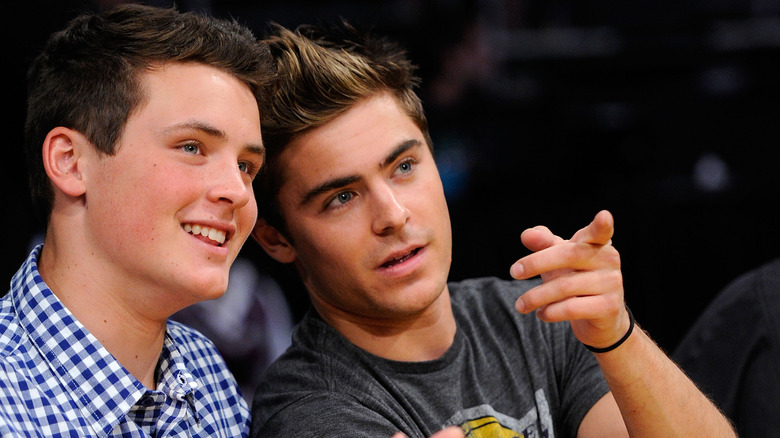 Kevork Djansezian/Getty Images
Having grown up in California, it probably comes as no surprise that Dylan Efron is a big fan of the Los Angeles Lakers, just like his older brother Zac. In fact, the pair have been spotted courtside multiple times over the years, cheering for their team. 
While the games they've attended together never garnered quite as much attention as when Zac has gone with other celebrities — like Leo DiCaprio or his "Neighbors" co-star Halston Sage — it's clear that they've bonded over their shared passion for the game and had a great time together.
Still, if you look at either of the brothers' social media, you can probably tell that they have a lot more fun participating in sports than watching them these days. And it's fair to say that any adventurer would have FOMO seeing the photos and videos showcasing Dylan and Zac Efron surfing, skiing, kayaking, and more.  
He wants to share his passion for the outdoors
Dylan Efron — whose Instagram bio reads only "happiest outside" — is a passionate advocate for the great outdoors. He told Just Jared, "I want to motivate people to get outside and have fun. It helps my mental health." Efron's statement is supported by science, with plenty of research backing up the benefits of "touching grass," as TikTokers would call it, as well as the problems that can arise when you stop going outside.
Not everyone can make their lifestyle into a career, but it seems to be working well for Efron, whose social media presence has allowed him to have new experiences and explore a myriad of places across the globe. 
"I think a lot of us feel like we need to work harder, achieve more," he said, "when really life is all about the people you surround yourself with and the memories you make with them." This ethos has also been reflected in his work. When asked about "Flow State," he described it as a "combination of my friends, fitness and the outdoors."
He has a rescue dog named Booey
In May 2021, Dylan Efron shared an Instagram post of his new rescue dog, welcoming the sweet addition Efron to the family. Since then, his dog Booey has been a staple of many of his adventures and a constant feature on his socials. When he can't take his dog along, it is clear that Efron misses him dearly, with one video showing an adorable reunion that's bound to make you smile. At the beginning of 2023, Efron also shared an emotional post to his Instagram. In it, he took Boo on a local hike near where he grew up, including a photo of his late first dog on the same trail. 
If you've read this far and are wondering if the younger Efron brother is single, the answer is yes, as far as we know. In the comments of a TikTok video he posted in February 2023, he took the opportunity to use Booey as a wingman, claiming that the pup "definitely wants a mom."