The Secret Miley Cyrus And Snoop Dogg Once Kept From Her Late Grandmother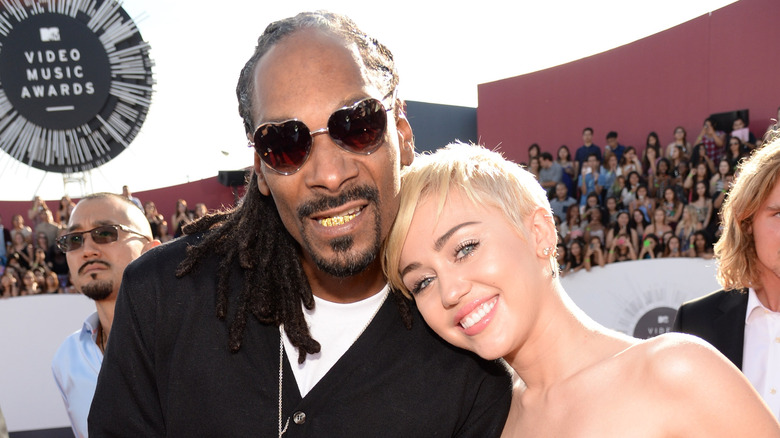 Kevin Mazur/Getty Images
In 2015, Miley Cyrus snagged the hosting slot for MTV's Video Music Awards, just two years after that controversial performance at the 2013 ceremony. During promos for the awards show, Cyrus decided to link up with rapper Snoop Dogg for a skit full of hallucinations, weed brownies, and even her pet pig (via YouTube). Cyrus' grandmother also makes a cameo, whipping up baked goods while wearing an apron that says "Mary Jane."
Nearly eight years after the lively spot aired, Cyrus reminisced on the moment during her TikTok series, "Used to Be Young." The "We Can't Stop" singer admitted that, at the time, she and Snoop didn't let her grandmother in on the fact that they were baking, erm, special brownies. "It's my grandma doing what grandmas do — baking cookies — but what she doesn't know is that they were actual edibles," Cyrus shared. "RIP, she'll never know."
Her mom, Tish Cyrus, also provided a behind-the-scenes anecdote about Miley's beloved grandma, who sadly passed away in 2020: "I'm bringing Mom to the set and they give her her apron. [She said,] 'Why does this say — my name's not Mary Jane!' I was like, 'I don't know, Mom.'" Looking back on her years in the entertainment industry, Cyrus' "Used to Be Young" series is inspired by her single of the same name. Through these videos, the pop star provides an intimate look into some of the biggest moments of both her personal life and her career.
Miley doesn't regret the decisions she made as a young star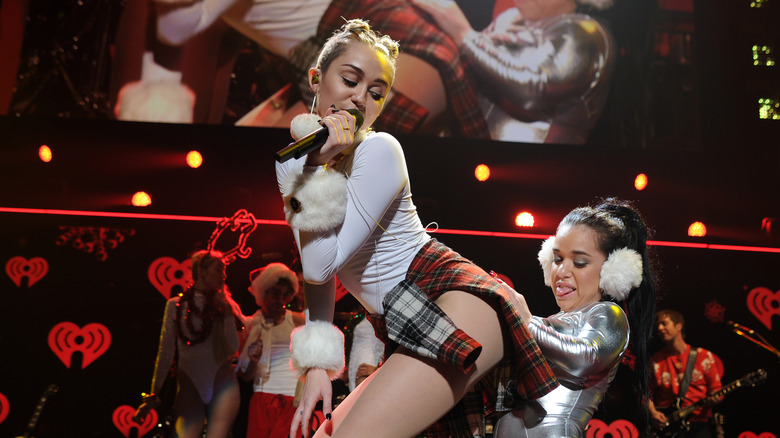 Uri Schanker/Getty Images
It's impossible to forget Miley Cyrus' years as a child star when she captured our hearts on "Hannah Montana." But as Cyrus grew into her young adulthood, she took some notable steps to distance herself from the Disney Channel persona audiences had grown to love. One of her first, and biggest, controversies was when a then-15-year-old Cyrus posed topless, save for a white sheet, for Vanity Fair in 2008. In a video for her "Used to Be Young" TikTok series, Cyrus stood by her decision to go through with the photoshoot. 
She also explained that it was a defining moment for her, post-Disney. "This was the first time I ever wore red lipstick, because Patti Dubroff, who did my makeup, thought that that would be another element that would divide me from Hannah Montana," the outspoken singer-songwriter pointed out. According to Cyrus, she had her family's full support — they were all on set including her younger sister, Noah Cyrus.
After Vanity Fair released the cover, the young star was subject to intense scrutiny. "This image of me is [the] complete opposite of the bubblegum pop star that I had been known for being, and that's what was so upsetting," Miley asserted of the outcry that followed. In 2018, Cyrus posted a message commemorating the 10-year anniversary of the shoot and revoking her initial apology. "I'm not sorry," she tweeted, alongside a photo of the New York Post's shameful headline from the time.
Miley eventually decided to go sober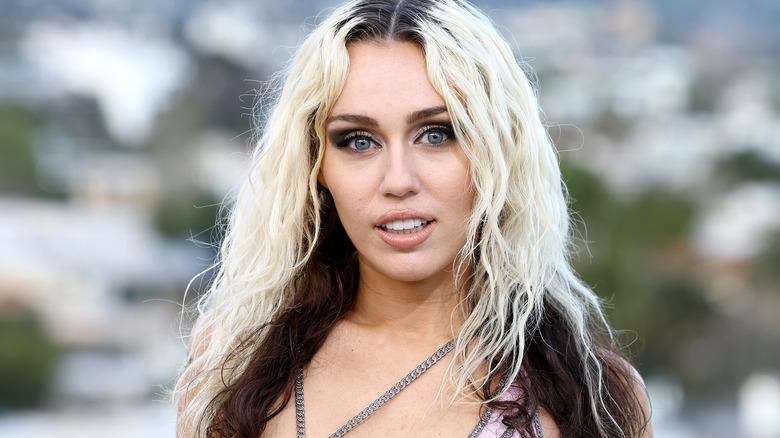 Arturo Holmes/Getty Images
In 2019, Cyrus was diagnosed with a health condition that led to noticeable changes in her voice. The vocal chord injury almost cost Cyrus her singing career, and it was after this health scare that she decided to go sober. In an interview on "The Joe Rogan Experience" podcast, Cyrus spoke out about how she came to the hard decision. As is true for many in the entertainment industry, drugs and alcohol had become part of her normal routine as a pop star.
"I've been sober, pretty much the vocal surgery kind of did it for me because I just learned so much about the effects," Cyrus explained to Joe Rogan (per Billboard). "You're just taught it's not really the drinking, it's the staying up all night. Once you have your drink, you end up smoking." However, her sobriety journey has not been straightforward. In 2020, Cyrus admitted that she broke her sobriety while being quarantined in her home during the COVID-19 pandemic. However, the "Flowers" singer opened up about her new discipline when comes to committing to sobriety. "That's why it's never easy, but it's pretty easy for me to be sober or in and out of sobriety," she told Elle. "Because it's like the day I don't want to f**king do it anymore, I don't. The day that I do, I do."