What Miley Cyrus' Life Was Really Like As A Child Star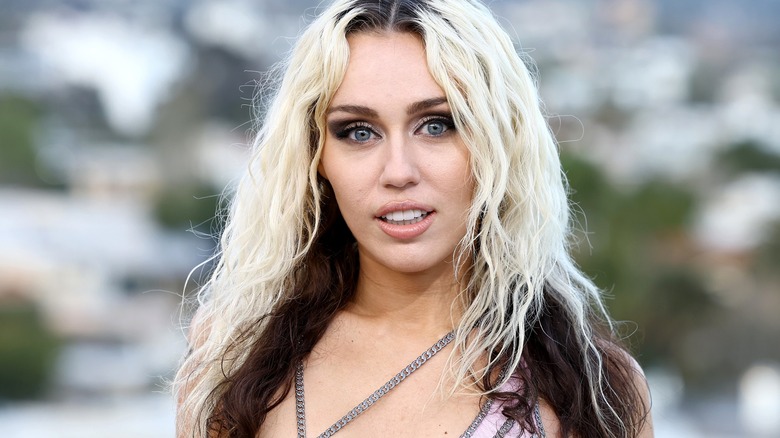 Arturo Holmes/Getty Images
Leading up to the release of her song "Used to Be Young," Miley Cyrus launched a TikTok series with the same title, which reflected on her younger years and her overall career milestones. In several of these short clips, she reflected on her time playing the lead role on "Hannah Montana" — which first aired in 2006 when she was 13 — her personal life, her transition from Disney star to solo musician, and more.
Disney Channel's "Hannah Montana" series was probably the height of Miley Cyrus' acting career and no easy feat to maintain at the young age of 13. Between filming, concert touring, and publicity touring, Cyrus had a lot on her plate. She also likely did a lot of growing up during just a short period of time and quickly had to learn how to live under the scrutiny of the public eye.
As an adult, Cyrus has admitted that her time as a child star on "Hannah Montana" made a huge impact on her that has lasted into adulthood — some of it good, some of it  bad. Cyrus has even admitted to struggling with her own identity after playing Hannah Montana for so long, that she struggled to transition into her own person after the show ended but eventually found a style and sound that she felt was genuinely her.
Miley Cyrus' Hannah Montana schedule was jam-packed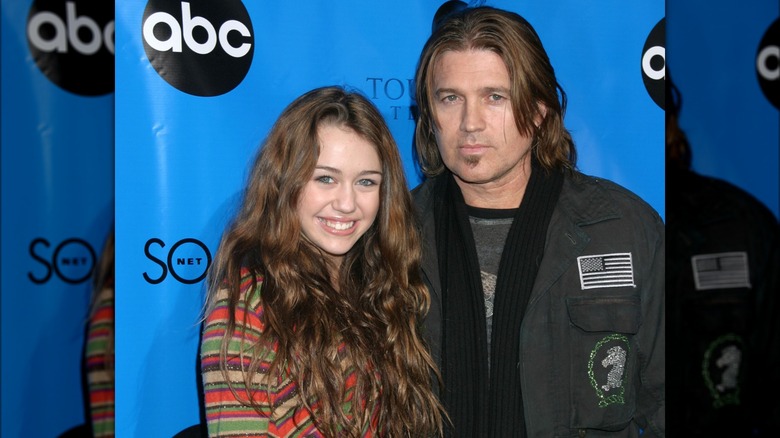 Kathy Hutchins/Shutterstock
As a child star, it comes as no surprise that Miley Cyrus' current work ethic was instilled in her from a young age when she got her start as Disney Channel's Hannah Montana. But Cyrus really dropped a bombshell when she detailed her intense, jam-packed schedule during her "Hannah Montana" days. In the 12th installment of Miley Cyrus' "Used to Be Young" series on TikTok, Cyrus revealed that her days usually started at around 5:30 a.m., and on this Friday in particular, she was booked for eight separate events, which included interviews, photo shoots and meetings. Cyrus then said she would one day off before filming "Hannah Montana" the following Monday.
"I'm a lot of things, but lazy ain't one of them. So ... I do think this girl deserves a little endless summer vacation," Cyrus said, referencing her "Endless Summer Vacation" album. Another voice (likely her mom Tish Cyrus') chimed in, saying, "That literally was the next four years of your life."
She lost her grandpa when she started filming Hannah Montana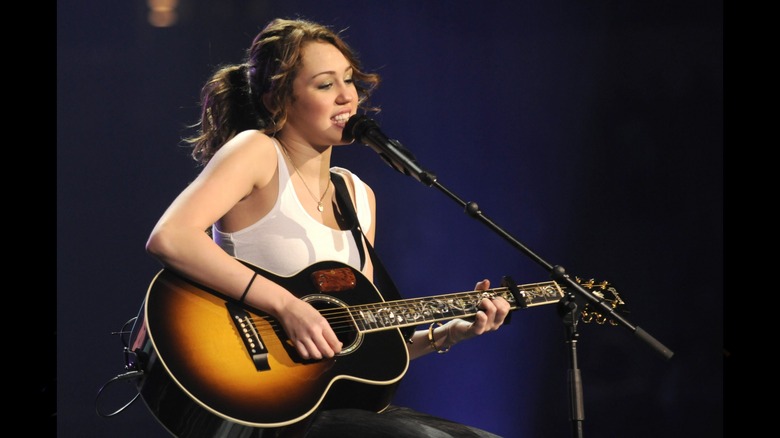 Kevin Mazur/Getty Images
Just before Miley Cyrus made her debut as Hannah Montana on Disney channel, she lost her paternal grandfather (whom she called "Pappy") on February 28, 2006. Although he wasn't alive to see the season premiere of "Hannah Montana" in March, he did get to see the commercial for the show on Disney Channel, which ran during the movie "High School Musical." 
He said it "was one of the proudest moments in his lifetime [and] he was a badass [Democratic state legislator]," Cyrus wrote on Instagram in a letter addressed to the character of Hannah Montana in commemoration of the 15 years that had passed since the show's premiere. "My heart was broken but fulfilled to know I could carry his name beside my dad's through every credit."
Cyrus even honored her late grandpa with a song titled "I Miss You." The song also played a role in a "Hannah Montana" storyline to honor to her character's fictional late mother.
Miley Cyrus started her period while shooting the show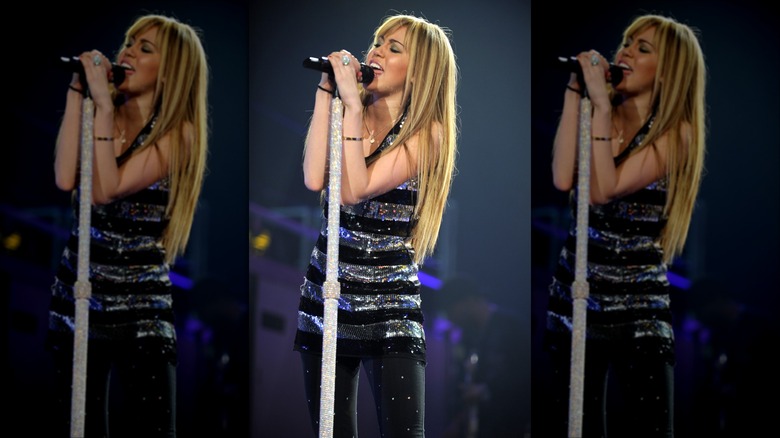 Kevin Mazur/Getty Images
As if watching her grow up on screen wasn't enough, Miley Cyrus revealed that the first time she got her period was while on set of the show "Hannah Montana." In the same letter addressed to her character, reflecting on what the character taught her through the years and the awkward moments she experienced on set. "[I] embarrassingly started my period in a pair of white capris of course on the day 'a cute guy' was cast [and] asked to have lunch with me," Cyrus wrote. "Instead, I spent it in the bathroom with my mom sobbing [and] scrambling to find a pair of fresh denim."
As if puberty wasn't already awkward or embarrassing enough, Cyrus still had to work and wasn't going to let her period get in the way of that. In a story with Marie Claire, Cyrus recalled telling her mom, "You're going to have to put the tampon in. I have to be on set." 
She faced a lot of scrutiny for her topless Vanity Fair cover shoot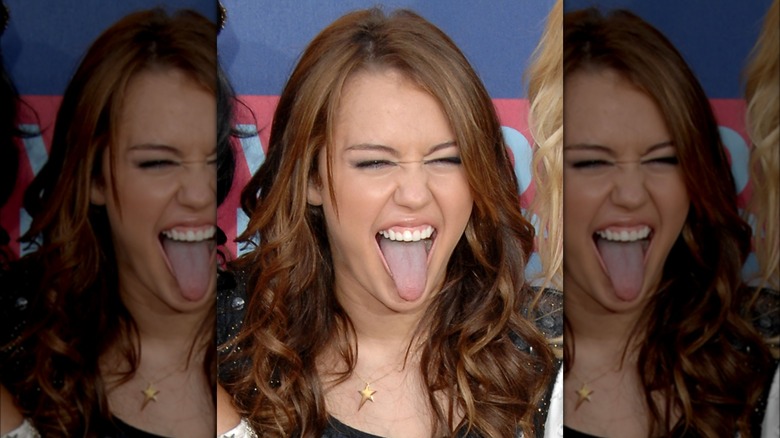 Jon Kopaloff/Getty Images
In 2008, Miley Cyrus did a risqué photo shoot for the cover of Vanity Fair, posing topless with only a sheet covering her body. This was deemed very controversial because it went against the Hannah Montana image Disney had cultivated. "This image of me is the complete opposite of the bubblegum pop star that I had [become] known for being," Cyrus recalled in her "Used to Be Young" TikTok series. As an added element, Cyrus' makeup artist opted to give her a red lip too to further separate her from Hannah Montana.
After the photos were released, Cyrus felt forced to apologize for the shoot because it upset so many, saying in a statement, "I took part in a photo shoot that was supposed to be 'artistic,' and now, seeing the photographs and reading the story, I feel so embarrassed. I never intended for any of this to happen, and I apologize to my fans, who I care so deeply about." She later retracted this statement in 2018 by tweeting a New York Post front page from around the time of the shoot (which read "Miley's Shame") and writing, "I'm not sorry. F*** you."
Being Hannah Montana made her struggle with her own identity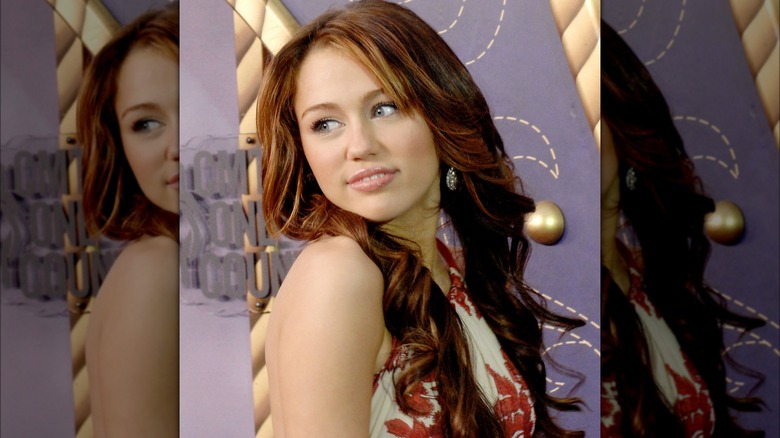 Jon Kopaloff/Getty Images
At times, Cyrus admitted that portraying Hannah Montana for so long made her question her own identity. She never felt she could fully be herself and didn't really know how to while working on the show because doing so might have went against the image Disney wanted. In the 15th-anniversary Instagram note she wrote to the character of Hannah Montana, she also wrote, "[Y]ou held more of my identity in your glovette than I did in my bare hands."
Portraying Hannah on the show also exposed her to unrealistic beauty standards. "From the time I was 11, it was, 'You're a pop star! That means you have to be blonde, and you have to have long hair, and you have to put on some glittery tight thing,'" she told Marie Claire. "Meanwhile, I'm this fragile little girl playing a 16-year-old in a wig and a ton of makeup."
Cyrus noted that the concept of show made her think people only cared about her when she had the blonde wig on in her real life too. Without the wig, Cyrus felt,"I wasn't a star anymore. That was drilled into my head, like without being Hannah Montana, no one cares about you," Cyrus said on the "Rock This With Allison Hagendorf" podcast.
She experienced her first love with Nick Jonas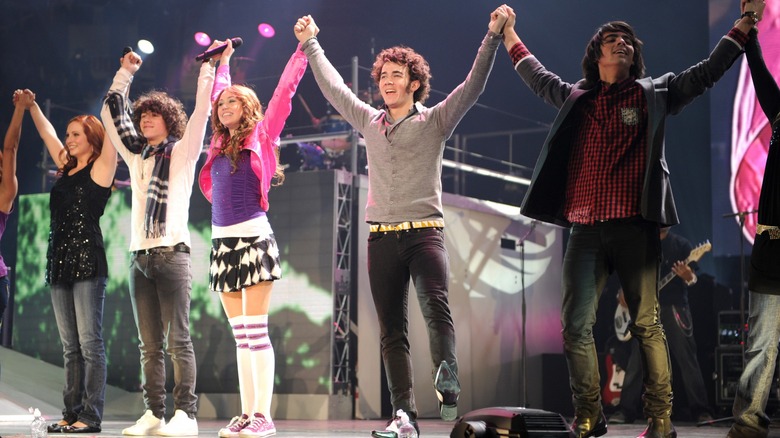 Kevin Mazur/Getty Images
Miley Cyrus and Nick Jonas dated between 2006 and 2007 while the two were on tour together. Cyrus said it was love at first sight. "We became boyfriend and girlfriend the day we met," Miley told Seventeen in 2008. "He was on a quest to meet me, and he was like, 'I think you're beautiful and I really like you.' And I was like, 'Oh, my gosh, I like you so much.'"
Although the two have since become friends, the breakup was a difficult time for Cyrus. Cyrus spoke of the breakup in more detail in her autobiography "Miles to Go," and referred to Jonas as "Prince Charming." "Prince Charming and I broke up on December 19, 2007," she wrote. "The hardest day ever. My life felt like it had ground to a halt, but the rest of the world kept right on rolling. I was on tour. People were counting on me, but my head — no, my heart — was dizzy." 
The breakup also sparked Cyrus's hit song "7 Things" which was written soon afterward.
She didn't initally get along with her co-star Emily Osment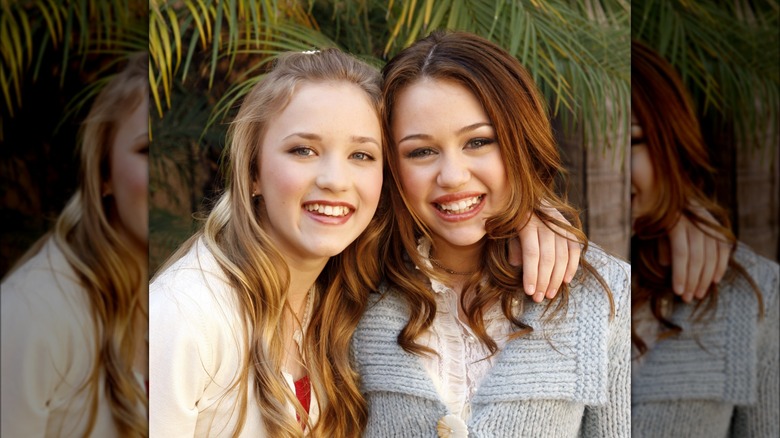 Jesse Grant/Getty Images
Miley Cyrus and Emily Osment portrayed best friends on "Hannah Montana" as the dynamic duo Miley and Lily (on the show, Cyrus played a normal teenager — also named Miley — whose secret identity is the pop star Hannah Montana).
Cyrus and Osment's characters on the show were so close they were practically sisters. Their friendship seemed genuine and deep, and so the same was assumed of the actors' off-screen friendship. However, it wasn't until Cyrus released her autobiography "Miles to Go" that a different picture of their relationship. "Emily and I tried to be friends, we really did, but it always ended in a fight," she wrote. "Our characters got along so well, why couldn't we act the same in real life?" she wrote.
Fortunately, Cyrus went on to note in "Miles to Go" that the two eventually overcame their differences and became good friends after bonding over a moment they shared tending to some baby birds they. "Now when I look at Emily I don't feel insecure or competitive or annoyed at our differences. It was worth it, worth all that fighting and tolerating ... The friendships that take work can be the ones that are most rewarding." 
Miley almost didn't get the role of Hannah Montana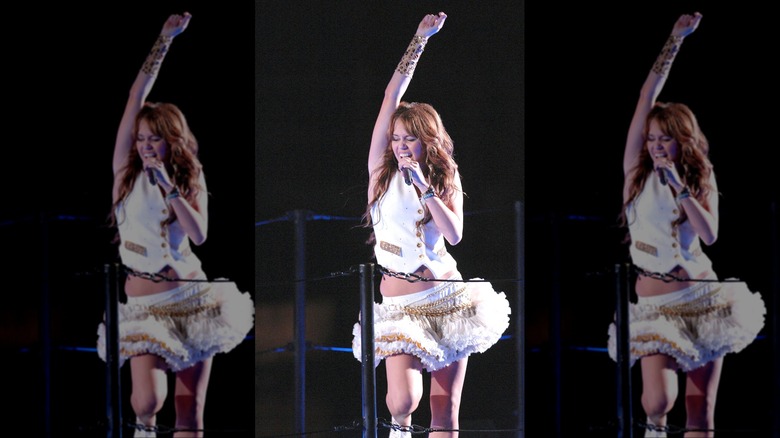 Everett Collection/Shutterstock
Believe it or not, Miley Cyrus wasn't the first choice to play the role as Hannah Montana. When Cyrus first auditioned for the show, she initially auditioned for the part of Miley Stewart's/Hannah Montana's best friend, Lily, in which Emily Osment was later cast. However, casting directors liked Cyrus' audition so much that they had her audition for the lead role. 
Ultimately, though, they decided that Cyrus was too young for the role. Originally, the role was going to go to pop singer Joanna "JoJo" Levesque, but she turned it down. Just a few months later, the role was still vacant, and Disney called Cyrus up for another audition, after which they finally decided to offer her the role of Hannah Montana. 
"Hannah Montana" became one of Disney's biggest premieres and ran for four seasons. Can you imagine anyone other than Miley Cyrus playing the role of Hannah Montana?