Calvin Harris Wishes He Didn't Snap At Taylor Swift On Twitter After Their Messy Breakup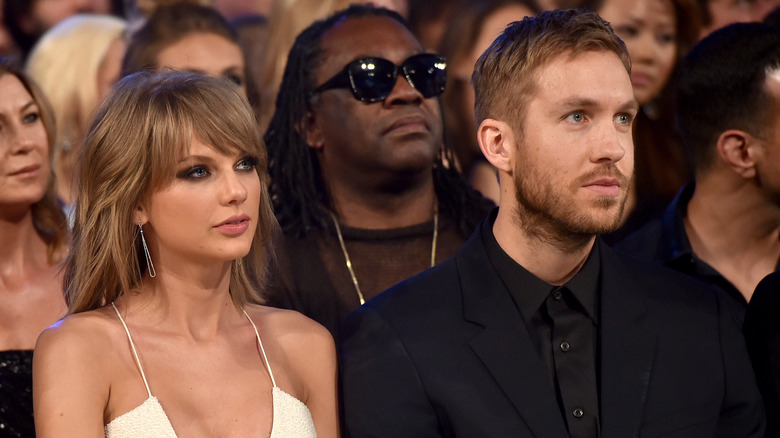 Kevin Winter/bma2015/Getty Images
Taylor Swift and Calvin Harris were introduced by mutual friend Ellie Goulding backstage at the February 2015 Elle Style Awards. In April 2015, Harris confirmed their relationship in Swiftian fashion by posting a picture of her cats on Instagram. Everything seemed to be going well for the couple as they celebrated their one-year anniversary with a romantic getaway in March 2016. However, things started to go downhill when Harris appeared on "On Air With Ryan Seacrest" and said that he couldn't see himself collaborating with Swift because they'd never truly discussed it. 
By June 2016, they called it quits and Swift moved on with Tom Hiddleston. Just a month after their split, Swift's rep confirmed to People that Swift had ghost-written Harris' mega-hit "This Is What You Came For" under the pseudonym Nils Solberg. The move made Harris believe that Swift and her team were on a mission to take him down, so he expressed his feelings on a Twitter rant, writing, "I figure if you're happy in your new relationship you should focus on that instead of trying to tear your ex bf down for something to do."
"I know you're off tour and you need someone new to try and bury like Katy [Perry] ETC but I'm not that guy, sorry. I won't allow it," he added. He finished by urging Swift to focus on the positive aspects of her wonderful life. However, like many others who put their ex on blast on social media, Harris himself wasn't too pleased with the way he lost his cool.
Calvin Harris had his reasons for the rant
Kevin Mazur/Getty Images
In a September 2016 GQ interview, Calvin Harris explained how he felt about his Taylor Swift rant, admitting, "It was completely the wrong instinct." He also offered some insight into his reasoning. "I was protecting what I see as my one talent in the world being belittled. It felt like things were piling on top of me and that was when I snapped," he explained. Harris shared that when he dated Swift, they managed to keep things under wraps because he didn't enjoy the constant public attention. 
However, the announcement of their split created a media storm as everyone tried to ascertain what happened, and many believed that it was the Ryan Seacrest interview that initiated the downfall of the relationship because Swift is deeply passionate about her songwriting and she would've found words insulting. Plus, Harris could only take so much. The media frenzy began to stress him out until he couldn't hold his frustration in any longer, so he let out his emotions through social media. 
Once everything cooled down, he revealed that he got a clearer perspective of the situation and realized he couldn't let the internet's negativity get to him. So, he instead chose to focus on his naturally positive side. The "Summer" singer also set the record about the reason for their breakup by explaining that he and Swift simply weren't right for each other. However, in the same month, Harris released his single "My Way," which many believed to be about Swift.
Taylor Swift references Calvin Harris in songs too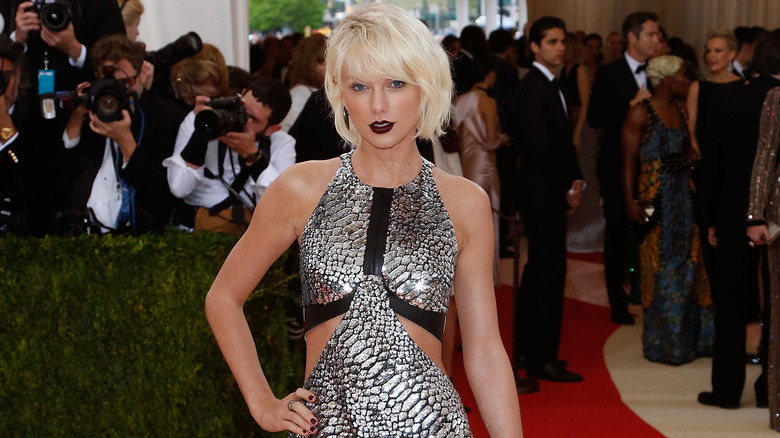 Taylor Hill/Getty Images
Speaking to iHeartRadio, Calvin Harris explained the meaning behind "My Way," saying,"[It's] about breaking out of a situation that you thought was a good thing. Then, you're way more comfortable out of it." However, he clarified that the song could apply to anything from a job to a relationship. But the lyrics, "Lie awake, two-faced, but in my heart, I understand" allude to a betrayal in a relationship. Even the track's music video seemingly references Taylor Swift with some of the outfit choices. 
Although Swift is known for writing songs about her life, she hasn't written many about Harris despite dating him for 15 months. Ironically, fans believe she called him out on "Lover's" opening track, "I Forgot That You Existed." The lyrics "Lived in the shade you were throwing till all of my sunshine was gone" could allude to Harris' shady Instagram comments following their breakup and his Twitter rant, which eventually snowballed into Swift getting canceled.
Swift sings about April 29th several times on "High Infidelity" from her tenth studio album, "Midnights," and the date holds some significance for her relationship with Harris because the infamous Ryan Seacrest interview took place on April 29, 2016. Just days later, on May 2, Swift attended the Met Gala and danced the night away with Tom Hiddleston, who could be the man who brought her back to life, per "High Infidelity" lyrics. She also reportedly met her future beau, Joe Alwyn, that night.