Chris Evans And Alba Baptista Have A Bigger Age Gap Than We Realized
Wedding bells rang for actors Chris Evans and Alba Baptista on September 9, 2023, when the fledgling couple got married — despite their substantial, 16-year age gap. Evans and Baptista's relationship was confirmed in November 2022 when sources told People they had been together, "for over a year and it's serious." The insiders added, "They are in love and Chris has never been happier. His family and friends all adore her." The Marvel star had previously made comments to People about wanting to start a family eventually.
Evans himself confirmed his relationship with Baptista in January 2023 by posting a video montage on his Instagram Story of the couple jokingly scaring each other. However, after being fairly active on Instagram in the past and posting several other sweet snapshots of himself and Baptista, Evans deleted his Twitter and Instagram accounts in June 2023. Privacy was key on the couple's wedding day too. According to a source who spoke with Page Six, wedding guests signed NDAs and had their phones taken away to avoid leaks.
Evans is a staunch feminist, but he is no exception to the pattern of older men pursuing younger women romantically — which is not just a trend among celebrities.
An obsession with staying young is one reason celebrities date younger people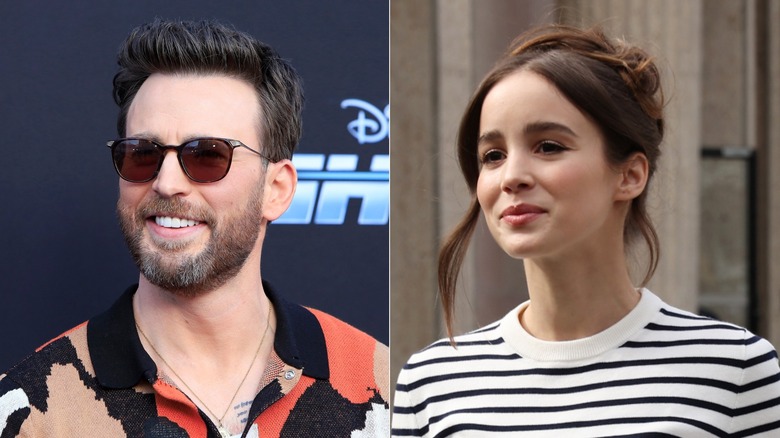 Kathy Hutchins/Shutterstock & Peter White/Getty
At the time of writing, Chris Evans is 42 while Alba Baptista is 26. According to Psychology Today, younger men most often romantically pursue women around their age or slightly younger. However, data shows that some men go after women a lot younger when they themselves are significantly older. This is often more noticeable with celebrities, like Evans, due to them being in the public eye. Melanie "Mel" Schilling from "Married at First Sight Australia" has experience as a psychologist and relationship expert, and she spoke with The Latch about the phenomenon of celebrities seeking younger partners. 
"The world of Hollywood is obsessed with youth," she pointed out. "And this is not just about vanity but also economic survival! Celebrities have been known to go to extreme lengths to preserve their youth (surgically, for example), and dating a younger person is an extension of this." Schilling added that it's a way to control the narrative surrounding a celebrity's youthfulness and relevance in society.
The reality star also believes that age-gap relationships can work if both adults are in the same stage of life and want the same things in the future, noting, "A 50-year-old person could be highly compatible with a 30-year-old if they are both at a similar life stage with similar values, needs, goals and future vision. Similarly, two 40-year-olds could be on completely different life pages and not connect at all."
Some are criticizing Evans and Baptista's age gap
Of course, Chris Evans and Alba Baptista's relationship hasn't been free from scrutiny. Critics are not holding back their negative opinions on the age difference. TikTok user Tasha (@tishtoking) shared a video after their wedding was announced and laughed. "In all seriousness," she said, "Like, tell me you're having a midlife crisis without telling me." She also shared a photo of a 16-year-old Evans because that's how old he was when Baptista was born. After razzing the actor some more, Tasha added, "And remember, beware the mediocre man hiding behind a beard who's scared to die alone."
Another TikToker, @murderhoney, also shared a video on the subject and quipped, "It looks like Chris Evans got himself a child bride," remarking on how young Baptista looks despite being in her mid-20s. Others have come to Evans' defense regarding the age gap, including his brother, Scott Evans. Some people even asserted that the motivations behind these criticisms were selfish. 
As one Twitter user put it, "The entire discourse about the age gap between Chris Evans and his wife boils down to the fact that you people are trying to find an excuse to call it 'creepy' and 'problematic' because deep down you're, frankly, jealous of her." Another argued that there's a big difference between grooming somebody and two consenting adults falling in love and deciding to be together.