Inside The Final Years Of Grace Kelly's Life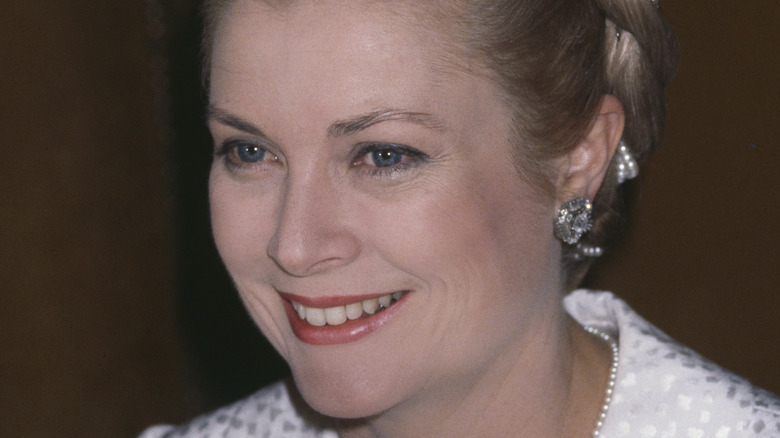 James Andanson/Getty Images
Grace Kelly is oftentimes portrayed as a tragic figure. Just a year after winning the 1955 Academy Award for Best Actress, the movie star traded life in Tinseltown for a tiara — literally. The Hollywood icon headed off to the small Mediterranean principality of Monaco and married the region's ruler, Prince Rainier. She was crowned Princess of Monaco and left movies behind. According to some sources, Grace's new husband was not too keen on being married to a working woman. And this was said to break her. 
Writing in the biography "My Days With Princess Grace of Monaco," Grace confidant Joan Dale claimed that royal life made the actor-turned-princess feel trapped. Dale wrote, "I am sure there were times in the early years when she felt somewhat like a prisoner in a gilded cage behind the palace walls" (via Women Working). In an interview with Closer Weekly, royal expert Jay Jorgensen echoed this sentiment, stating, "In that respect, I think [leaving Hollywood] was hard for her ... She had to give up certain things, like her career, to get certain things."
Although leaving Hollywood was likely challenging for Grace, she was not the shrinking violet these narratives make her out to be. One only need to look to the last years of Grace's life to see that the "Rear Window" star was a go-getter until the very end. Leading up to her tragic death in 1982, Grace was more than just a princess. She was also a performer, an artist, and a mother.
Grace Kelly gave poetry readings across the world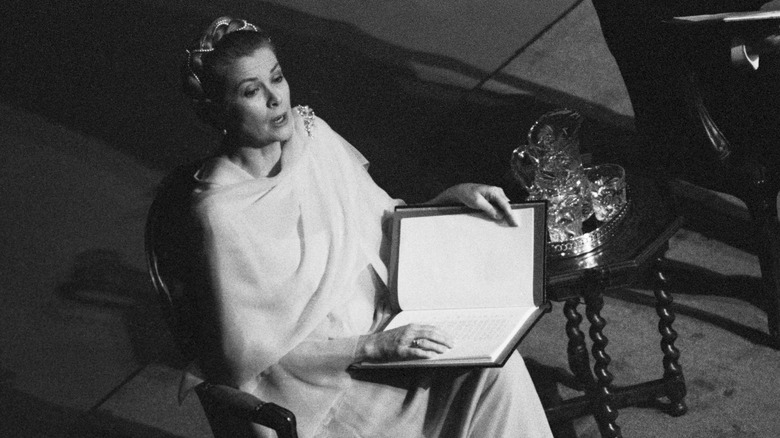 Bettmann/Getty Images
Grace Kelly, Princess of Monaco may have given up her career as a movie star when she walked down the aisle with Prince Rainier. However, that didn't mean that the "High Society" actor ever lost her taste for drama. In the years leading up to her death, she began collaborating with John Carroll, who was in the business of organizing poetry recitals for large audiences. As explained in Jeffrey Robinson's book, "Grace of Monaco: The True Story," Grace and Carroll would work together to create theatrical poetic performances for events, beginning with "American Heritage" poems for the 1976 Edinburg Festival.
Soon, Grace was being invited to perform at poetry festivals across the world. Over the course of the five years that followed, she traveled to cities including Dublin, London, Nashville, and Minneapolis in order to give her outstanding performances.
Once, at a poetry recital in Vienna, the princess was said to have really turned up the drama. Per Robinson's biography, Carroll would later recall, "Grace could speak some German. She learned it from her mother. When she told me that, we [altered her repertoire, adding] a couple of short verses from Austrian poets referencing the magic of Vienna. Grace recited them in German at the end of the program." Apparently, this decision to include the local language in Grace's performance was an excellent call. Carroll went on to add that the princess "absolutely brought down the house."
She made art out of flowers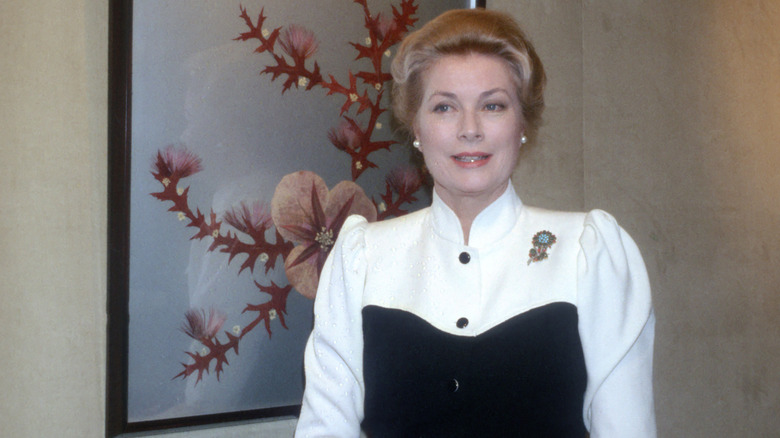 Michel Dufour/Getty Images
Fascinatingly, though, Grace Kelly, Princess of Monaco did not limit her creativity to the performing side of things. She also tried her hand at visual arts — more specifically, pressing and preserving flowers. While many of Grace's contemporaries failed to take this art form seriously (Alfred Hitchcock was said to be particularly critical of his friend's new interest), the princess developed a passion for it. And, by the time that she had reached the last years of her life, she began to get really good at it.
Indeed, in 1977, Grace was invited to Paris to show her floral art at the prestigious Galerie Drouant. As reported by Town & Country, 46 of the princess' works were on display, and their prices ranged anywhere from $500 to $1,300. Despite these hefty price tags — especially for the time — Grace's show completely sold out. Within two years, the gorgeous blond creative could see her prints being sold on tablecloths, napkins, and placemats.
According to Ann-Marie Albrechtson, the Princess Grace Foundation's chief of staff, flower pressing gave Grace something to be moved by. Speaking to Town & Country, Albrechtson shared, "It was a great way for her to express herself. She needed an artistic outlet, and so it was a passion that she was really good at. It's never been the most exciting thing, but Taylor Swift at the 2021 Grammys wore a dress based off a modern pressed flower designer. It's still around."
The princess wrote a successful book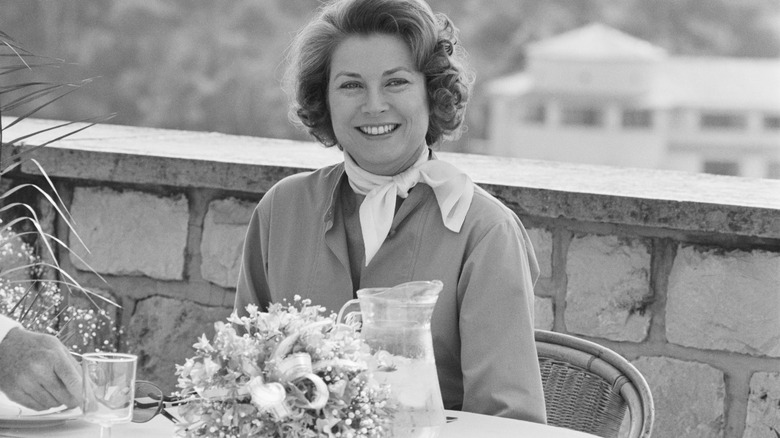 Rene Maestri/Getty Images
Beyond pressing flowers, Grace Kelly, Princess of Monaco enjoyed writing about them. In fact, almost exactly two years before her death, the former movie star published a book titled "My Book of Flowers." The work discussed Grace's interest in flower pressing but also did a deep dive into other themes, such as floral arrangements and even herbal medicine. But, most of all, the tome provided some insight into the way that the princess felt leading up to that tragic 1982 car crash.
In a certain way, Grace's book revealed a sense of peacefulness. The Academy Award winner wrote, "Just sliding the flowers into place brings the same kind of tranquility as doing needlework, crocheting, or knitting. No wonder the Victorian ladies spent hours making pressed flower albums and pictures. As with gardening, time just slips by" (via Town & Country). During other moments, though, the princess recognized how many artistic opportunities this passion had brought her, writing, "Love of flowers has opened many doors for me."
Ultimately, Grace's book was a massive hit. As royal expert Jeffrey Robinson wrote in his biography, "Grace of Monaco: The True Story," copies of "My Book of Flowers" were selling like hotcakes. The biographer explained, "Financially, the book was a huge success, and Grace's portion of royalties was soon bolstering the bank accounts of charities such as the Monaco Red Cross."
Grace made a secret indie film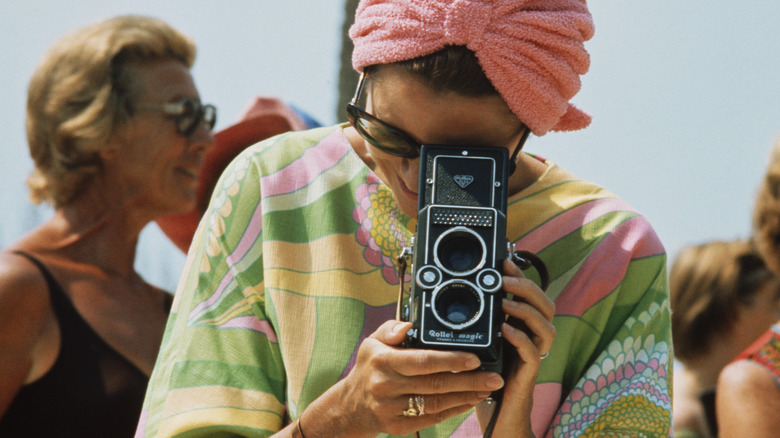 Hulton Archive/Getty Images
At the end of the day, Grace Kelly, Princess of Monaco was still a movie star at heart. Thus, when it came time to raise money for the Garden Club of Monaco, Grace decided to make an indie movie featuring some of her favorite people. Indeed, sometime in the early 1980s, the princess wrote a movie script that was inspired by her love of flowers. Titled "Rearranged," the film apparently followed Grace — who played herself — as she helped a professor understand the unique world of flower arrangements. As the project was done in the spirit of good fun, the princess invited her friends to participate. At one point, Prince Rainier even appeared in the film as an extra.
Of course, not everything about "Rearranged" remains so lighthearted. If anything, the film also has a mysterious side. When the final product was ready to be shown in 1982, only a few select viewings actually took place. And apparently, this was not for a lack of commercial interest. As per Jeffrey Robinson's biography, "Grace of Monaco: The True Story," the princess was offered $6 million — or, around $22 million in today's money – for the rights to public distribution. However, it was believed that Rainier was not so keen on the idea of showing his wife's movie to people around the world. According to Robinson's account, "The print is locked in a palace vault, and Rainier insisted that's where it will stay."
She spent a lot of time in Paris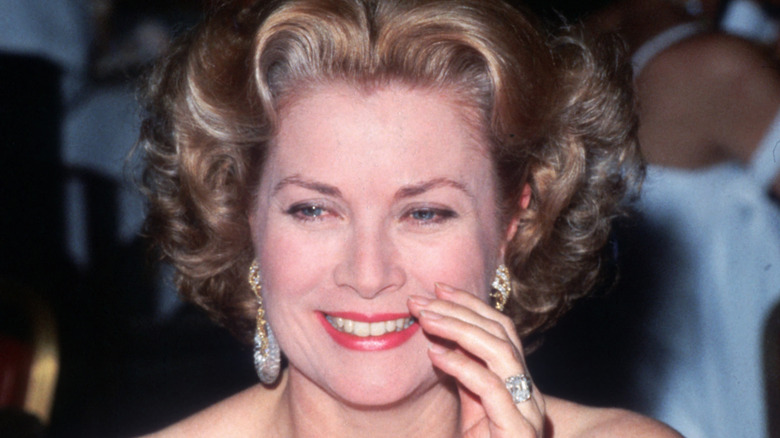 Michel Dufour/Getty Images
Perhaps because of these artistic pursuits, Grace Kelly, Princess of Monaco began spending more and more time in Paris. There, she could enjoy all the glitz and glam of a big city, all while keeping an eye on her youngest daughter, Princess Stéphanie, who had been enrolled at a nearby boarding school. As explained in Jeffrey Robinson's "Grace of Monaco: The True Story," living in Paris was the easiest way for Grace to seek fulfillment, both as a creative and as a mother. "Grace was living most of the year in Paris to be near Stéphanie, who went to school there. Paris had rekindled her need for the cultural bounties of a world-class city."
Interestingly, however, there may have been another reason the princess jetted off to Paris. According to royal expert J. Randy Taraborrelli, Grace's relationship with Prince Rainier was far from being perfect, and it was possible that the former movie star occasionally fled to France in order to get a break. Writing in his book "Once Upon A Time: Behind the Fairy Tale of Princess Grace and Prince Rainier," Taraborrelli described an incident when the journalist Gwen Robyns inquired into Grace's personal life. According to Taraborelli, Robyns once noted, "I can't help but notice that you are spending more time in Paris with the girls." To this, the princess allegedly responded, "Actually, I have come to feel quite sad about being married to Rainier."
The princess accepted her complicated relationship with Rainier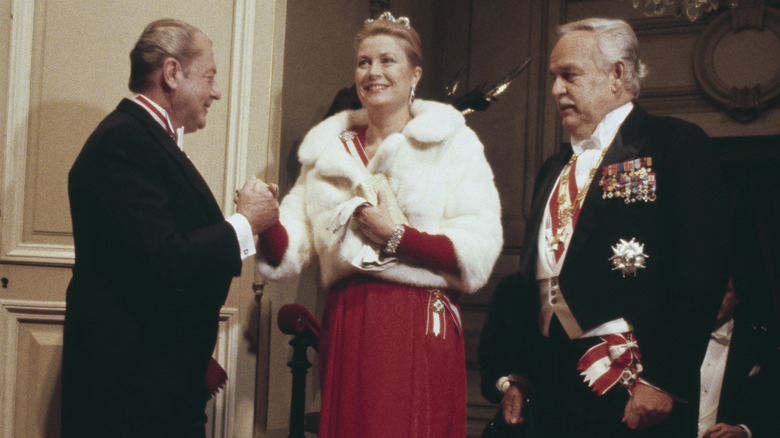 Rene Maestri/Getty Images
Some sources may have proposed that Grace Kelly, Princess of Monaco would go to Paris to flee her husband. However, it seems the truth was a little bit more complicated than that. Of course, rumor has it that Grace and Prince Rainier were somewhat mismatched. But, in reality, as the years went on, the pair seemed to make their marriage work — even if Grace's long absences were part of that arrangement. 
Commenting on this dynamic in his book, "Once Upon A Time: Behind the Fairy Tale of Princess Grace and Prince Rainier," royal expert J. Randy Taraborrelli hinted that the prince and princess may have slowly began to accept each other's ways. The commentator explained, "When [Grace] did return to the principality [from Paris], it was better than ever between her and Rainier. In some ways, they were closer because they did not need to make demands on the other for emotional sustenance." 
Compellingly, Taraborrelli went on to claim that this was a result of the decades the couple had spent together, writing, "A long marriage, even one where one or both partners are always unsatisfied, brings a certain comfort because each always knows what to expect of the other. Grace knew she could always count on Rainier." The princess herself reportedly verified this idea in a conversation with Antoinette Brucatto. Apparently, the actor told Brucatto, "The last two years have, somehow, been good for us."
Grace Kelly argued constantly with Princess Stéphanie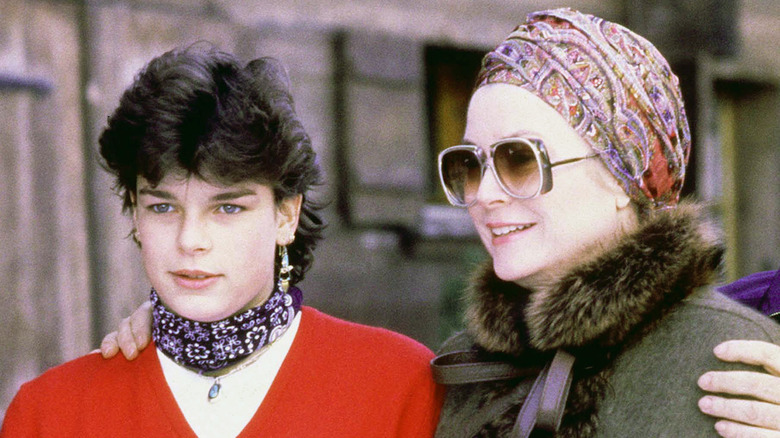 Michel Dufour/Getty Images
But as things improved between Grace Kelly, Princess of Monaco and her husband, Prince Rainier, the same could not be said about the former movie star and her youngest daughter. If anything, Grace's relationship with Princess Stéphanie grew increasingly tense in the years leading up to her death in 1982.
The problems likely began when the teenage Stéphanie began to date men who were deemed wildly inappropriate for a woman of her stature. According to J. Randy Taraborrelli's, "Once Upon A Time: Behind the Fairy Tale of Princess Grace and Prince Rainier," one of these individuals was Urbano Barberini, an Italian aristocrat who was five years her senior. The biographer alleged that Grace once caught Stéphanie smooching her blue-blooded lover, and let's just say that the former movie star was not impressed by her teenager's more hot-blooded activities. 
Speaking to Taraborrelli years later, one of Barberini's friends, Dragonet Andenet, claimed that Grace "came down hard on [Stéphanie], said she wasn't even allowed to go to the beach any longer. Most people felt that Stéphanie's mother was overdoing it." Overdoing it or not, though, Grace struggled to deal with the younger princess' antics. At one point, she apparently told her friend, Charlotte Winston, "Stéphanie is driving me crazy ... The kid has me walking on eggshells, second-guessing everything I say or do." The princess then added that the two were locked in a "battle of wills."
Grace of Monaco supported Princess Caroline during her divorce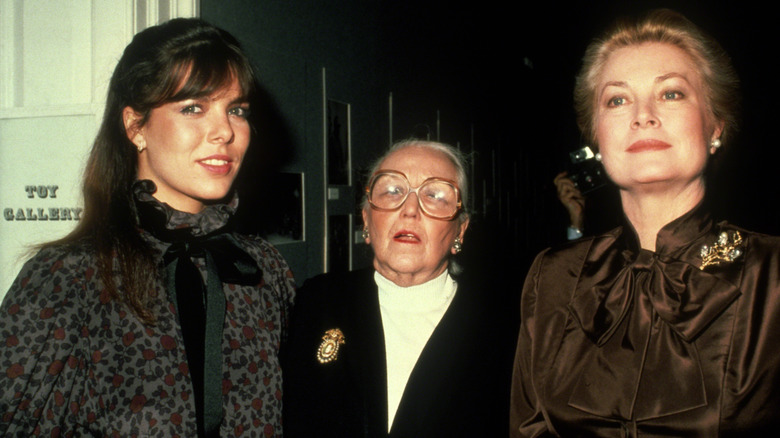 Images Press/Getty Images
Princess Stéphanie was not the only one in the Grimaldi family who needed a bit of extra TLC. In the years leading up to her death, Grace Kelly, Princess of Monaco also found that her eldest daughter, Princess Caroline, needed her support. The trouble started on June 29, 1978, when Caroline tied the knot with Philippe Junot. According to Jeffrey Robinson's "Grace of Monaco: The True Story," the royal groom was "well known in Parisian circles as a playboy." J. Randy Taraborrelli's biography also echoed this sentiment, stating that the young man was "frivolous and free-spirited. He loved to dance, have fun, and live in a way that seemed to be, at least to most observers, irresponsible" (via "Once Upon A Time: Behind the Fairy Tale of Princess Grace and Prince Rainier"). 
Naturally, Grace opposed the match. And, when Caroline and Junot parted ways just two years after making it down the aisle, the protective mother encouraged her daughter to file for divorce. As per Taraborrelli's account, Caroline would later say of Grace, "Mommy said, 'You have to get divorced.'" Apparently, this level of support was shocking to the younger princess, who admitted, "I didn't dare to divorce or even mention divorce because Catholics don't divorce. You're supposed to just make the best of it." However, Grace reportedly turned to her daughter and reminded her, "Religion is there to help people, not make your life miserable."
She helped guide Princess Diana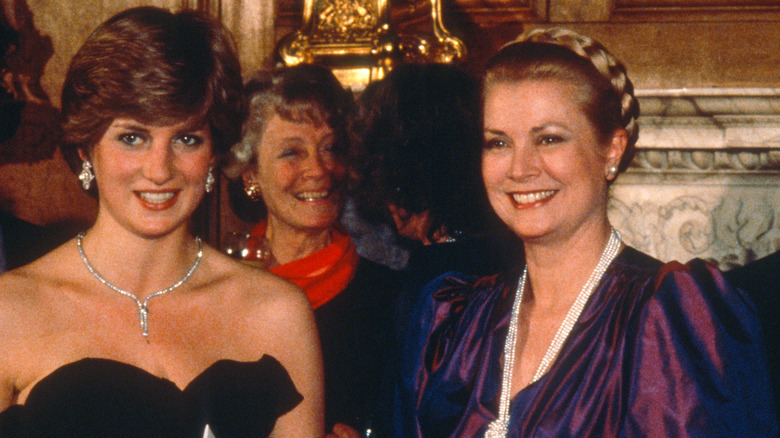 Anwar Hussein/Getty Images
In the final years of her life, Grace Kelly, Princess of Monaco did not just help out the young women in her family. She also gave her counsel to Lady Diana during the time when the future princess was engaged to then-Prince Charles. 
Interestingly, Grace and Diana met in 1981 after the former Hollywood star gave a poetry reading in London. The theatrical performance, which took place at Goldsmith Hall, marked Diana's first public appearance with the prince after she said "yes!" And, according to at least one source, the young British aristocrat was already feeling like she was way in over her head. Speaking to J. Randy Taraborrelli for his book, "Once Upon A Time: Behind the Fairy Tale of Princess Grace and Prince Rainier," the journalist Gwen Robyns recalled chatting with Grace and Diana that night in the ladies' room. Apparently, Diana had come to understand that the black gown she was wearing was completely inappropriate. And, she was having a difficult time dealing with the paparazzis' reaction to her attire.
As Taraborrelli wrote, Diana said, "She now realized more than ever how unbearable it would be to have so many people jostling for her attention, asking questions, not only of her, but of anyone who knew her. She foresaw a life totally devoid of privacy. She was frightened." Grace reportedly reacted by hugging the younger woman and sardonically telling her, "Don't worry, dear. You see, it'll only get worse."
Grace Kelly tried to bring an American touch to Monaco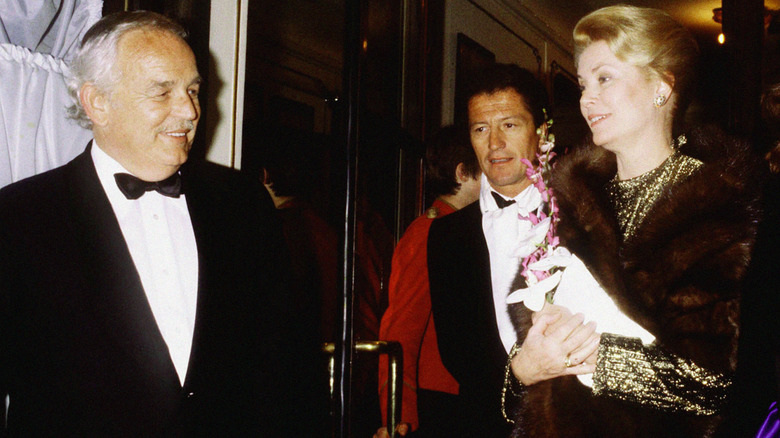 Michel Dufour/Getty Images
When Grace Kelly first became Princess of Monaco, she had to invest a lot of time and energy into acclimating to her new environment. Not only did she have to study French, but she also had to make new friends and win over the hearts of her new people. However, in the later years of her life, Grace began to feel more comfortable bringing some elements of her own American culture into the palace. As Jeffrey Robinson explained in "Grace of Monaco: The True Story," the princess came to miss the "creature comforts she'd known in America." 
Because of this, once her children grew up, Grace dedicated herself to bringing elements of her old home to her new one. Robinson explained, "She subscribed to the American Book of the Month Club, and was always receiving a lot of books — especially history books — through the mail. She also subscribed to Architectural Digest and the International Health Tribune." 
Interestingly, though, there was one subscription that Grace appeared to love above the rest — The New Yorker. As Robinson put it, "Most of all, she was especially fond of New Yorker cartoons." According to the biographer, the princess would go through the magazine and cut out her favorites. "She'd sit at her desk, grinning from ear to ear, with the magazine and a pair of scissors ... [cutting and mailing cartoons], usually anonymously, to whomever it fit."