Inside Princess Stephanie Of Monaco's Complicated Dating History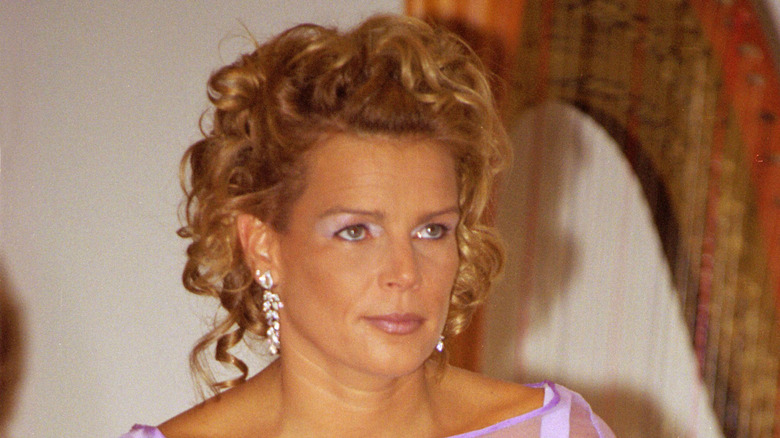 Toni Anne Barson Archive/Getty Images
The following article mentions sexual assault.
When it comes to the Monegasque royal family, it would be fair to say that its members have been largely unlucky in love. A generation ago, Prince Rainier II and the American actor Grace Kelly were known for having a tumultuous marriage that was riddled with infidelities. More recently, Prince Albert II's relationship with Princess Charlene has been called into question, as the royal lady has demonstrated signs of unhappiness over the years. And there's the prince's history of fathering royal love children — a fact that has left some fans waiting for the next scandal to appear.
Of course, the Grimaldi family's string of struggling romances is hardly news. For generations, Monegasque residents have whispered that the local royals have been cursed into having complicated love lives. Some believe that Prince Rainier I, who ruled in the 1200s, sexually assaulted a young woman. According to legend, the woman eventually transformed into a witch and put a spell on the Grimaldis, ensuring that none of the prince's descendants would ever have a happy ending to their love story.
While this curse might sound like it comes straight out of a Brothers Grimm fairy tale, it remains true that most Monegasque royals have had challenging love lives. Princess Stéphanie has had a particularly rough go of things, with two divorces and multiple broken engagements under her belt. From a Spanish singer to a Portuguese acrobat, these are the men that captured Stéphanie's heart. 
Princess Stéphanie ran away from school to see Miguel Bosé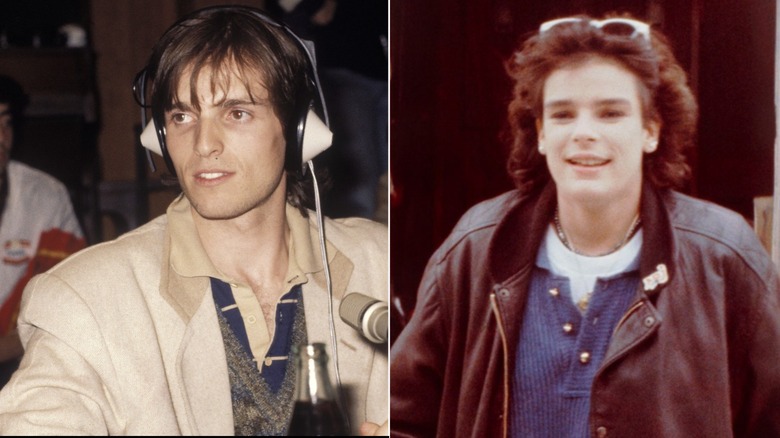 Sigfrid Casals/Getty & United Archives
When she was still a teenager, Princess Stéphanie's personal life was placed under a microscope. The young royal was said to have started going out with the Spanish singer Miguel Bosé, despite the disapproval of her more traditionally-minded parents. This reported pairing evidently caught the attention of the infamously satirical tabloid Weekly World News in 1981. The paper claimed that the then-16-year-old princess rebelliously "frolicked" with the musician in public — an act which was said to infuriate her mother, Princess Grace. 
That being said, separating the princess from her paramour proved to be much more easily said than done. Just the year before, the royal was said to have been caught ditching school in order to spend more time with the Spanish singer. The princess' biography in the Independent affirms, "Stephanie was a wild child. She ran away from her exclusive boarding school aged just 15 for a weekend with singer Miguel Bosé."
Of course, it is important to note that romance was likely not the only thing that was on Stéphanie's mind when she ran away from school. As explained in the biography "Grace of Monaco: The True Story," the princess disliked the convent where she was sent for her studies. As the text's author, Jeffrey Robinson, put it, "The setting was pretty grim."
More relationship rumors bubbled up about the princess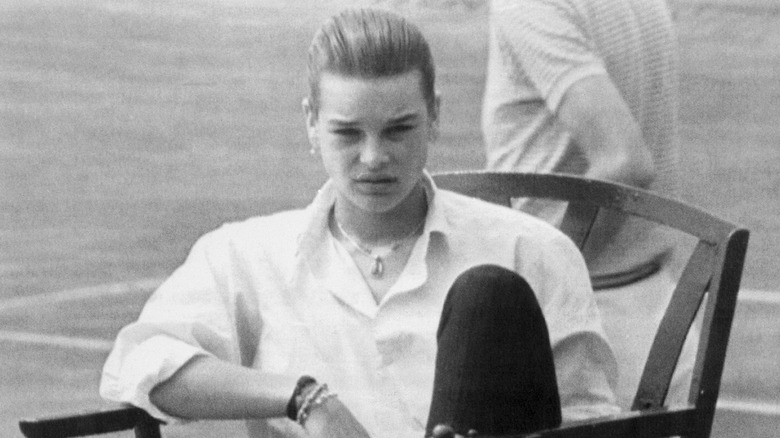 Bettmann/Getty Images
In that same report from the Weekly World News, Princess Stéphanie was said to have moved on from Miguel Bosé with a man called Urbano Barberini. "The pretty 16-year-old princess jumped from Bosé into a heavy puppy romance with handsome 21-year-old Italian nobleman, Urbano Barberini," the tabloid claimed in 1981. If the Weekly World News' account is to be believed, Grace even "grounded" Stéphanie after she was caught with him in public. Author J. Randy Taraborrelli also touched on this illicit pairing in "Once Upon a Time: Behind the Fairy Tale of Princess Grace and Prince Rainier," noting that it "ignited a firestorm of press coverage, not to mention frustration for her parents." 
Whatever did or did not happen, Stéphanie struggled to shake her reputation for being a royal wild child. As explained in Jeffrey Robinson's book "Grace of Monaco: The True Story," the tabloids continued to portray the princess as someone who was constantly challenging the restraints of her rank. These reports were said to have frustrated Stéphanie, who would later tell the press, "I am not a rebel princess. I have simply lived the life of a girl my age. I've always respected my family and protocol."
Jean Paul Belmondo cared for Princess Stéphanie after the car wreck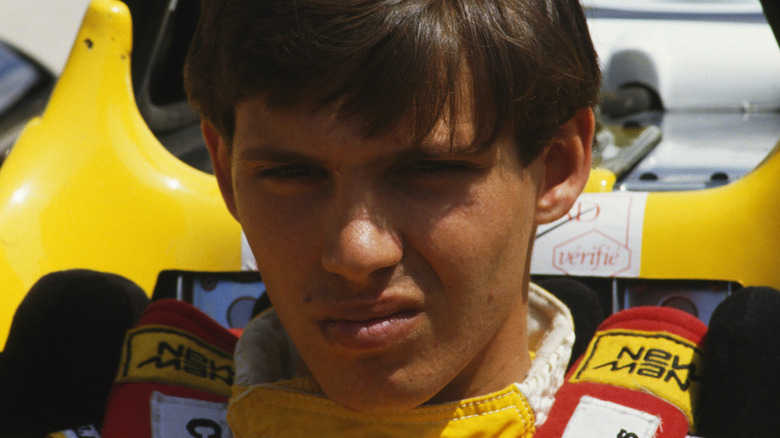 Pascal Parrot./Getty Images
On September 13, 1982, tragedy rocked Monaco's royal family. Princess Grace and Princess Stéphanie were driving along Monaco's infamously rocky coast, the Hollywood star lost control of her vehicle and plummeted off of a cliff. Stéphanie survived the wreck with little more damage than a fractured vertebra and a concussion, but her mother was not so lucky. After developing a brain hemorrhage the following day, Grace died, leaving her three children behind. 
Naturally, the months following the accident were particularly difficult for Stéphanie, who suffered greatly as she recalled the final moments that she had spent with her mother. During this time, the young princess relied heavily on her boyfriend, the French race car driver Paul Belmondo. As royal expert Jeffrey Robinson relayed in the biography "Grace of Monaco: The True Story," Belmondo did everything in his power to support his lover: "He'd visited her in the hospital, comforted her there and, in time, brought her back to Paris with him."
However, even once the couple got settled in the City of Light, Stéphanie struggled to venture out and enjoy life. According to Robinson, Belmondo did not seem to lose his patience with the princess. The biographer explained, "They watched videos together all day long. She stayed there [in the apartment] with him, hiding in her shell." After all this TLC, Stéphanie healed enough to reclaim her normal, energetic self.
She caught tabloid attention by going out with Rob Lowe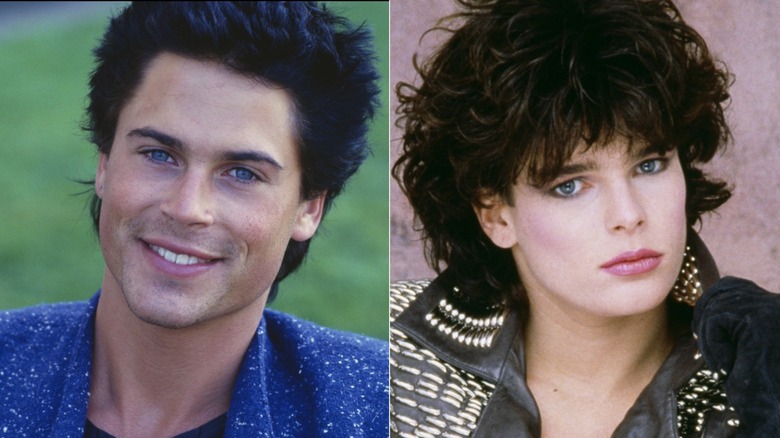 Sergio Gaudenti/Getty & Frederic Meylan
As Princess Stéphanie grappled with the death of her mother, she realized that she needed a change of scenery. In Europe, the tabloid press continued to spin stories about that fatal car wreck, and oftentimes spread rumors about Stéphanie's role in the crash. Some outlets even accused the princess of driving during the accident, going so far as to claim that she had crawled out of the driver's seat to avoid taking responsibility.
All of this proved to be too much for Stéphanie, and in 1986, she moved to Los Angeles. It was there that she met the American actor Rob Lowe, whom she proceeded to date on-and-off for some time. Unfortunately, however, the princess' relationship with Lowe hardly freed her from tabloid rumors. If anything, it thrust her right back into the spotlight. 
As relayed in the biography "Grace of Monaco: The True Story" by Jeffrey Robinson, the American media bubbled over with claims that Rob and Stéphanie were a serious item. According to Robinson's account, "There was even talk of marriage and supposedly, they gave each other friendship and/or engagement rings. The New York Daily News covered the affair much the way newspapers cover boxing matches, giving punch-by-punch descriptions for each round." In spite of rumors about Stéphanie and Rob's so-called engagement, the couple called it quits — likely to the disappointment of the media.
The princess' time with Mario Oliver Jutard was scandalous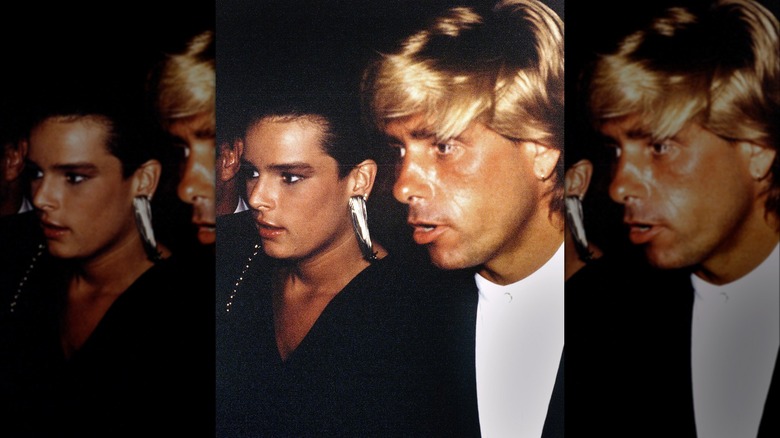 Kypros/Getty Images
After Princess Stéphanie and Rob Lowe ended their relationship, the rebellious royal began dating a Frenchman by the name of Mario Oliver Jutard. Unfortunately, this match was considered wildly inappropriate for someone of Stéphanie's stature. For one thing, Jutard was a former waiter — hardly the background that the more traditional courtiers had in mind for the princess. For another, Jutard had past trouble with the law. Per the Los Angeles Times, he was accused of raping a 19-year-old woman in 1981. He denied the allegations, but ultimately took a plea deal and was charged with sexual battery. 
According to Jeffrey Robinson's "Grace of Monaco: The True Story," Stéphanie's father, Prince Rainier, firmly opposed the relationship. Regardless, the princess dated Jutard for a full two years. Per Robinson's reporting, however, Stéphanie did not remain so deeply enamored with Jutard forever. As she would later admit, "My dad wasn't exactly thrilled about him ... but then nobody was. And I can understand why."
Of course, it did take a while for Stéphanie to see the Frenchmen through the eyes of others. She would eventually state, "I did what I had to do and eventually realized it wasn't what I wanted, so I got out of it. Life goes on. I don't regret anything. Dad must have understood what I was going through ... Otherwise he would have had me on the first plane back."
Stéphanie almost married Ron Bloom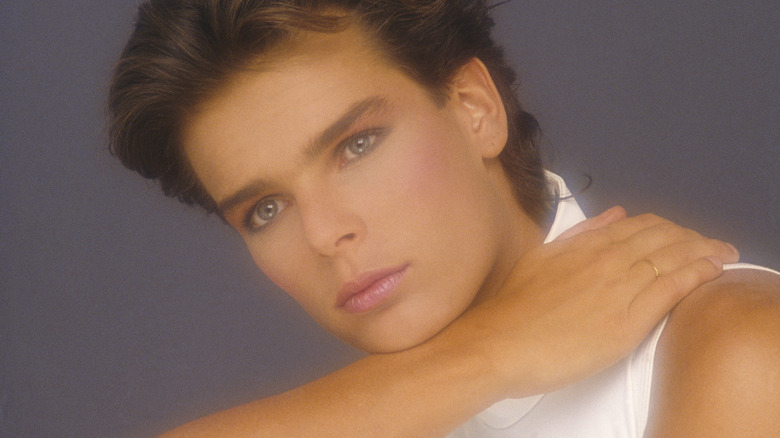 Frederic Meylan/Getty Images
Once Princess Stéphanie reached her mid-20s, she started to show signs of settling down. And, the way that she saw things at the time, Ron Bloom was the perfect person for her to do that with. Bloom was an American record producer who was said to value more traditional things, like family. He encouraged Stéphanie to fix her relationship with her father, and supported her as she and Prince Rainier began to rebuild a sense of trust. According to Jeffrey Robinson's biography "Grace of Monaco: The True Story," Bloom used to tell the princess, "The most important thing you have is your family. They love you and will always love you so don't close yourself off from them. Show them that you love them, too."
As Bloom and Stéphanie grew more serious, the couple showed signs of maybe someday planning a family of their own. They even moved into a hotel room together for four months, before finding a house together. There, the pair reveled in a more low-key routine — one which did not involve the many maids and cooks of palace living. As Robinson wrote, "They had [almost] no staff. Stéphanie did the shopping and most of the cooking — just for the record she is probably the best cook in the Grimaldi clan." Nevertheless, in the end, Stéphanie and Bloom simply were not to be, and in 1990, the pair parted ways.
Princess Stéphanie was engaged to Jean-Yves Le Fur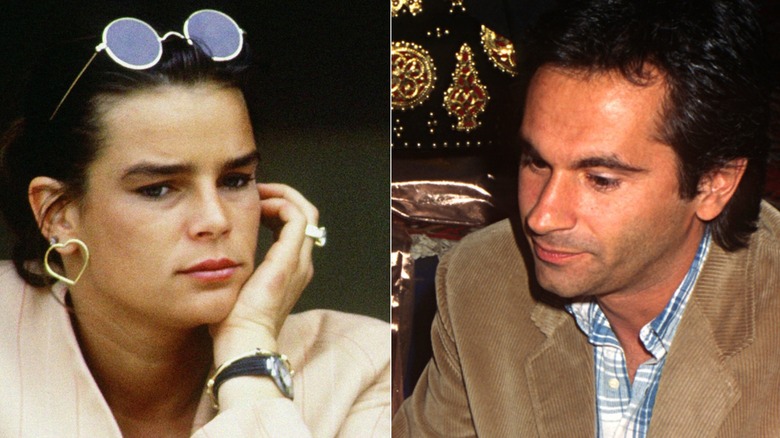 Michel Dufour/Getty & Foc Kan/Getty Images
Almost immediately following her breakup with Ron Bloom, Princess Stéphanie was spotted out and about with Jean-Yves Le Fur. The princess and the businessman might have seemed like an odd match to some, but, apparently, their relationship had the potential to be quite... profitable. In 1990, when a palace official announced that Stéphanie and Le Fur were engaged to be married, The New York Times was quick to see dollar signs. The outlet reported, "It's definitely an alliance of real estate interests: the 25-year-old [princess], whose family owns a 400-acre principality and gambling business, and a 26-year-old Parisian, Jean-Yves Le Fur, a developer and the son of a well known architect."
All suspicions aside, however, Stéphanie was believed to be in love with her fiancé. She celebrated her engagement with fifty of her friends at a glamorous champagne party in Paris. What's more, she was quite outspoken about her feelings for Le Fur. As royal expert Jeffrey Robinson explained in the biography "Grace of Monaco: The True Story," "[Stéphanie] was also being reliably quoted as saying, this is the real thing." Real thing or not, however, Stéphanie and Le Fur never set a date for their royal wedding. And, as the weeks trickled on, it became more and more clear that the affair had fizzled out. Before long, Stéphanie was back in Los Angeles as if the whole thing had never happened.
She married Daniel Ducruet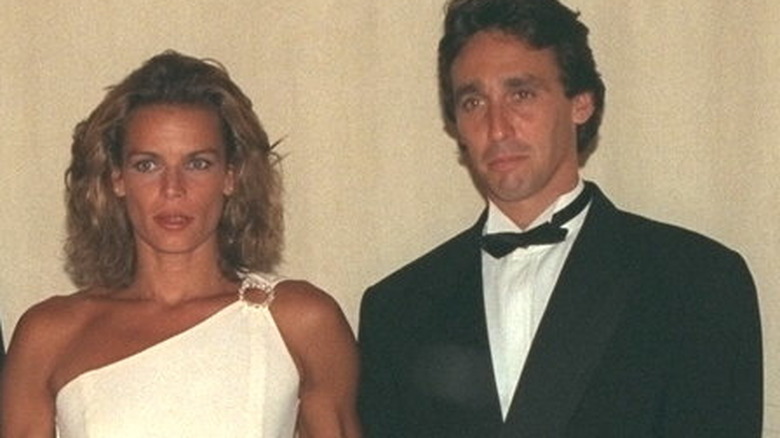 Stephane Cardinale - Corbis/Getty Images
Although Princess Stéphanie did not make it down the aisle with Jean Yves Le Fur, the same could not be said about her bodyguard, Daniel Ducruet. Indeed, sometime around 1991, the princess developed feelings for her personal security agent, and the two became deeply involved. The pair even had two children together — a son, Louis, who was born in 1992, and a daughter, Pauline, who joined them two years later. As they dedicated themselves to caring for their growing family, Stéphanie and Ducruet decided to tie the knot. Thus, on July 1, 1995, the duo wed in a private ceremony at the Prince's Palace of Monaco. 
Unfortunately, however, a fairy tale ending was not exactly in the cards for Stéphanie and her beau. As per Jeffrey Robinson's book "Grace of Monaco: The True Story," Ducruet was photographed spending time with a former Miss Nude Belgium at a villa — and both were in the buff. Evidently, Ducruet tried to buy the photos before they were released, but he had no such luck. "I would have paid it and it would have saved my marriage from divorce," he told the Telegraph (via "Grace of Monaco").
When Stéphanie found out about the affair, she was devastated. The royal quickly filed for divorce and faced the press gracefully. She told Diane Sawyer at the time, "The best way I found to deal with it was just to look at it straight on."
Stéphanie had a baby with Jean-Raymond Gottlieb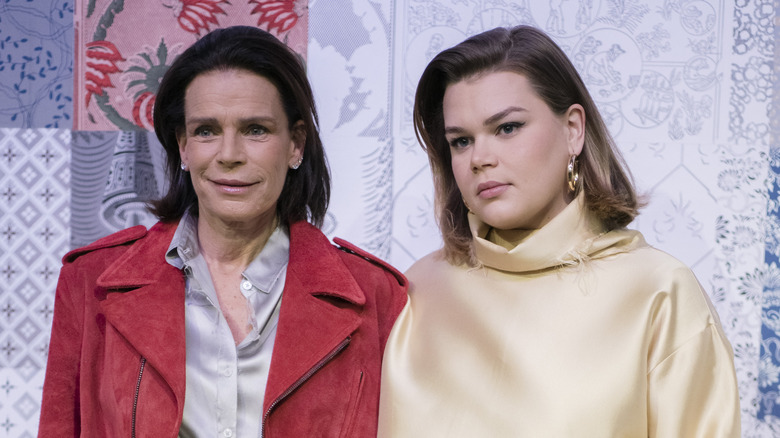 Francois Durand/Getty Images
While things might not have worked out between Princess Stéphanie and Daniel Ducruet, the Monegasque royal was still able to grow her family — albeit with someone else. On July 15, 1998, the princess gave birth to a daughter, Camille Gottlieb. Interestingly, though, Stéphanie refused to disclose the identity of the baby's father, leaving a blank space on the child's official documents and remaining mum in the face of the ever-prying press. 
As the renowned journalist Bidisha Mamata explained in the documentary "The Curse of Grace Kelly's Children," the princess wanted to keep her lover's name a secret. Mamata elaborated, "The father was not named on Camille's birth certificate. And, in fact, it was only revealed decades later by the daughter herself on Instagram." Camille would eventually confirm that the name in question belonged to Jean-Raymond Gottlieb — one of Stéphanie's former bodyguards, who the princess had also had an affair with.
And, although it remains unclear why Stéphanie allowed so much mystery to shroud the paternity of her daughter, one thing is certain: It was not easy for a royal of her generation to give birth to a baby out of wedlock. In fact, it is believed that senior royals punished Stéphanie for her dalliances. Apparently, her father, Prince Rainier, sent her out of the country to a ski resort to hide out until the weight of the scandal died down. 
The princess followed Franco Knie to the circus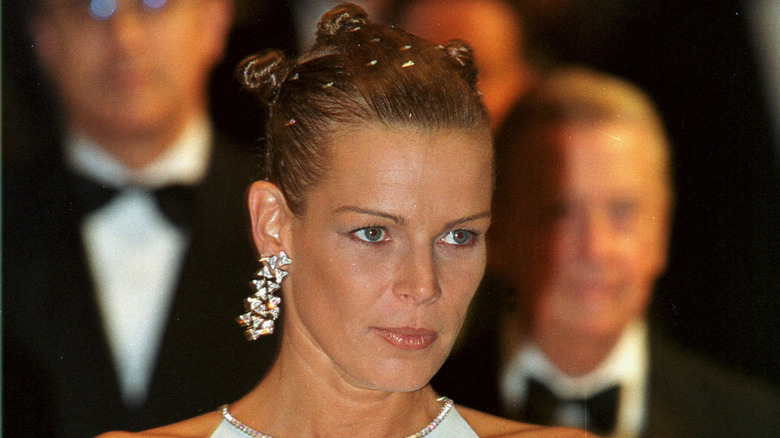 Stephane Cardinale - Corbis/Getty Images
Princess Stéphanie goes where the wind takes her, whether it be Hollywood or under the big top. In 1999, the royal took up with Franco Knie, an elephant trainer for the circus. Rather than moving Knie into the Prince's Palace of Monaco, where the couple could presumably live in luxury, Stéphanie decided to follow her lover as he traveled with the circus from town to town. 
Speaking to Le Temps about this distinct choice, Knie's spokesperson, Chris Krenger, revealed that the princess was living in trailers. "She had two motorhomes at her disposal, parked away from the caravans, near those of the Knies." This living situation was a significant lifestyle change — especially considering that Stéphanie brought her three children on this unusual adventure along with her. 
To make matters worse, the princess' lover was married at the time when the two got involved. And, at least one report indicates that the affair led to Knie's divorce. The elephant trainer's nephew, Louis Knie, told Le Temps, "The suffering of Claudine, Franco's wife, and their son Anthony, who is 12 years old and has autism, makes [my uncle] very sad."
She married an acrobat named Adans Lopez Peres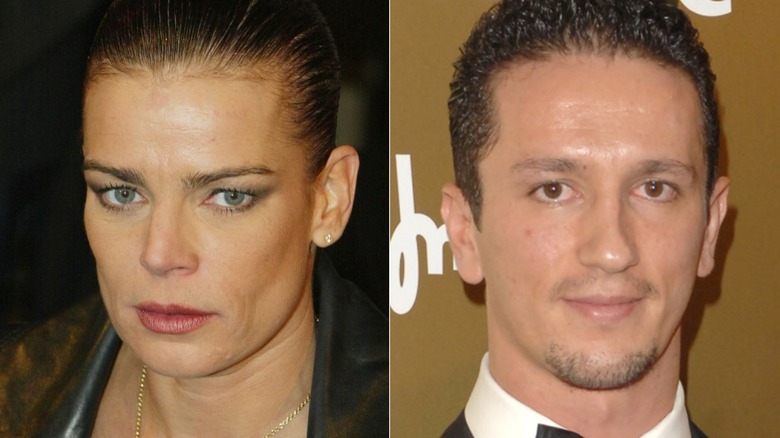 Pascal Le Segretain/Getty & Lalo Yasky
Eventually, Princess Stéphanie and Franco Knie parted ways. However, the unconventional royal's passion for the circus continued. In 2001, the princess crossed paths with Adans Lopez Peres, a Portuguese acrobat, who met the princess at Monaco's International Circus Festival. The relationship, of course, raised eyebrows — but not just because of the differences evident in Stéphanie and Peres' respective backgrounds. Peres was a full decade younger than his royal paramour, meaning that plenty of folks found the princess too old to be a good match for the acrobat. Despite these challenges, however, the couple tied the knot in 2003. 
Compellingly, in contrast to Stéphanie's first marriage, which occurred at the Prince's Palace of Monaco, her second wedding was hardly the royal ceremony that many fans would hope for. Instead, the princess and her beau said their vows in Eaux-Vives, a small French municipality far from the gaze of the paparazzi. And, rather than having a religious ceremony, Stéphanie and Peres opted for a civil one that took place in the local city hall. In the end, it was almost a good thing that no wedding photos leaked to the press: Their marriage came to an end the following year.
If you or anyone you know has been a victim of sexual assault, help is available. Visit the Rape, Abuse & Incest National Network website or contact RAINN's National Helpline at 1-800-656-HOPE (4673).