Sofia Vergara Isn't Ready To Joke About Her Joe Manganiello Split On AGT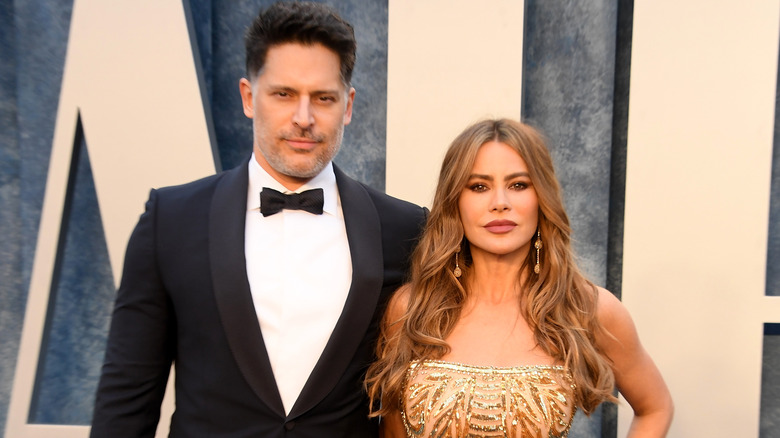 Steve Granitz/Getty Images
"America's Got Talent" has graced the airwaves since 2006, and as one of America's signature competition shows, it keeps audiences coming back for more. While many judges have cycled through over the years, one thing remains the same: The judging panel showcases a diverse set of skills that attract eager contestants. As of 2023, there's renowned talent manager Simon Cowell, supermodel Heidi Klum, comedian Howie Mandel, and actor Sofía Vergara — not to mention, the whole shebang is hosted by former football player Terry Crews.
While Mandel is the resident joker on "America's Got Talent," it appears his recent jests may have gone too far. During the show's 18th season, Mandel joked about Vergara's single status at least twice. The "Modern Family" actor announced her split from husband Joe Manganiello in July 2023. Mandel first referenced her single-ness while a contestant was on stage. The second joke occurred during a lie detector segment, as Vergara answered questions from her fellow judges. When it was his turn, Mandel asked if she was interested in anyone in the audience. "That's it!" Vergara replied and quickly left the hot seat (per Page Six).
Fans were quick to criticize Mandel's comments on social media. "I was helping Sofia!" Mandel explained to ET after facing backlash. "And then online people said it was too soon and it was tasteless ... It's not too soon! It's too soon when she's still married. Last season was too soon ... She approved of the joke. She thought it was funny."
Joe filed for divorce just days after Sofía's birthday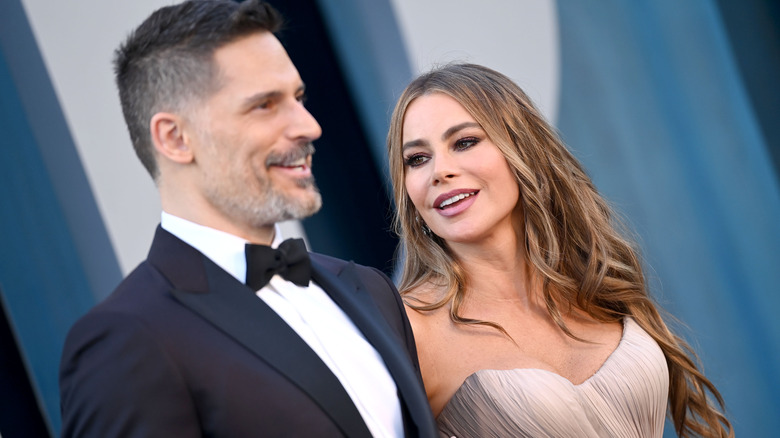 Lionel Hahn/Getty Images
Sofía Vergara and Joe Manganiello announced their split in July 2023, after being married for seven years. "We have made the difficult decision to divorce," the former couple told Page Six in a statement. "As two people that love and care for one another very much, we politely ask for respect of our privacy at this time as we navigate this new phase of our lives."
Vergara and Manganiello first met in 2014 at the White House Correspondents' dinner (per People). At the time, the "Modern Family" actor was engaged to Nick Loeb –- but called off their nuptials shortly after. Upon hearing Vergara was newly single, Manganiello asked her out and the pair hit it off quickly. They tied the knot in November 2015.
Shortly after their split was announced, the "Magic Mike" star wasted no time filing for divorce. He made their separation official only two days after they issued their public statement (per Buzzfeed News). This filing also came shortly after the Colombian actor celebrated her birthday with a girls' trip to Italy. While her husband was noticeably missing from the getaway, Vergara also appeared to send subliminal messages about her life status through social media, which tipped off fans.
According to fans, there were early signs that Sofía and Joe had split
Even though the happy couple fared well over the years, Sofía Vergara and Joe Manganiello's divorce didn't come as a surprise to many fans. Little comments had already begun to raise eyebrows. The two began dating shortly after Vergara's failed engagement, and at the time, she was actively avoiding another serious relationship. "Our first date was her giving me every reason why it would never work out," Manganiello recalled to Haute Living. "Like, 'You're too young, you're an actor, you're this, you're that,' and she was just doing it to hear herself say it. She was trying to talk herself out of going there."
In July 2023, eagle-eyed followers on social media realized that Manganiello wasn't present during Vergara's 51st birthday celebration. Notably, the actor wasn't wearing her wedding ring as she partied in Capri, Italy with close friends. To top it all off, she captioned a sultry dinner photo: "When life gives u lemons u come to Italy to squeeze them," (via Instagram) which many fans took as a jest at her life status. Just days after Instagram detectives made the observation, Vergara and Manganiello's split became official.
At least she has her fellow "America's Got Talent" judge looking out for her, as Howie Mandel said he's still helping her get dates. "She came over and she thought it was funny," Mandel told ET about his joke. "The only reason I'm doing press today is I'm just doubling down on it. I'm her Bumble."