Inside Zara Tindall's Relationship With Her Dad, Captain Mark Phillips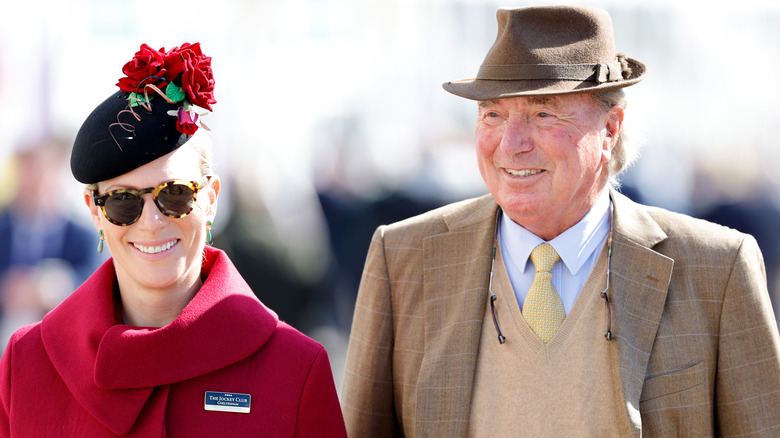 Max Mumby/indigo/Getty Images
Queen Elizabeth II's children, Princess Anne, King Charles III, Prince Andrew, and Prince Edward, all went on to marry and have kids of their own. While the first round of "I do's" didn't exactly end well for three of her children, there has always been a solid sense of family. Some branches of the House of Windsor are more in the public eye than others based on their seniority, such as Charles' dynasty. As for Anne, she managed to achieve the impossible. Her children, Zara Tindall and Peter Phillips are remarkably well-rounded, down-to-earth beings that seem much more like the rest of us than their cousins — Prince William and Prince Harry, for example. 
Anne's relationship with her ex-husband and father of her children, Captain Mark Phillips, has always been an interesting one, but despite their split many decades ago, Phillips has remained in Anne's inner circle. His relationship with his kids, especially Zara, is often talked about. They are frequently spotted together and often talk about each other in the press, having even been known to conduct joint interviews on more than one occasion. 
But is the family's bond really as wholesome as it seems, or is it a smokescreen designed to shun any rumors of discontent, as is so often the case with royal households? Let's take a look at it through the lens of Tindall's relationship with her father.
Zara grew up with her dad close by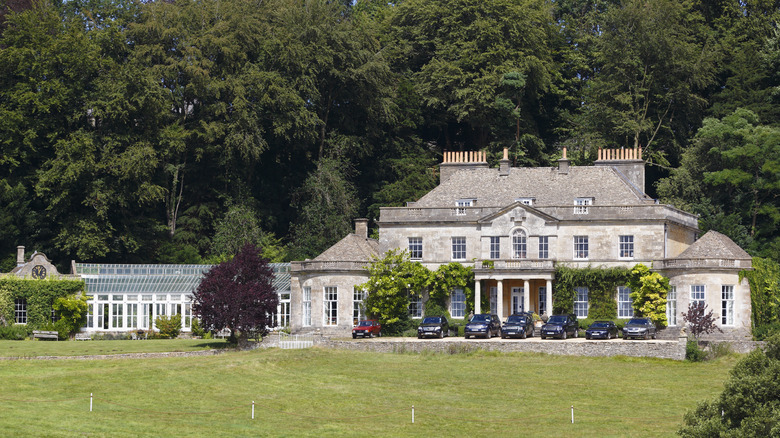 Max Mumby/indigo/Getty Images
There are multiple royal homes that are worth millions, each with its unique charm. Princess Anne's estate, Gatcombe Park, is a true jewel. The sprawling country foothold is nestled in one of the most scenic areas in the United Kingdom: the Cotswolds. Interestingly, the property was gifted to Anne by her mother, Queen Elizabeth II, after she tied the knot with Captain Mark Phillips in the early '70s. The pair lived there alongside their children until their divorce in 1992. While Phillips did move out of the marital home, he stayed on the Gatcombe Park Estate. 
Phillips was able to pack a suitcase and move in at Aston Farm, another property near the main house that meant he could be close at hand to his children. Phillips gave us some insight into those early years in an interview with the Times in 2015 (via Mail Online): "Well, I know we got divorced but the one thing we did really well when we got divorced was how we handled the Zara-and-Peter situation. The princess [Anne] and I get on great."
Having her father living just a stone's throw away from her main residence would have been incredibly beneficial to both Zara and her brother, Peter Phillips. In fact, Phillips remained at Gatcombe Park for many years, even after he remarried. Not only was Zara able to visit her father anytime she wanted, but also her half-sister.
Zara and Mark bond over their love of horses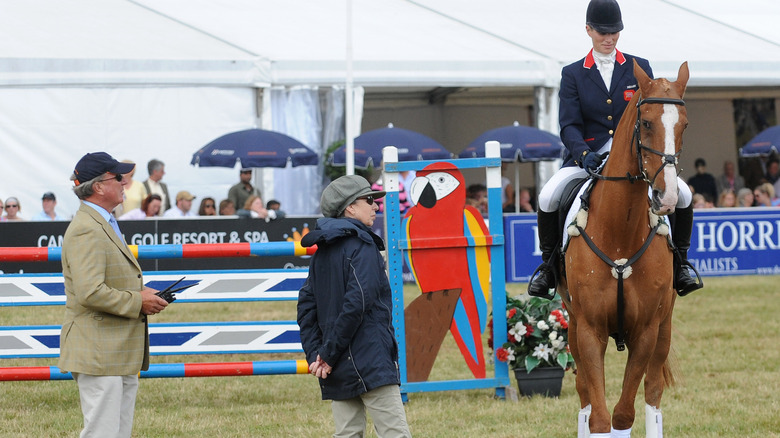 Samir Hussein/Getty Images
Every member of the royal family has their own hobby. King Charles III is passionate about climate change, while Princess Anne's family is wild about horses. The princess has been riding horses her entire life and even competed in the Olympics in 1976, where she rode her mother's horse, Goodwill. This love of all things equestrian is what brought Anne and her ex-husband Captain Mark Phillips together. Needless to say, with two horse-mad parents, it's hardly surprising Zara Tindall followed suit. 
These days, it's the glue that keeps Zara and her father close. Phillips has remained actively involved in the equestrian circuit, even designing courses for Princess Anne's Festival of British Eventing, held at Gatcombe Park each year. In 2023, the father-daughter duo were interviewed on camera in the lead-up to the event by ITV. Zara's brother Peter Phillips was also there as the director of the event. This united front proves that equestrianism really is a family business and something that Zara and her father are equally passionate about. 
Though he may not be seen on horseback much these days, Phillips won some of the best competitions in the sport in his youth. He triumphed at the Badminton Horse Trials several times in the '70s, as well as winning a silver medal at the Seoul Olympics in the late '80s. It's not hard to see where Zara gets her competitive spirit from!
Mark has championed Zara in her equestrian career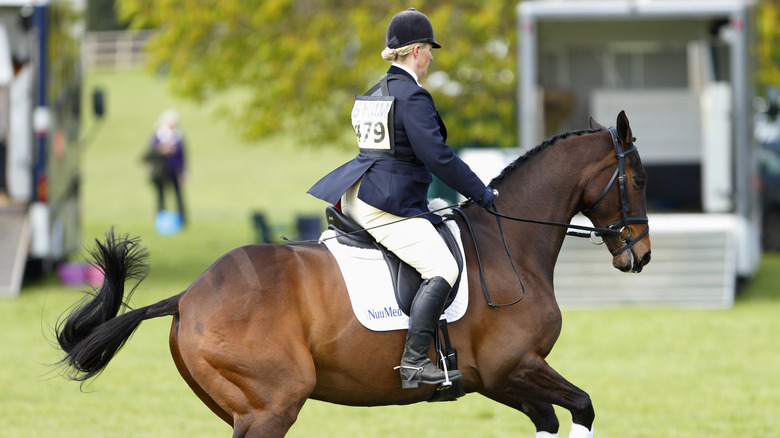 Max Mumby/indigo/Getty Images
While her parents might be incredibly well-known names on the equestrian circuit, so is Zara Tindall. Tindall competed in the 2012 Olympics, taking home a silver medal in eventing. She continues to compete in horse trails and competitions, and her supreme talent hasn't gone unnoticed by her father. Given his own impressive stats, one would imagine that Captain Mark Phillips isn't an easy man to please, but he's a proud champion of Zara's. 
In an interview with the Times in 2015, he was very vocal about how his daughter's career has gone from strength to strength. "I think as Phillipses, we're always going to have to fend for ourselves in life," he explained via Mail Online. "They've [Zara and son Peter, 37] got to make of life what they can make of life. I was lucky enough to win a gold medal when I was quite young and that opens so many doors all around the world. Zara's carried it to another level. She's more successful than me."
This simple statement goes to show just how proud Phillips is of his youngest child. Tindall, now in her early 40s, shows no signs of slowing down any time soon. Her father retired from eventing when he was around 40 years old in 1988, but it doesn't look like Tindall is going to follow suit — at least, not yet.  
Zara is open to her father finding new love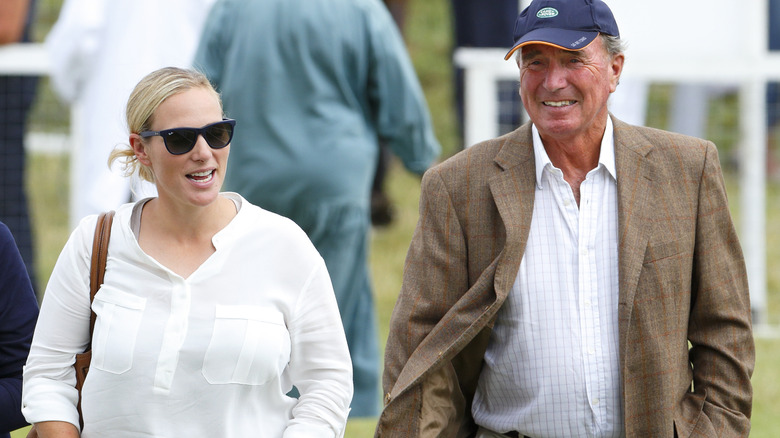 Max Mumby/indigo/Getty Images
Everyone who has grown up with separated parents knows that it can be a tricky space to navigate. There are a million questions to consider, such as who will find love first, and most importantly, what will the new partner be like? Though Princess Anne has been happily married to Sir Timothy Laurence since 1992, Captain Mark Phillips' love life has been a little more tumultuous. He did get married again to Sandy Pflueger, but this ended in divorce thanks to rumored infidelity on Phillips' part.
Still, the 74-year-old Don Juan hasn't given up on love. In September 2022, he was pictured with a woman many believed was his new squeeze. He brought the lady in question, Florence Standaert, to support Zara Tindall as she competed in the Land Rover Burghley Horse Trials. While little was known about his new friend, Standaert seemed to fit right in. Some media outlets were a little hesitant to name them as an official couple, but the Daily Mail reported that the pair were "inseparable" with one source stating, "She's his new girlfriend."
Whatever the case, the very fact that Tindall is open to having her father's new interest at an important event speaks volumes about their relationship. Like many daughters out there, it's highly probable that Zara just wants her father, now approaching his twilight years, to be settled and happy. 
Mark Phillips admits he wasn't always the best dad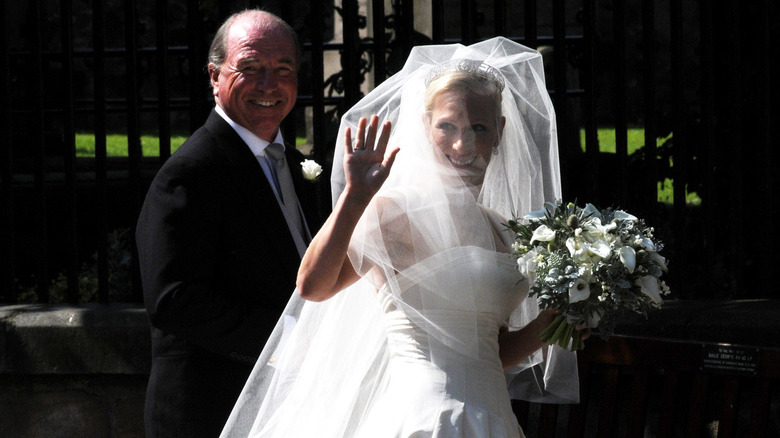 Martin Fraser/Getty Images
These days, whenever we see Captain Mark Phillips with his daughter, Zara Tindall, it looks like an idyllic relationship. They're usually smiling and laughing, or walking alongside each other at events. However, like many parent-child relationships, it wasn't always sunshine and rainbows. Phillips is the first to admit that when it came to being an ideal father figure, he fell short. It wasn't through lack of trying or want, but simply down to how he could deal with smaller kids. In an interview with the Sunday Times in 2012, he admitted his shortcomings. 
"Peter has already proved to be a great father — a much better father than I ever was," he explained when talking about his son and his children, via Mail Online. "I was never good with small children. Once Peter and Zara could walk and talk, and be useful, I could relate to them much more." 
Though this may sound like self-deprecating banter, Peter Phillips was quick to agree. He added, "Would I leave my children in the care of my father? Probably not, to put it bluntly. I think he'd possibly get distracted by something horse-related and wander off leaving them."
Tindall hasn't ever said anything quite that matter of fact, but it seems as though whatever tension circulated from her childhood between her and Phillips has been put to bed a long time ago. 
They aren't afraid to dig at each other in public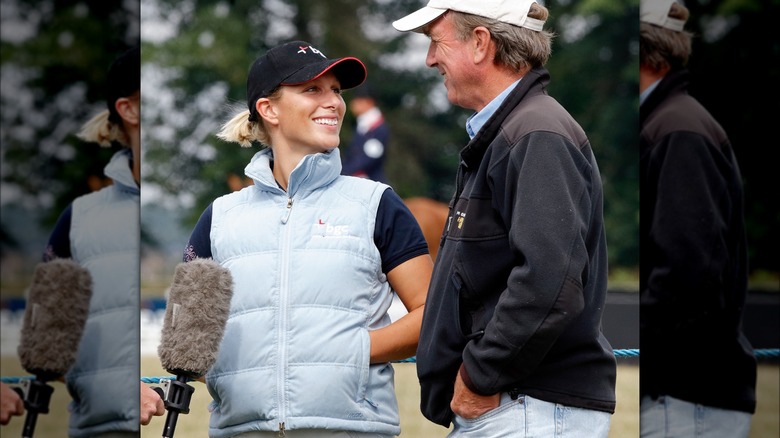 Max Mumby/indigo
It's no secret that some members of the royal family opt not to discuss their close relatives in public. After all, we've seen from Prince William and Prince Harry's feud how quickly things can turn sour. Sometimes, it's best to err on the side of caution ... but Zara Tindall and her father don't exactly fall under the same category. The pair have conducted more than one joint interview in the past and have spoken about each other in the press frequently. They aren't afraid to make fun of each other. While this could certainly be taken the wrong way, it's all in good humor. 
Not long after Tindall raced to silver in the 2012 Olympics, she told "60 Minutes Australia" what it was like to have her family cheering her on at the event. "My dad was there, but he was on the other side," she explained. "He coaches the Americans. He's a traitor." Of course, Queen Elizabeth II's granddaughter was joking, but it was still an interesting peak into their playful relationship. Never one to be outdone, Phillips also gives as good as he gets. 
In an interview with the Sunday Times around the same time, the father-of-two said: "Zara, on the other hand, who came along four years later [than Peter], was much more difficult, much more of a brat. I don't think she accepted that line at all" (via Mail Online).
Captain Mark Phillips is nearly always there to support his daughter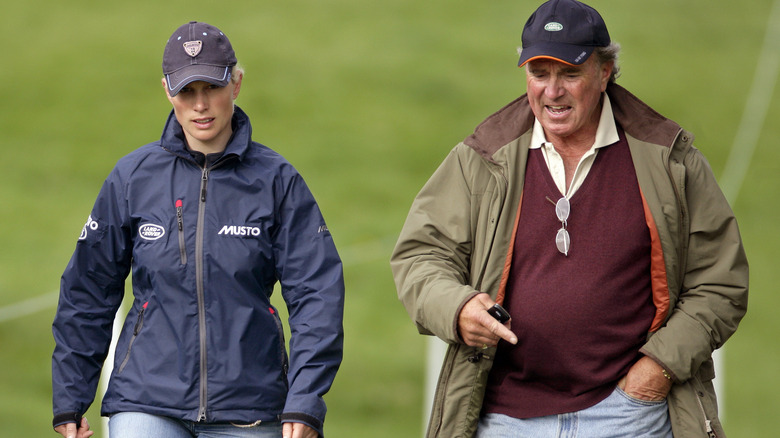 Max Mumby/indigo/Getty Images
Though they may like to take playful swipes at one another in the media, this father-daughter relationship is about as solid as it comes. Captain Mark Phillips is nearly always there to watch his daughter compete in eventing, whether it be at the Burghley Horse Trials or at the Festival of British Eventing. It may be a family interest, but Phillips always seems keen to see his daughter do well, as does Princess Anne, who is often a staple at these events as well. 
Of course, being there to support one's child isn't just about showing up to cheer them on at work. It's about being present at the most important moments in their lives, no matter what that may be. When Zara married Mike Tindall in 2011, her father was there to usher her into the church and give her away. Phillips was beaming with pride on his eldest daughter's wedding day. It may not have been quite as grand as his wedding to Princess Anne in 1973, but that didn't make the slightest bit of difference. Who needs a cheering crowd and a packed Westminster Abbey when you have an adoring family surrounding you?
It's endearing for royal watchers to have seen how close Tindall and her father have remained through all of the different phases of her life, from childhood right through to motherhood and beyond.
Zara is grateful to her father for not taking the titles offered to them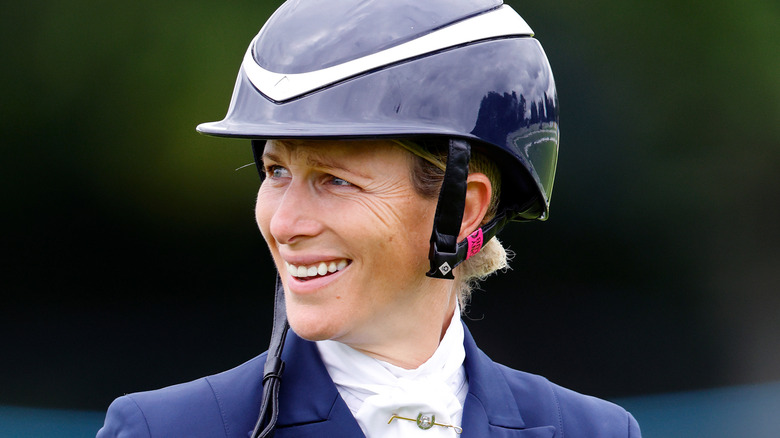 Max Mumby/indigo/Getty Images
There are many reasons why Zara Tindall and Peter Phillips seem much more down-to-earth than some of their cousins. While it undoubtedly has something to do with their position in the family, it has also been heavily influenced by Princess Anne and Captain Mark Phillips' decision to not give their children titles. Upon marrying Anne in the '70s, Phillips was offered an earldom by Queen Elizabeth II as a gift. However, he refused it. 
Tradition dictates that it's actually the father that passes on titles to his children. As Phillips refused the offer, his children weren't given titles either. It's easy to think that this may mean Zara and Peter have lost out, but it's quite the opposite. 
"I'm very lucky that both my parents decided to not use the title and we grew up and did all the things that gave us the opportunity to do," Zara told the Times in an interview in 2015, via People. Being free from the pressures of being a titled royal has meant Tindall has been able to live, by and large, an "ordinary" life. She is still an important member of the royal family but hasn't been worked to the bone. 
Tindall has forged an impressive career, married a sporting ace, and raised a family, all of which may have been much trickier if her father hadn't made that choice back in 1973.