Ryan Reynolds Is BFFs With Wife Blake Lively's Older Sister Robyn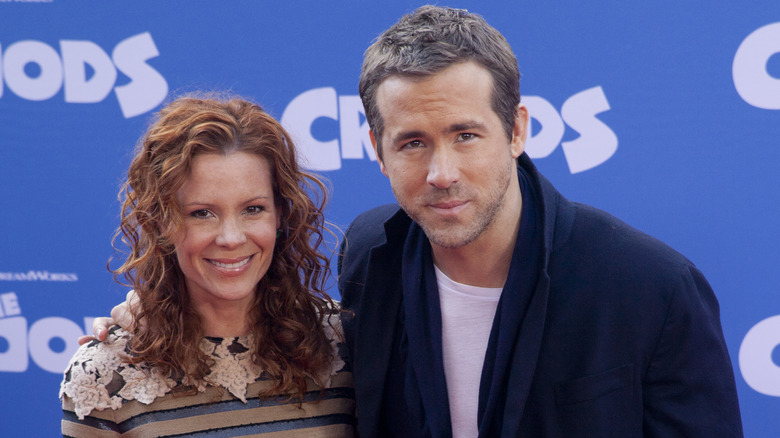 Lars Niki/Getty Images
While 2011's "Green Lantern" was a box office flop, at least one good thing did come from it: Blake Lively and Ryan Reynolds' picture-perfect relationship. They may have been nothing more than "buddies" during filming — Reynolds was married to Scarlett Johansson and Lively was dating her "Gossip Girl" co-star Penn Badgley at the time — but their relationship turned romantic after Reynold's divorce and Lively's breakup. In a 2016 interview with E! News, the "Deadpool" star told the story of their unofficial first date. The catch? It was a double date, and they were both paired up with other people. According to Reynolds, it was probably awkward for their respective dates, especially since the spark between him and his future wife was pretty obvious.
After just a year of going out, Reynolds and Lively tied the knot in a controversial ceremony (their chosen venue was a former plantation). The "X-Men" star later apologized for his wedding in a conversation with Fast Company. "What we saw at the time was a wedding venue on Pinterest. What we saw after was a place built upon devastating tragedy," he said.
In the decade-plus since saying "I do," the Hollywood A-listers have welcomed four kids, made several memorable appearances on Met Gala red carpets, and gotten close to one another's families. Specifically, Ryan Reynolds is BFF's with Blake Lively's older sister, Robyn. She's even appeared in a "family plan" commercial for his company, Mint Mobile (via YouTube).
Robyn Lively and Ryan Reynolds have a similar sense of humor
If there's one thing we know about the Reynolds-Lively family, it's that they're always up for a good joke or a casual bit of social media trolling. Robyn Lively, older than her half-sister by approximately 15 years, is also an actor. She's appeared in projects like "Teen Witch" and "Twin Peaks," and even married another screen star Bart Johnson, who you may remember as Efron's dad in the "High School Musical" franchise. We're still waiting for the day the Lively sisters and their husbands star in a movie together...
When Ryan Reynolds won the American Cinematheque Awards in 2022, Robyn was quick to share a congratulatory post on Instagram, sprinkling in a generous amount of humor. "His work ethic is unparalleled, his talent is limitless, his kindness is abundant and he smells really, really good," she wrote, adding, "He deserves ALL the accolades and kind words that so easily gushed from everyone's mouth that evening."
Way back in 2015, long before the days of TikTok and when Instagram was still in its (relative) infancy, Reynolds even asked his fans to follow his sister-in-law on social media. "Sweet, Holy, Mary Mother of Alfredo Garcia's Head... Robyn Lively has appeared in pixels and light. Give her a follow," he wrote on Twitter. The "Teen Witch" star was quick to thank him, writing, "Haha thank you awesome brother #RyanReynolds" and also adding, "#WHYISMYSISTERSHUSBANDSOCUTE."
Blake Lively and her sister couldn't be closer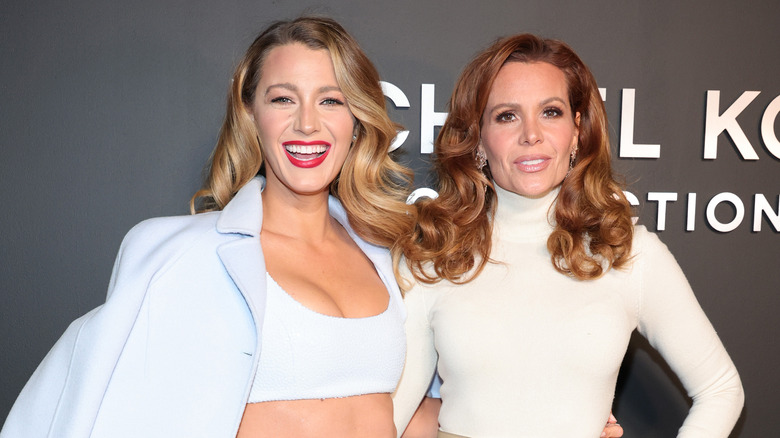 Jamie Mccarthy/Getty Images
Whether she's recreating the iconic "Finest Hour" dance sequence from "Teen Witch" at her sister's wedding or joining Blake on a birthday trip to Disneyland, Robyn lively takes her older sister duties pretty seriously. She also shares Ryan Reynold's knack for social media trolling — perhaps that's why they get along so well. "It's a shame my sister can't bake, or cook, or look super beautiful [with] my hair all over her face," she joked in a 2019 Instagram post, sharing a wind-swept selfie with the "Age of Adeline" star.
Their relationship has gotten even stronger since Blake Lively had children of her own. "We have so many similarities. Our relationship is on a deeper level. We used to help each other with our projects and lines, things like that. Now we're doing the mom thing together," the "Twin Peaks" alum told Fox News. Robyn feels like Blake's kids — whose names appear in quite a few Taylor Swift songs — are hers too. "I genuinely feel like her children are mine as if I gave birth to them, and vice versa," she said. "We're like, 'Your children are mine too.' Our relationship has only gotten richer and fuller."
Even Robyn's husband, Bart Johnston, has pointed out the sisters' similarities. "I'll say from my perspective, they're like the same person," he explained to Fox, adding, "They've got the same energy and the same sense of humor. They're also so connected and love each other so much."