Zach Bryan's Career Plans Were Interrupted By His Burgeoning Music Success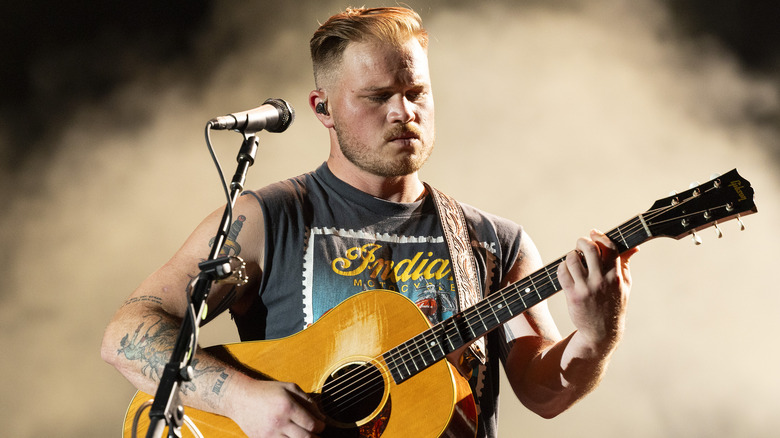 Barry Brecheisen/Getty Images
Move over, Luke; another Bryan is taking the country music world by storm. Zach Bryan really launched to fame after releasing "Something In The Orange" in 2022, earning him a nomination for New Artist of the Year at the 2023 Country Music Awards. While it seems like the twenty-something-year-old is just starting his career, he actually put in quite a few years in a totally different profession before crooning country chart-toppers.
Bryan is a veteran of the United States Navy. He signed up when he was just 17 years old and about to finish high school. The Oklahoma native didn't do it on a whim; instead, he enlisted due to legacy. According to The Oklahoman, his great-grandfather was a serviceman, and the lineage continued with Bryans' grandfather, his father and mother, and his uncles. The star told the publication, "It was really cool being able to grow up like that. They say 'Navy brat' . . . but I learned a lot."
So, when it was time for him to enlist, he didn't hesitate. In an Instagram post, he wrote, "It's all I lived, slept, and ate for 8 years," and truth be told, it's initially how Bryan thought he would spend the rest of his working years.
Zach Bryan didn't plan on leaving the Navy
In the same post, the country music artist admitted, "If it was my decision, I would never get out of the world's greatest Navy," the institution he credits with teaching him a thing or two about growing up and maturing. During his service, he enjoyed the only other thing constant in his life — music. Songwriting started earlier than the Navy for Zach Bryan, at age 14. It was then that he and a few friends began writing songs.
In 2017 a few friends haphazardly recorded him playing and singing along to one of his originals on his phone before deciding to upload it to YouTube. His friends also helped him rent equipment from Guitar Center to record what would become his debut album. One song off of it, "Heading South," was filmed with his Navy barracks in the background. That was in 2019, and it has since been re-released by Warner Records after Bryan signed a deal.
Soon, things were coming to a head. Bryan's music was blowing up on YouTube, piquing the interest of producers and labels like Warner. Fame and a life of service in the Navy didn't really mix, and Bryan was "kindly honorably discharged to go play some music," he confessed on Instagram. During his Navy career, Bryan was also married before divorcing and dating his social media star girlfriend.
Zach's family supports his new career
Despite probably being incredibly proud that Zach Bryan decided to follow in their footsteps when he enlisted, his family does support his new job as a country music star. Speaking to Tulsa World, Bryan's father, Dewayne Bryan, said that it was the "Oklahoma Smokeshow" singer's grandfather who bought him his first guitar after he began writing poetry as a 12-year-old. By then, the family had settled in Oklahoma after moving from Japan, where the Bryans were stationed. Now, he says of his son's fame, "I can't keep track of all this, to be honest. There's just no way to describe what it's like being the parent of this person."
Sadly, Zach's mother, Annette DeAnn Bryan, for whom his first album was named, passed away in 2016. His father and his current wife, Anna, work hard to support the rising star, even hosting pre-show parties before a few of his events. It's his goal to build, interact with, and just appreciate the community that supports his son, such as with what he told Tulsa World he calls "Dad Comps," referring to a small allotment of tickets he is given and then passes out to fans, which are usually an upgrade to their original seats.
When asked why he himself doesn't claim the best vantage point to see Zach on stage, Dewayne says he could sit in VIP, "but this is cool. This is where the real fans are," illustrating that regardless of which path his son chooses, he's a proud dad.