Meet Zach Bryan's Internet Star Girlfriend, Brianna LaPaglia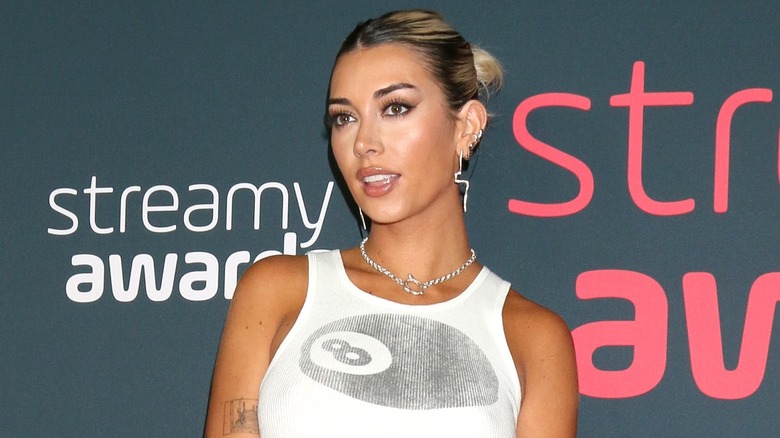 Kathy Hutchins/Shutterstock
American singer Zach Bryan found success following the release of his third studio album, "American Heartbreak," which made its way onto the Billboard 200 chart. The album included several hits, such as "Late July," "Sober Side of Sorry," and "Oklahoma City." Most songs are inspired by the artist's life in the army and romantic relationships. For example, Zach Bryan's "Something in the Orange," — the second single from his album — describes the pain of ending a relationship.
The singer is quite private about his love life, but most fans know he was once married to Rose Madden. They tied the knot in 2020 while they were serving in the military, and broke up a year later. Bryan is currently dating social media star Brianna LaPaglia, aka Brianna Chickenfry. Their relationship started in July 2023, and the two seem like a perfect match. "I wanted to keep it quiet for as long as I could, but everyone on the internet is an FBI agent, so they figured everything out," LaPaglia told People.
As it turns out, Bryan and his girlfriend have more in common than meets the eye. For starters, they both found fame online and want to keep things casual. "And yeah, that's really it, just hangin' out, having some fun," LaPaglia confessed in her podcast, "PlanBri Uncut."
Zach Bryan and Brianna LaPaglia met at the ACM Awards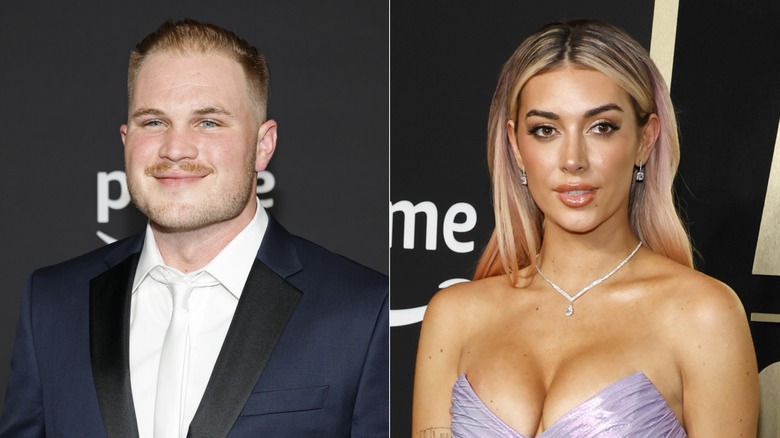 Jason Kempin & Jason Kempin/Getty & undefined
Zach Bryan met his new girlfriend, Brianna LaPaglia, at the 2023 American Country Music Awards (ACM). At the time, he was still dating Deb Peifer, an education program coordinator. LaPaglia was in a relationship, too. When she saw Bryan at the ACM Awards, LaPaglia was so excited about their encounter that she talked about it on her podcast. "All I want to do is meet Zach Bryan," the social media star confessed. They met, took a photo together, and then moved on with their lives.  
Bryan split up with his then-girlfriend later that same month. "Things are mutual between us, we're leaving with plenty of memories and good times," he wrote on Twitter. A month later, LaPaglia and her then-boyfriend attended one of his concerts in New York City. The two ended their relationship a few days later, and she started chatting with the "Oklahoma City" singer.
The podcast host got to know Bryan better on an 18-hour road trip. They talked to each other the whole time without even turning on the music. "That's when I knew, like, oh, this guy is actually awesome. We got to know each other," LaPaglia said in an interview with Dave Portnoy. She also explained that both were single and their relationship developed gradually. 
Brianna LaPaglia has a successful career of her own
Most relationships fail after the first few dates, but that's not the case with Zach Bryan and his new girlfriend. "We've been spending a lot of time together," she told Dave Portnoy. The two also have their own lives outside of the relationship, which allows them to take things slowly. As many fans know, Brianna LaPaglia has a thriving career as a social media content creator. She's a podcast host, vlogger, and TikTok star with millions of followers from all over the world.
The self-dubbed "CEO of hangovers" landed a contract with Barstool Sports after sharing personal videos on social media. She didn't shy away from talking about her partying habits, her hangovers, and her struggles as a young adult. "What I'm trying to say is, you can have fun, and you can work hard as well," LaPaglia told The New York Post. "I work 24 hours, seven days a week. I'm never not on," she added.
Zach Bryan's girlfriend dropped out of school after finding success on the internet. Her videos have raised a lot of controversy, but she couldn't care less. "F*** what everyone else thinks," she said in her interview with The New York Post. Her goal is to help young people navigate college life and enjoy their best years, even if that means partying until dawn.