How Many Daytime Emmys Has The Young And The Restless' Eric Braeden Won?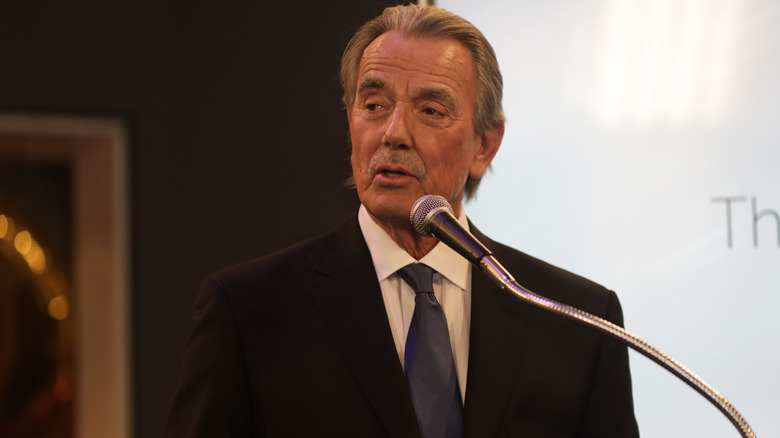 Ella Hovsepian/Getty Images
"The Young and the Restless" star Eric Braeden is very proud of the work that he's done as his character, Victor Newman. The Newman family patriarch has been married numerous times on the show and has a long history of keeping everyone in his family on their toes, according to Soaps in Depth. Braeden is very passionate about the soap the storylines, and supporting his co-stars and he's also a straight shooter. He is not the kind of actor who is going to talk at length about his craft or why his performances resonate so much with his fans. When asked what makes his chemistry so great with his co-star Melody Thomas Scott (Nikki Newman), the actor told Remind Magazine in March 2023, "We get each other. I genuinely adore her. She has a great sense of humor. It's best not to dissect things too greatly."
It also goes without saying that critics have taken notice of his skillful acting. In 2016, Michael Fairman TV called his performance during the "Victor's Road Less Traveled" episode "masterful." And while Braeden has received a lot of acclaim for his past performances as Newman, he's only won one Emmy.
Eric Braeden was nominated for an Emmy more than once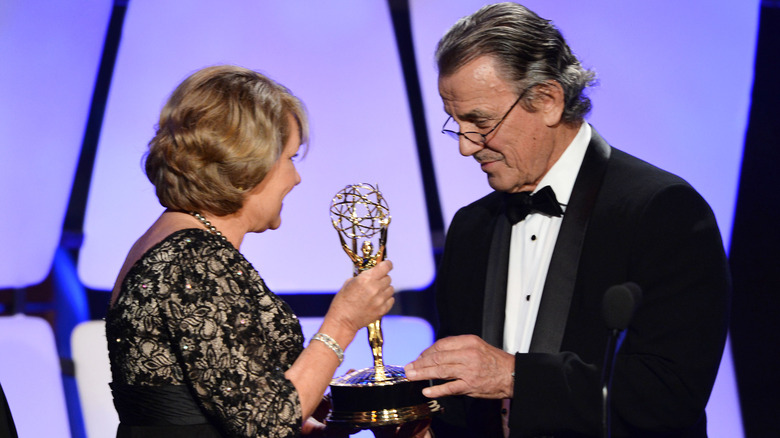 Michael Buckner/Getty Images
"The Young and the Restless" star Eric Braeden is one of the most celebrated actors in the daytime television industry, and there are many good reasons for it. He won the Outstanding Lead Actor in a Drama Series in 1998. It was his one and only win during his soap career. In a behind-the-scenes interview about his Daytime Emmy Award, the actor said that it was an honor to receive his statue, mostly because it was given to him by a co-star that he deeply loves and respects — Melody Thomas Scott (Nikki Newman). Braeden said, "I have to tell you, when Mel gave it to me on the set, I had no clue that she was going to do that. I couldn't have received it from a person that I would have more liked to have received it from." Braeden added, "I have to thank my fellow actors for this. Peter Bergman, Heather Tom, Joshua Morrow, and most of all Mel." The actor then went on to thank all of the people who fans don't get to see in front of the cameras and ended his speech by saying, "You are all part of this."
That was Braeden's only win ever during his career despite being nominated eight times. He was also nominated for "America's Favorite Couple" alongside Scott back in 2002, per his IMDb page.
No one knows Victor Newman better than Eric Braeden
One of the many reasons why Eric Braeden has won and been nominated for so many awards in the past is because he is someone who knows his character on "The Young and the Restless," Victor Newman, inside out. That's also why he's not afraid to go off-script, either. Braeden told Soap Opera Digest in 2022, "Because I know the history of the character too much. And I will sometimes [go off script] also because I know it so well, add dialogue that I come up with on the spot. And I sometimes feel that something needs to be said, needs to be emphasized."
Now, as far as his legacy on the sudser goes, Braeden has addressed it in his signature straight-shooter style in the past. When someone questioned the show's significance back in 2018, Braeden fired back in a tweet, "They asked WHO about what the Y&R legacy meant to them???" He also told People in 2021 that he intends to stay on "The Young and the Restless" for as long as he can. He said, "I love my life. I love my colleagues. I love my family and friends. So do I see myself retiring anytime soon? Hell no! My life has been enriched by having been introduced to so many things."