What To Know About The Drama Between Steve Harvey And Shirley Strawberry
Steve Harvey and his co-host Shirley Strawberry may be in the midst of some embarrassing drama, but things weren't always tense between the friends. Strawberry began working on Harvey's first Los Angeles radio show in 2000. She remained a co-host until the show was canceled in May 2005. However, it had a resurgence in October of that year, and Strawberry has remained by Harvey's side ever since. Strawberry is famous for her popular "Strawberry Letter" segment, which includes the reading of letters usually sent in by listeners seeking advice for a variety of issues. Ironically, Strawberry has now found herself in a similar position to those who seek her help.
Strawberry's estranged husband, Earnest "Ernesto" Williams, remains incarcerated on several serious charges. During a recorded jail call in October 2022, Strawberry was heard making distasteful comments about Harvey after visiting his home with several of their other co-workers. Strawberry said that Harvey was out of breath as he walked up the stairs, insinuating that he may be unwell. Furthermore, she also made several remarks about his wife, fashion designer Marjorie Harvey, alluding to Harvey possibly being fearful of his spouse. The statements have called into question the true nature of Harvey and Strawberry's once family-like relationship, which has likely been rattled by the leaked calls.
Shirley Strawberry implied that Steve Harvey's wife was unkind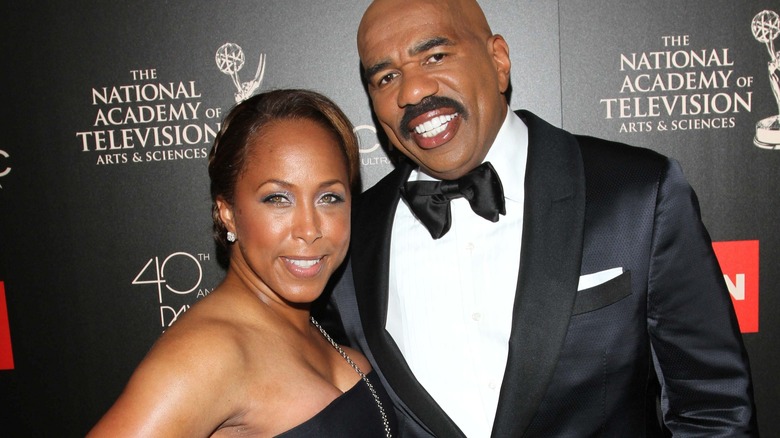 S_Bukley/Shutterstock
When ex-entrepreneur Earnest "Ernesto" Williams called Shirley Strawberry from prison in October 2022, the two discussed her famous boss, Steve Harvey, and his luxurious estate. On the call, Strawberry told Williams that she and others from the "Steve Harvey Morning Show" had visited his home, where Harvey gave them a tour of the property, which includes a full spa built for his wife, Marjorie. While Strawberry enjoyed the amenities of the home, she admitted that the guests probably wouldn't have been as comfortable had Marjorie been there. 
"He was happy to see us. He always invites us over there, and we don't ever go," she told Williams on the call leaked September 6, 2023, by the YouTube channel "Phone Calls From Prison." Strawberry continued, "She looks at us as the help." Williams chimed in, confirming that Strawberry had told him something similar in the past, though neither expounded on Marjorie's actions. 
After the conversation went viral, Strawberry held a "Strawberry Letter" segment addressed to herself on September 11, 2023, which was shared to Instagram. She took the opportunity to apologize to the Harveys. According to the longtime friend of the "Family Feud" star, she was trying to make conversation with Williams in an effort to keep his mind off of his legal troubles. While she didn't mean any harm, her critiques surfaced at a time when the famous couple was already facing a slew of gossip questioning their relationship.
The timing of the leaked calls coincides with Steve Harvey divorce rumors
As August 2023 ended, social media began to run rampant with rumors of Marjorie Harvey cheating which Steve Harvey shut down. Marjorie previously had affairs with two employees on the couple's staff. While at Invest Fest 2023, "The Original Kings Of Comedy" frontman slammed the gossip during his set. There was also speculation that Marjorie was the key to Harvey's first marriage ending, something he also denied. Therefore, when the phone call between his radio co-host Shirley Strawberry and her husband Earnest "Ernesto" Williams spread, Harvey felt it only added to the accusations about his spouse, something he did not take lightly.
"The timing of it was ugly because of everything else that's going on right on, and it made it look like Shirley was piling on, and that wasn't her intent, but it happened," Harvey explained after Strawberry's apology, also posted on Instagram. Additionally, Harvey made it clear that Marjorie was not the gold digger some have painted her to be, telling listeners, "I'm tired of y'all talking about my girl because my girl is one of the best women I've ever met."
In light of Strawberry's leaked conversation, fans have now turned their attention to her future, questioning if she will remain on the show. Harvey has seemingly forgiven Strawberry, and she remains on the program with her fellow broadcasters as of this writing. However, it's unclear how their drama is playing out behind the scenes.