Why Hollywood Strikes Won't Wipe Out Hallmark's Christmas Movie Season
Every fall, excitement abounds for the new shows that will appear in the coming TV season, whether it be regular channels or streaming services. But given that the WGA and SAG-AFTRA strikes are still going strong, will they arrive this year? Thankfully, the answer is 'yes' for at least one network, because, despite all of the internal conflict in the entertainment industry, there's one thing we can look forward to: Hallmark Channel's cavalcade of Christmas movies.
The wise leaders at Hallmark had the foresight to prepare for the impending strikes. Executive vice president of programming for Hallmark, Lisa Hamilton, told Variety in an interview posted on September 15, "Christmas is a year-round business at Hallmark, so we were able to mitigate early in the year understanding that the strikes were unfortunately imminent. We're grateful to meet all our goals for a full, all-new holiday slate and to bring our viewers the content they love most to celebrate the season."
So thankfully, Hallmark's Christmas movie season won't be upended by the Hollywood strikes, and everyone can gleefully look forward to this year's slate of holiday fare that's sure to please even the Grinchiest of Grinches!
Three 2023 Christmas movies are already announced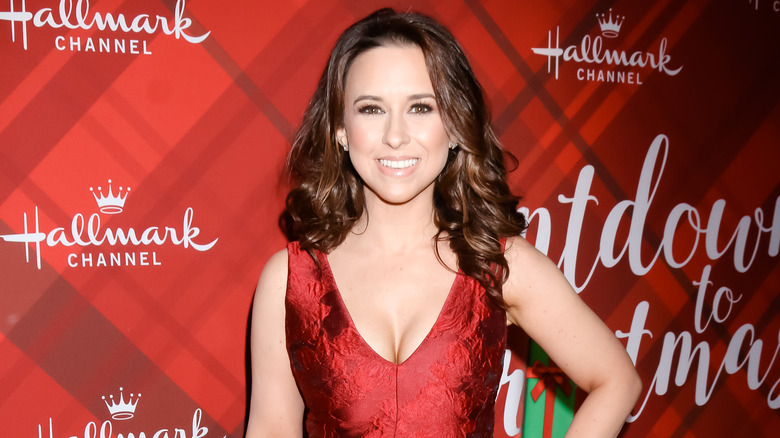 Kathy Hutchins/Shutterstock
During Hallmark's successful 2023 Christmas in July event, its fan-favorite film, "Haul Out the Holly," was rebroadcast on July 22, and offered a sneak preview of the sequel to the hit comedy, "Haul Out the Holly: Lit Up." Lacey Chabert and Wes Brown reprise their roles as Emily and Jared, who are officially a couple now. After having overcome the Christmas celebratory trauma that her parents laid on her in the first film, Emily has embraced the Evergreen Lane way of spreading Christmas cheer through parades and decorations. In "Lit Up," when apparent "holiday royalty" purchase a home in their neighborhood, it becomes a major challenge as the denizens prepare to compete to find out who can celebrate the best. With a dark, almost cult-like subtext, "HOTH" stood out as a shocking change in Hallmark's holiday formula, and "Lit Up" will certainly bring more of that fun to the table.
While the official schedule has yet to be released as of this writing, Hallmark has also announced two other films that will premiere in the Countdown to Christmas: "A Biltmore Christmas," which looks to be a fun time travel story starring Bethany Joy Lenz ("Dexter"), and Kristoffer Polaha ("Jurassic World" Dominion"); and "A Merry Scottish Christmas" in which Lacey Chabert and Scott Wolf ("Party of Five") play siblings who uncover a secret while visiting their mother (Fiona Bell) in Scotland. 
Fans are undoubtedly relieved to know that the strike won't stop Hallmark's holiday spirit, and we're already excited for the fun films Hallmark has in store this season!