Jenna Bush And Henry Hager Used To Cause Major Trouble For The Secret Service
We may receive a commission on purchases made from links.
In true "My Date with the President's Daughter" fashion, former first daughter Jenna Bush Hager and her husband Henry Hager used to cause major trouble for the Secret Service. In fact, one of their first dates involved a small car crash that had Henry mortified.
Jenna told her "Today with Hoda & Jenna" co-host, Hoda Kotb, about her worst first date on a 2021 episode of the show. Jenna and Henry were driving around Arlington, Virginia, and he ran out of gas before he could get to the gas station up an incline. Jenna explained, "He started to go up the hill and then booooop, crash" (via Today), hitting the Secret Service's vehicle. She added, "I was laughing but [Henry] was horrified." 
Although Henry worked for Jenna's father, George W. Bush, there was no Secret Service interference that set the couple up — instead, a mutual friend invited Henry to watch a football game. Jenna was initially reluctant for him to attend, but she thought he was attractive when she saw him. In a segment from 2019, Kotb asked Jenna if Henry asked her out that night, and she replied, "We just smooched."
In another incident, Henry tried to sneak out of the White House undetected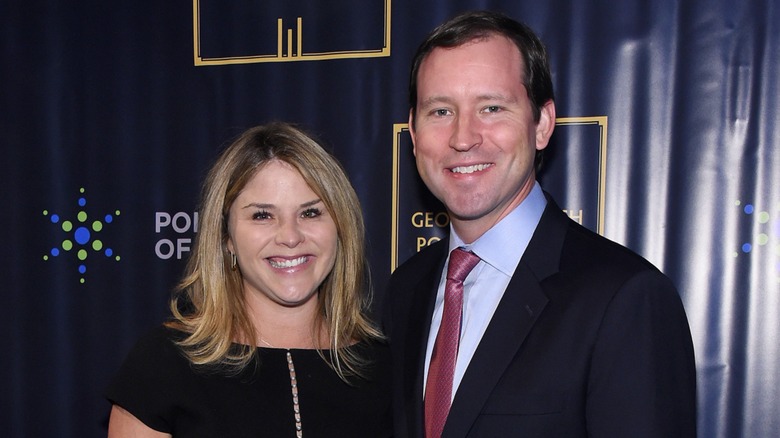 Jamie Mccarthy/Getty
It's much easier to sneak out after a hook-up if your partner is not the daughter of the most powerful man in America. Henry Hager learned that the hard way, and Jenna Bush Hager recounted the story on "Today with Hoda & Jenna" to Hoda Kotb. Apparently, Henry loves this story. However, at the time, he totally freaked out.
"My parents were traveling and I was staying [in the White House]," Jenna said. "And we'd gone out to the bars and like all relationships do, they reached a certain level." Jenna added that Henry woke up in her room and was terrified since, " ... he worked for my dad." Jenna was unbothered, but Henry rushed out of there. He struggled to leave the White House, however, and Jenna told Kotb, " ... usually people don't run out." Henry had to get the attention of the Secret Service to open the gate for him.
Jenna told an abridged version of the story on Andy Cohen's "Watch What Happens Live After Show," having a laugh when a fan asked how Henry snuck out without getting caught. "Well, he was caught," Jenna said. Again, she said how the Secret Service is more concerned with someone trying to sneak into the White House, not the other way around.
Jenna tried to escape the Secret Service agents keeping an eye on her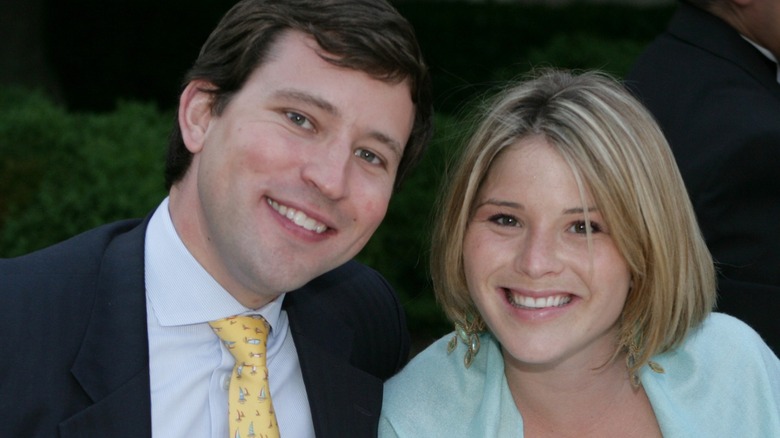 Handout/Getty
Even when Henry Hager was not around, Jenna Bush Hager kept the Secret Service on their toes. In 2009, author and journalist Ronald Kessler published a book titled, "In the President's Secret Service: Behind the Scenes With Agents in the Line of Fire and the Presidents They Protect," and he described how Jenna tried to shake her security detail.
"Jenna would purposely try to lose her protection by going through red lights or by jumping in her car without telling agents where she was going," Kessler said. "As a result, in a total waste of manpower, the Secret Service kept her car under surveillance so agents could follow her" (via Page Six).
Kessler had stories about Henry as well, involving times he overindulged in alcohol. Apparently, the Secret Service had to take Henry to the hospital after a party once because he drank too much. Another time, while Henry and Jenna were out drinking together, Henry started a bar fight with other people in the establishment and the Secret Service had to diffuse the situation.