Candace Cameron Bure And Jodie Sweetin Reunite Despite Public Tension
Axelle/bauer-griffin/Getty
From September 15-17, That's 4 Entertainment hosted 90s Con in Tampa, Florida. The event brought together many stars of the '90s, including cast members from "Full House."
"OH MY LANTA — what a weekend!!!" Candace Cameron Bure said in the caption of her Instagram post about the event. "I'm still coming down from my #90sCon high and being able to meet so many of YOU! Thank YOU for coming out ... for your stories, your laughter, and even your tears ... all of it means the world to me, to us!!" Bure then thanked That's 4 Entertainment for hosting the event. Bure's post included photos of fellow "Full House" actors Jodie Sweetin, Andrea Barber, Dave Coulier, and Scott Weinger, and the creator of "Full House" (and its reboot, "Fuller House"), Jeff Franklin. 
Bure and Sweetin were all smiles in the photos despite recent tensions — Bure's marriage views reportedly affected her friendship with Sweetin. In 2022, Bure's comments to The Wall Street Journal about the TV network she joined, Great American Family, sparked backlash for being anti-LGBTQ+ as she said the network "will keep traditional marriage at the core." Sweetin voiced her support for the LGBTQ+ community on social media at the time, causing Bure to unfollow Sweetin on Instagram. As of September 2023, Sweetin still follows Bure.
Jodie Sweetin plans to donate money made from her movie on Great American Family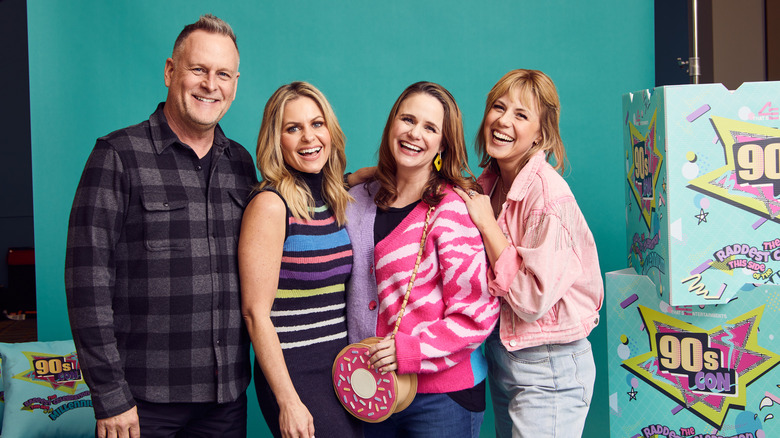 Emily Assiran/Getty Images
Candace Cameron Bure is the chief creative officer at the Great American Family network, and recently one of Jodie Sweetin's films was bought by the channel. In August, it was revealed on the Great American Family website that their network was going to air Sweetin's film "Craft Me a Romance." Sweetin says her Great American Family debut wasn't her choice, supporting the stance she took against Bure's comments in 2022. She told People she, like most actors, doesn't have a say in where a film she's in is sold.
"I was very surprised to learn by reading about it in the press yesterday that the independent film I worked on over a year ago was sold to Great American Family," Sweetin told the outlet. "I am disappointed, but in keeping with my mission of supporting the LGBTQ+ family, any potential or future money made from this sale will be donated to LGBTQ+ organizations."
Although there was a slight separation between the women, who played siblings D.J. and Stephanie Tanner on "Full House" at the March 2023 90s Con, Sweetin and Bure's appearances at the March and September conventions show that they are still able to work alongside each other and may even remain friends despite their vastly differing views.