Prince William's NYC Trip Is Off To Not-So Glamorous Start Without Kate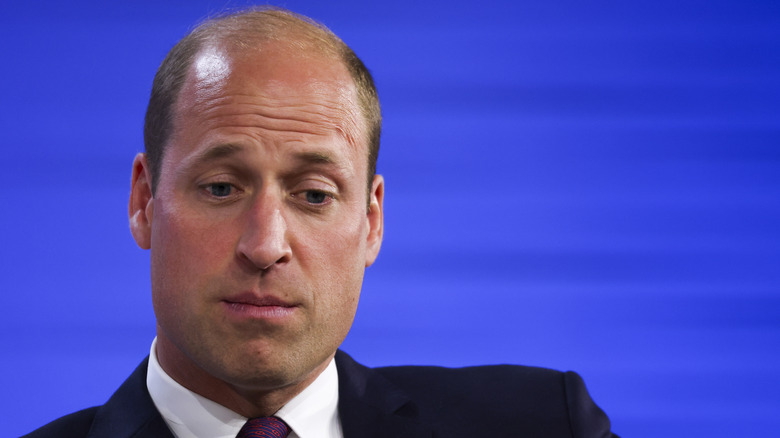 Pool/Getty Images
William, Prince of Wales may be the next in line for the British throne, but that doesn't mean his life is all fancy palaces and having his every whim catered to by courtiers. For his solo trip to New York City for the second annual Earthshot Prize Innovation Summit, he didn't take a private jet, flying commercial instead (though we're guessing he was in first class). On some long-haul flights, like for their royal tour to the Caribbean in 2022, he and Catherine Middleton, Princess of Wales have flown in the RAF VIP Voyager jet.
But flying in a private jet really wouldn't have been a good look as private jets cause more pollution compared to a commercial flight, and Prince William is in New York during Climate Week to announce the 2023 finalists for the Earthshot Prize, an inspiring project co-founded by William as a way to help find and fund solutions to environmental problems.
Prince William left Kate at home and flew into New York for just two days. It's a short trip, but he's got a packed schedule, including an appointment with the U.N. Secretary-General to discuss climate solutions and a meeting to talk about mental health with some NYC firefighters. And, while we're used to seeing him all glammed up, he started the trip by getting down and dirty in the East River.
Prince William learned more about oyster reefs in New York harbor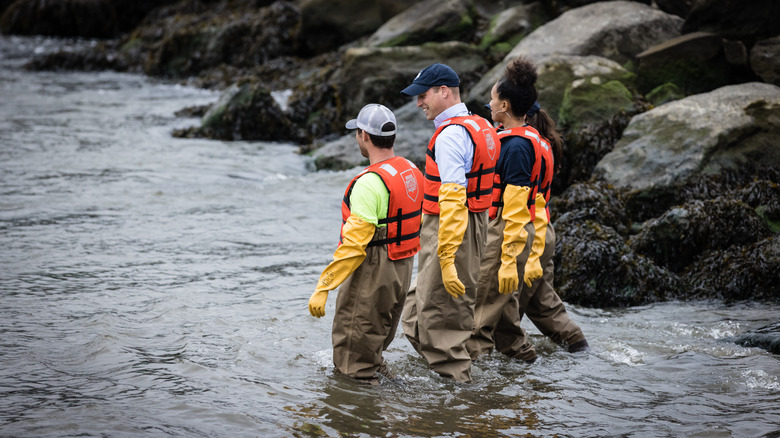 Pool/Getty Images
The Earthshot Prize awards ceremony is a luxury black-tie gala — Catherine, Princess of Wales stunned in bright green at the 2022 Earthshot awards in Boston — but William, Prince of Wales wore pretty much the opposite of black-tie for one of his New York events. Prince William donned waders, bright yellow rubber gloves, a ball cap, and a life jacket to walk out into the East River as he learned more about the Billion Oyster Project on Governors Island — a nonprofit that's working to bring back oyster reefs to New York harbor. On the Prince and Princess of Wales' YouTube channel, they posted a video about what the project is doing and how the oysters help provide habitat for other aquatic creatures in the harbor. The oyster reefs also help lessen the impacts of storms on the city.
Prince William was supposed to have visited New York and the Billion Oyster Project last year, but with the queen's death, the trip was rescheduled. His work in New York promoting the Earthshot Prize is just one of the ways that Prince William has stepped up in the year since Queen Elizabeth's death.
Kate has kept busy while Prince William is in New York, stopping by an East London sports charity and discussing the importance of mental health.