Eric Pokes Fun At Don Jr. After Hacker Posts Trump Death Hoax To Brother's Twitter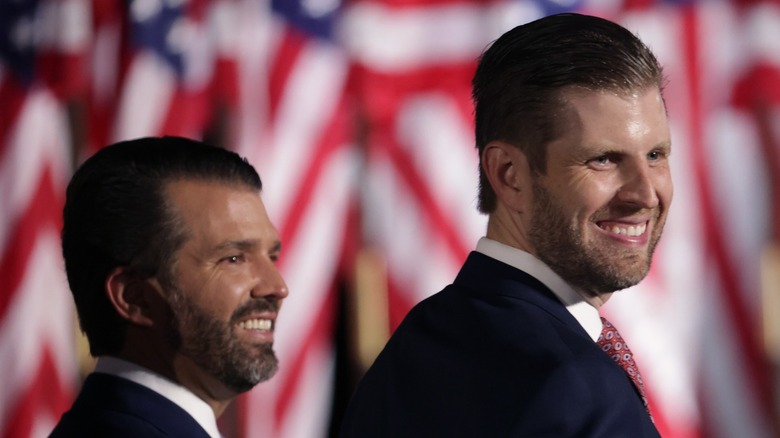 Alex Wong/Getty
Donald Trump Jr. has caused drama on his X, formerly known as Twitter, account before. For example, in August 2022 he had the platform seeing red with his latest defense of his dad Donald Trump. However, the latest drama on Don Jr.'s X account was not caused by his own words but by the words of a hacker.
According to TMZ, Don Jr.'s X account was hacked the morning of September 20. In a now-deleted tweet, Don Jr. said, "I'm sad to announce, my father Donald Trump has passed away. I will be running for president in 2024." Then, the hacker more tweets. In one, he threatened North Korea. In another, he cursed at President Joe Biden and called him a slur.
Don Jr.'s brother Eric Trump couldn't help but poke fun at him about the situation. Eric tweeted, "What was @donaldtrumpjr password? Don2024?" with a cheeky emoji poking its tongue out. Eric himself is not immune to the scrutiny of X users, however, previously posting a tweet about Joe Biden that raised eyebrows.
Others couldn't resist cracking jokes at Don Jr.'s expense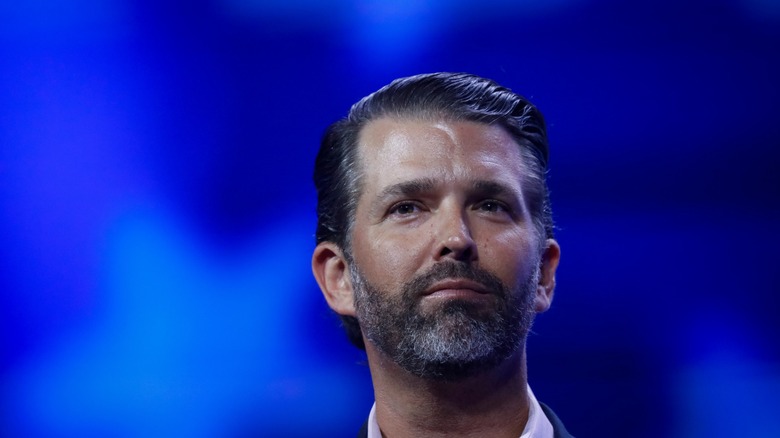 Bloomberg/Getty
Donald Trump Jr.'s X account is currently suspended, most likely due to the hacker's activities. The tweets from the hacker were called "false and inflammatory" by a spokesperson on Don Jr.'s team, according to Fox News.
The now-unavailable tweet that announced his father's (fake) death has a reply from a Donald Trump parody account that says, "I'm alive don't worry."
Other people followed Eric Trump's footsteps and teased Don Jr. for getting hacked. Philip Lewis, a writer for HuffPost, also joked about Don Jr.'s potential password and said, "I just know Donald Trump Jr's password is MAGA123." Michael Nelson, who currently works as senior fellow for the Carnegie Endowment's Technology and International Affairs Program, quipped, "It is hard to believe that someone with as many followers as Donald Trump, Jr., would not have implemented two-factor authentication. But, then, he is Donald Trump, Jr. ..."