Eric Trump's Tweet About Joe Biden Is Raising Eyebrows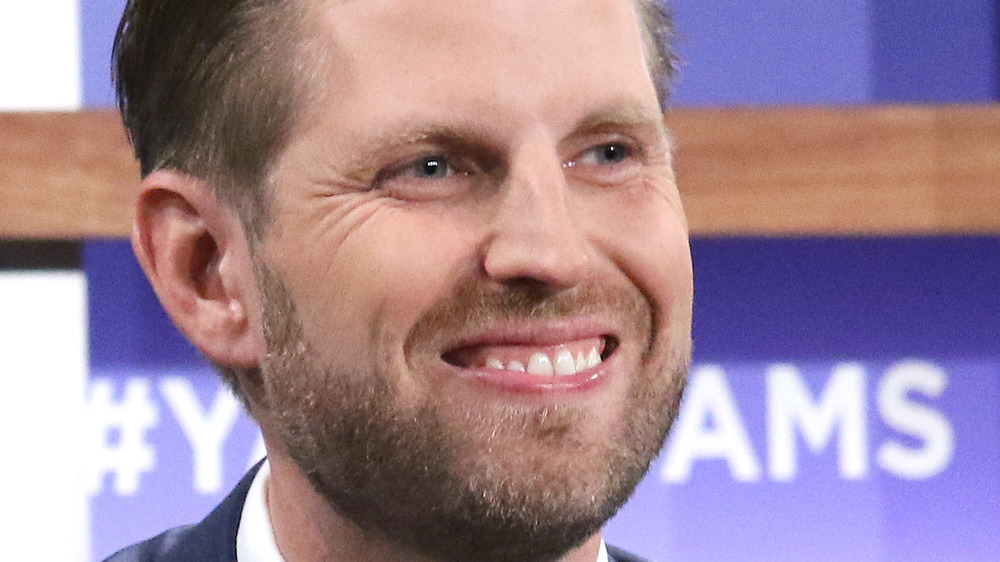 Jim Spellman/Getty Images
For the past decade, Eric Trump has been working closely with his father, serving as the Executive Vice President of The Trump Organization. He's also worked as a key advisor on the former POTUS' 2016 and 2020 presidential campaigns (via The Guardian). Since Donald Trump lost to Joe Biden in the 2020 election, Eric Trump has been fairly vocal about his suspicions regarding the validity of the election results, and, much like fellow family members, has used Twitter to voice the majority of these concerns.
In a tweet that has since been deleted, Eric Trump threatened the Republican party ahead of the announcement of the Electoral College results for the 2020 election in January. As reported by CNN, Trump shared, "I will personally work to defeat every single Republican Senator / Congressman who doesn't stand up against this fraud – they will be primaried in their next election and they will lose."
The controversy continued on Wednesday morning, when Eric Trump posted pictures of a glamorous beachfront home on his Twitter, advertising that the family-owned estate was for sale. The tweet drew accusations of fraud from critics after the fact that the asking price for the home proved to be astronomically higher than its purchase price. And considering the former owner was Donald Trump's sister, Maryanne Trump Barry, the suspicions are valid (via Palm Beach Daily News).
The blowback only seemed to fuel his Twitter tirade because later that day, Trump stirred the political pot, again, with a tweet that involved current President Joe Biden.
Eric Trump blames President Joe Biden for higher gas prices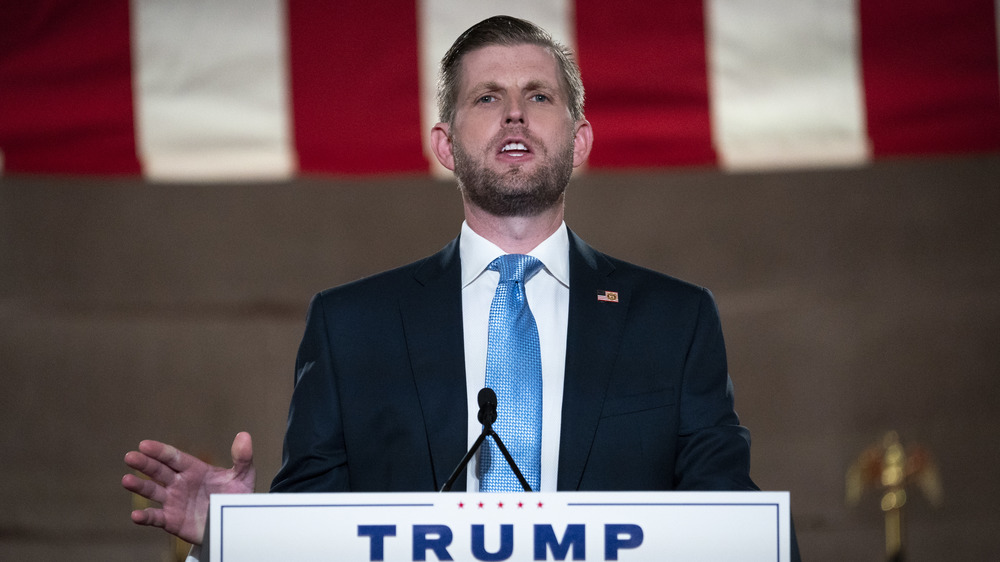 Drew Angerer/Getty Images
In a tweet posted on Wednesday night, Eric Trump's latest accusation blames President Joe Biden for the current price of gas. Sharing, "Gas prices are going through the roof – thanks #JoeBiden." He then responded in the thread with a picture of a gas pump with a price of $5.599 per gallon, and the comment, "An absolute disgrace..." It is not clear where Trump found these gas prices. Moreover, several Twitter responses to Eric Trump's tweet allege that the photo itself is fake, pointing out that there's no evidence of gas prices this high anywhere in the country at the time the tweet went live.  
Many Twitter users were quick to disprove Trump's claim that higher gas prices are linked to Biden's presidency. One user pointed out, "The big picture: The price of crude oil reflects more than half of the cost of a gallon of gasoline. Demand for oil has actually been declining, per the New York Fed, but supply has been falling even faster, with the result that prices have now topped $64 for a barrel."
Other users were a bit more harsh in their responses, including one Twitter user who poked fun at Trump's relationship with his father, writing, "I'm sorry but daddy will never love you no matter how much you tweet about the guy who beat him."
Though the closing of several key oil refineries in Texas due to the winter storm are thought to be the cause for the spike in gas prices, many Trump supporters prefer to place blame on President Biden (via NBC News).
Is President Joe Biden really to blame for rising gas prices?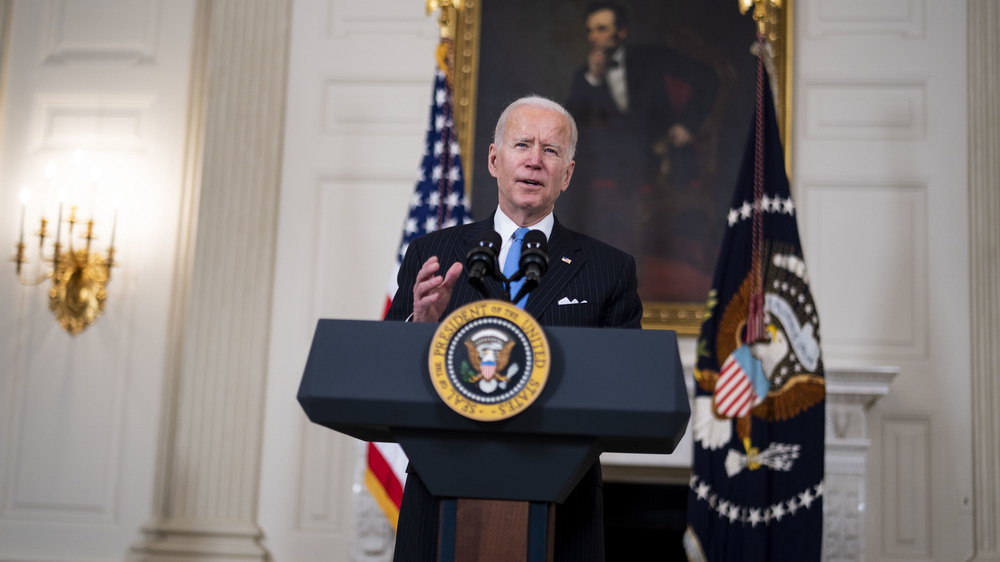 Pool/Getty Images
Eric Trump is not the only one blaming soaring gas prices on President Joe Biden. If you've been active on social media at all over the past few months since Biden took office, you might have seen the posts that blame Biden for the rise in gas prices. One Facebook post, in which a photo of Biden is accompanied by the caption, "Gas prices going up? How do you like me now?" has been shared by thousands of users.
Since late April of 2020, gas prices have been steadily increasing. Back in late April, gas prices were, on average, $1.87 per gallon. In late February of 2021, the price rose to an average of $2.72 per gallon (per the U.S. Energy Information Administration). Though gas prices have increased by ten percent since Biden took office in January, the vast majority of the increase took place while Trump was still in office (via The Poynter Institute's PolitiFact).
As Patrick De Haan, an analyst for Gas Buddy, told The Miami Herald, economic struggles as a result of the coronavirus pandemic and the rising prices of crude oil are mostly to blame for soaring gas prices — not Biden's administration. "The market is going up due to COVID," De Haan told The Miami Herald. "Oil's plummet last year and the corresponding crash in demand that's now recovering is the major factor. Not 'regulations.' And there are only supply concerns now because COVID decimated oil demand last year and that demand is coming back now."