Queen Camilla's Playful Side Shines During Ping-Pong Game With French First Lady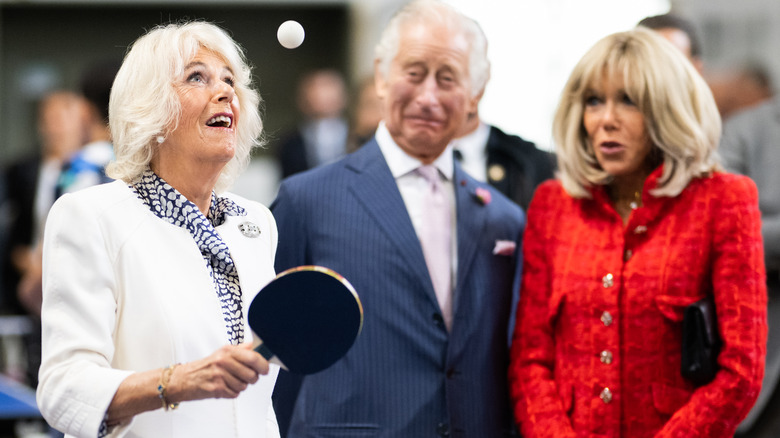 Samir Hussein/Getty Images
It was back in 2013 at Wimbledon that Queen Camilla got caught on a hot mic chatting with former tennis pro John McEnroe, admitting that she thought she was too old to play tennis, as reported by Hello!. We're guessing that ten more years has probably further solidified her stance on not playing tennis, but what about table tennis?
Camilla and King Charles III are on a three-day state visit in France — the trip was originally scheduled for March 2023, but Charles had been urged to cancel the royal visit to Paris after safety concerns. While they were there, Camilla tried her hand at ping pong during a stop at a sports center in Saint-Denis, a suburb of ParisI. She first played for a bit with Prithika Pavade, a 19-year-old French table tennis player who competed in the 2020 Tokyo Olympics.
Then, Camilla challenged Brigitte Macron, the first lady of France, to play. The two women seemed to have a good time letting loose and playing as a small crowd looked on, many with their phones out to film the game, and King Charles seemed to get a kick out of seeing his wife play.
Queen Camilla and Brigitte Macron seem to be good friends
Queen Camilla was spared the indignity of chasing down a stray ping pong ball as she played against Brigitte Macron with those around them quickly getting the ball back in play. While both women looked to be having fun, we have to say, it definitely seems like Macron is the better player. But Camilla was giggling and smiling nonetheless, and she kept going even after she hit the ball into the net a few times.
Camilla and Macron seem to be bonding during the king and queen's state visit to France. They visited the national library of France together, touring the archives and announcing a new literary prize. In her speech at the library, Camilla talked about a love of literature that she and Macron share. And the night before at the elaborate state dinner at the Palace of Versailles, Macron felt comfortable enough to help Camilla adjust the cape on her dress. The two women even had a twinning moment at the Versailles event, both wearing floor-length, navy gowns by French designers — Macron's was by Louis Vuitton and Camilla's was by Dior.
In his speech at Versailles, King Charles spoke of strengthening the bond between the two countries, and he noted how touched he was by the outpouring of love and support after Queen Elizabeth II's death last year. One such show of support was from French president Emmanuel Macron, who penned a personal tribute to the late queen.