The Most Dramatic Moments In 90 Day Fiance History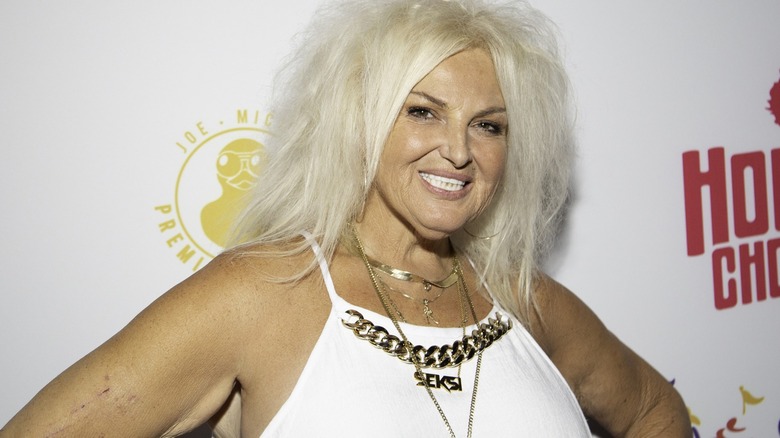 Santiago Felipe/Getty Images
​​TLC's "90 Day Fiance" franchise has provided some of the most entertaining, dramatic, and downright chaotic moments in reality TV history. The hit show follows engaged couples in long-distance relationships with 90 days to wed before their visas expire. While the franchise is technically about love, it's not the romantic storylines that have kept viewers captivated for years. It's the family feuds. The cheating scandals. The hilarious quips and painfully awkward moments.
"90 Day Fiance" first aired in 2014, and several spin-off shows have since been released, including "90 Day Fiance: Happily Ever After?" and "90 Day Fiance: Before The 90 Days." Over the years, we've been introduced to some iconic characters and witnessed some things you just can't make up. The franchise is filled with scenes that are equal parts cringe and jaw-dropping, so we've rounded up some of the most dramatic moments in "90 Day Fiance" history.
When Gino sent Jasmine's nudes to his ex
When we first met Michigan-raised Gino Palazzolo and Panama native Jasmine Pineda on "90 Day Fiance: Before the 90 Days," it seemed like Pineda's extreme jealousy would be their biggest problem. That's until it was revealed that Palazzolo had sent Pineda's nudes to his ex-girlfriend. The explosive revelation came while the couple were on vacation at San Jose Island. After Pineda received messages from Palazzolo's ex, she confronted her fiance, who lied straight to her face before coming clean.
Not only is sharing someone's explicit photos a complete violation of their trust and privacy, but it's also a literal crime. He didn't seem to grasp the severity of his actions and tried to justify what he did. Palazzolo said, "I sent the pictures as revenge to show how amazing and wonderful of a girlfriend I have at this moment." He also tried to downplay the situation by saying he only did it once. "I don't care if it was only once!" Pineda said tearfully. "I trusted you to send you those pictures, Gino."
While Pineda eventually accepted Palazzolo's apology, the ordeal resurfaced after someone threatened to leak the pictures online. A distraught Pineda expressed concern for the potential effect on her reputation and her job as a teacher. Deluded into thinking money was the issue, Palazzolo offered to support Pineda while she looked for another job, suggesting a career in fitness since she likes working out.
When Big Ed gifted Rose a toothbrush, toothpaste and mouthwash
Edward "Big Ed" Brown and Rose Vega, the couple whose awkward interactions inspired countless internet memes, have often left viewers speechless. But nothing compares to the not-so-subtle hint he gave the Philippines native about her breath.
While on vacation, Brown surprised Vega with lingerie and a swimsuit, presumably to butter her up for his next "gifts." "So, this is mouthwash. And I got you a cute toothbrush because your breath is not pretty," Brown said. "And then I got you good toothpaste." He then doubled down on the insult, telling the cameras, "One of the first things I noticed, even at the airport, was her breath."
An offended Vega explained that she has a stomach ulcer that causes her bad breath. "I'm so insulted that I want to give a punch to Ed, and I feel so embarrassed," she said. "If Ed truly loves me, he needs to accept me for who I am." This isn't the first time Brown has exhibited controlling behavior. In another scene, he comments on Vega's body hair. "Um, don't be mad at me, but um, I noticed your legs were kind of like mine, they were hairy. Would you shave your legs?" he asked her.
When Paul ran into the forest after revealing his criminal history to Karine
"90-Day Fiance" star Paul Staehle took the phrase "running away from your problems" a bit too literally when he rushed into a nearby forest after revealing his criminal record to his fiancee, Karine Martins.
The Kentucky man met his Brazillian girlfriend online and traveled all the way to her home country to be with her. He kept the fact that he was a convicted felon a secret but eventually came clean. "I have a lengthy criminal record. I've been in jail, I've been in prison, for numerous things," Staehle said. Due to their language barrier, he used a translator app to confess his crimes to Martins. "I went to jail for arson. And I had a restraining order from my ex-girlfriend," the message read. He then explained to the cameras that he spent 18 months in jail for the felony arson charge, after he allegedly burned down his house to defraud insurers.
"She doesn't deserve damaged goods. It's not fair to her," he told the cameras. Before Martins had a chance to reply to his admission, Staehle took off running into the woods. "I need my space right now. I need to walk away for a bit," he said.
When Angela smashed Michael's apology cake into his face
When it comes to controversial contestant Angela Deem, whom fans started a petition to have removed from the show, we had trouble picking just one moment to include in our list. There's that time she flashed the cameras during a tell-all special. Or the episode where she destroyed her husband Michael Ilesanmi's car. In the end, we settled on the iconic cake-smashing moment.
Deem and her Nigerian husband's rocky romance has had its fair share of ups and downs — mostly downs — but one of the most memorable moments was when she proved that revenge really is a dish best served cold. Viewers were stunned as they watched Angela pick up Ilesanmi's apology cake and shove it in his face, leaving him covered in pink and white icing.
"I feel like he's manipulating me with the cake. I want trust, not a cake," Deem said. "He has the audacity to think like last year, all he has to do is buy me cake and I'll forgive him. Don't try to swindle me because I like cake."
When Anfisa keyed Idiot on Jorge's car
When Californian Jorge Nava proposed to Russian model Anfisa Arkhipchenko, fans labeled her a gold digger using Nava for a green card. What they couldn't have predicted was that she would deface his SUV by keying the word "idiot" into its side.
Devastated, he recounted to cameras what happened. "She sent me a text saying she did something to my car. I asked her what, and she didn't tell me. And as I'm inspecting it, she keyed 'idiot' into the driver's door," Nava said. "I don't want this for the rest of my life. I wanted the Anfisa that I met when I first met her." 
The jaw-dropping moment didn't seem very out of character for Arkhipchenko, who has exhibited toxic behavior throughout their dysfunctional relationship. In the past, she's erased Nava's iPhone, forced him to sleep in a parking garage, and thrown a rage-filled tantrum that inspired the infamous line, "Bring me my red bag with the makeup!" During a tell-all special, Anfisa said she didn't regret keying Nava's car, and what followed was arguably the longest awkward silence in the history of television. When pressed to give a reason by the host Shaun Robinson, Arkhipchenko said "Because I had my reasons. They're just going to show that I'm the b*tch, and that's how they're going to show me, so I can't blame people for ––" before storming off the set.
When Chantel's family dinner turned into a physical brawl
We've seen our fair share of conflict on the "90 Day Fiance" franchise, but nothing like the dinner party brawl that broke out between the families of married couple Chantel Everett and Pedro Jimeno. It all started when the Everett family invited the Jimeno family over for dinner to resolve the ongoing tension."Tonight may be the last night to finally make things right between our families," Chantel said. "The only thing I want right now is peace," said Pedro's sister, Nicole.
Tensions mounted when Chantel's mother questioned Nicole about an offensive comment she allegedly made about Chantel. Nicole denied it, and soon both families were yelling at each other across the table. Things escalated when Chantel's brother River hit a light fixture hanging from the ceiling, which prompted Pedro to charge at him. River and Pedro swung at each other, and both families had to intervene to separate the two. Before leaving the apartment, Pedro kicked a bunch of plates and glasses off the table, leaving shattered glass and food all over the floor.
In the aftermath of the fight, Chantel was crying, her mother was holding up someone's hairpiece as a trophy, and River's chest was covered in scratches. "I'm starting to think, 'What kind of person did I marry?'" Chantel said. "I feel like my husband and his sister planned to attack my brother, and no one puts their hands on my family."
When Azan body-shamed Nicole
When Florida native Nicole Nafziger flew to Morocco to meet her fiance Azan Tefou in person, we're pretty sure being forced to work out was not part of her itinerary. But Tefou, a personal trainer who said he was only "55% attracted" to her, was adamant that his fiancée lose weight.
Throughout the episode, we watched Tefou criticize her weight and call her lazy multiple times. "You promised me you were going to change and go to the gym and be healthy," he said, before taking a reluctant Nafziger to his local gym. He pushed her to do jumping jacks even when she said she wasn't wearing the right bra. In the end, he worked her so hard she ended up in tears. "I want to be healthy, but I don't think I need to change myself for a man, for him to love me, because if he loves me, he should love me for who I am," Nafziger told the cameras. We second that.
The heartbreaking episode was tough to watch, but we're happy to report that the single mom is no longer with her controlling fiance and seems to be thriving without him. "Creating a better life," she captioned an Instagram post in July 2021, the same month she announced the breakup.
When Jenny discovered Sumit was secretly married
If you think the biggest red flag about Jenny Slatten and Sumit Singh's relationship was the way they met, think again. Slatten, a grandmother from Palm Springs, was catfished by Singh when he posed as a 25-year-old British man named "Michael Jones," using a picture of Bollywood actor Ranbir Kapoor. The couple — who has a 30-year age gap — ultimately reconciled, and Slatten moved all the way to India to meet Singh.
Once she arrived in India, Slatten discovered Singh was keeping an even bigger secret from her: he was already married. The shocking news came after a knock at the door turned out to be Singh's father-in-law, who explained that Singh and his daughter had been married for two years.
"What happened is worse than anything I could have ever imagined," Slatten said. "It's like you're having a nightmare and you wake up and it's true." The news was even more devastating for Slatten because the marriage took place while she and Singh were in an online relationship. "Why did he marry somebody if he loved me? How is it possible to do that?" she asked. Slatten eventually forgave him, and after his divorce was finalized in 2021, the couple got married.
When Danielle threatened to have Mohamed deported
It seemed obvious to everyone but Danielle Mullins that her husband Mohamed Jbali was using her for a green card. The signs were all there: the 15-year age gap, their lack of intimacy, his admission that he wasn't attracted to her, and most notably, the fact that Jbali refused to kiss her at their wedding.
Sure enough, just two months after receiving his green card, Jbali left Mullins and moved to Miami. Mullins initially filed for an annulment so that Jbali would get deported. Jbali begged her for a divorce instead so he could remain in the US, and she agreed.
However, Mullins seemed to have a change of heart when she discovered he had been cheating on her. On Season 2 of "90 Day Fiance: Happily Ever After," Mullins flew to Miami to confront Mo, armed with a binder filled with evidence of his infidelity. Jbali refused to engage in the conversation and continuously told her she wasn't welcome in Miami. Mullins threw the binder at him, before yelling, "You used me! You told me what I wanted to hear to get me to get me to pull that f****** annulment. I am going to guarantee I'll get your a** deported." The explosive argument ended with Jbali calling the police on Mullins, who left while he was on the phone.
When Jesse accused Darcey of throwing a shoe at him
One of the most bizarre fights in "90 Day Fiance" history involved Amsterdam native Jesse Meester, his US-born fiancee Darcey Silva, and a Christian Louboutin shoe. Since the cameras weren't rolling at the time, it's a classic he-said-she-said situation. Meester alleged his girlfriend flung the shoe at his head. Silva said she only threw it towards his feet, after he accused her of ruining his shoes. "I was like, 'Here, take my shoe. Take my $1,000 shoe. Go ahead and step on it. Here you go,'" Silva explained.
In an episode of "90 Day Fiance: Before The 90 Days," Meester accused Silva of assault and even threatened to call the cops. "She threw shoes at my head. Now it's a Louboutin shoe. What's next? A glass? I don't know," he said. After recounting the story to the cameras, Meester packed his bag and left Silva's house in a huff, saying, "I feel not safe anymore. She's paranoid."
Silva, on the other hand, believed Meester was blowing the situation out of proportion. "I'm tired of having to defend myself over things that are misconstrued and over-dramatized," she said. "Wow, what an a**." She later reenacted the infamous incident on a podcast, which triggered her now-ex-fiancee. "Hey Darcey, what a class act," Meester wrote in the comments, according to Newsweek. "I see you are still trying to exploit yourself and making domestic violence seem funny and manipulate what happened."
When Colt's mom tried to make Jess jealous
Colt Johnson's mom, Debbie, isn't the first mother to dislike her future daughter-in-law, but she might be the first to be caught on camera trying to sabotage the relationship. While Debbie was on vacation in Brazil with her son and his fiancee, Jess Caroline, she brought up a touchy subject — Colt's friend Vanessa.
"I talked to Vanessa, she said the cats are doing really good," Debbie said out of the blue. "She sent me a video of Izzy. Do you want to see?" The information that Colton's friend was cat-sitting for him clearly upset Jess, and she asked Colton why he didn't mention it before. Colton said they were just friends, but Jess believed Vanessa had feelings for Colton. She flew into a jealous rage, and the couple started arguing.
Anyone who thought it was an innocent slip of the tongue would have changed their mind after watching what happened next. In a confessional, a producer asked Debbie, "Did you know Jess had an issue with Vanessa?" Debbie didn't reply, but her wry smirk said it all — she knew exactly what she was doing. All that was missing from the scene was an evil mastermind laugh. Debbie confirmed her dislike of Caroline to US Weekly, saying, "I think that she's wrong for Colt. I think she went after Colt for the wrong reasons, and I just don't think they were a good match, but I'm sure she'd be perfect for someone else."