What We Know About Russell Brand's Wife Laura & Their Two Daughters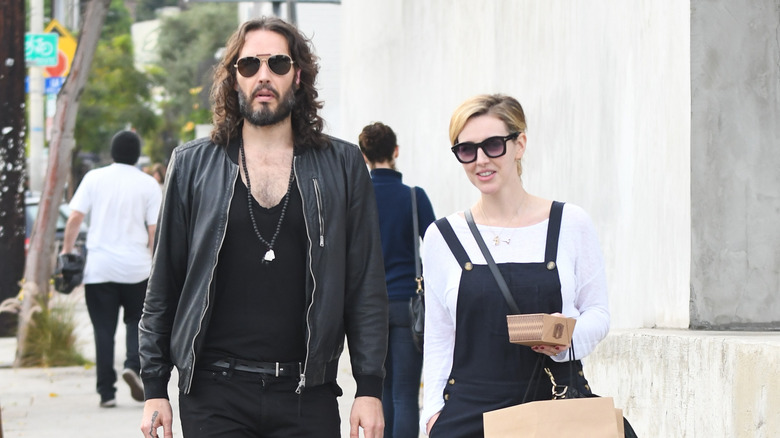 Bg002/bauer-griffin/Getty Images
This article contains references to sexual assault. 
In September 2023, four women publicly accused comedian and actor Russell Brand of sexual assault following a wide-ranging, years-long investigation by The Sunday Times, The Times, and Channel 4's "Dispatches." One claimed that Brand dated and sexually assaulted her when she was 16 and he was 30. The woman alleges she made Brand aware of her age before going out with him, and he asked about it again during the date. She added that Brand helped her craft stories to keep the relationship a secret from friends and family and asked her to save his name as "Carly" to avoid suspicion. 
Two of the other victims claimed that they actively asked Brand to stop during their assaults, to no avail. The controversial star allegedly threatened one of these accusers with a lawsuit if she went public and apologized to the other for his "crazy and selfish" actions. The shocking events reportedly occurred between 2006 and 2013. 
Brand vehemently denied all the allegations in a YouTube video released prior to the claims being made public, reasoning that his sexual encounters have always been consensual. He believes the accusations are a targeted media attack to prevent him from expressing his political views. As the social media storm rages on, many have wondered where Brand's wife, Laura Brand (née Gallacher), stands since she deleted her social media as the accusations came to light. Though the couple has been married since 2017 and shares three kids, their relationship goes way back. 
The couple initially dated in 2007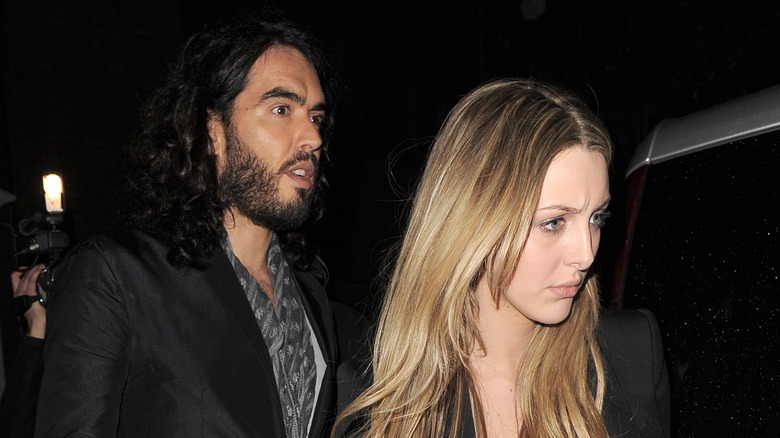 Will/Getty Images
Laura Gallacher is the daughter of renowned Scottish golfer Bernard Gallacher. Her sister, Kirsty Gallacher, is a respected television presenter, who showed her support for Russell Brand by reposting an Instagram Story of his defense video with a heart emoji. In 2007, Kirsty introduced her then-19-year-old sister to 30-year-old Brand. At the time, Laura was studying art in college while Brand was an in-demand TV personality. 
It didn't work out between them because he wasn't ready to settle down but, just three years later, Brand briefly married Katy Perry and infamously ended things by asking Perry for a divorce via text message. In 2015, a chance encounter led Laura and Brand to reunite. She shared the moment with Grazia magazine: "My ex had literally moved out of our flat that day and I was heartbroken, with mascara running down my face." Laura continued, "A friend dragged me out on a walk to the canal in east London, where I'd never been in my life, and as we came on to the footpath Russell was standing there, like he'd organized it." 
After their first breakup, Laura decided to pursue a career in hospitality. But she told You magazine that reuniting with Brand made her realize she wanted to return to her creative endeavors. Laura added that Brand wasn't satisfied with the current trajectory of his life either and craved a quieter existence instead. So, in 2017, the couple tied the knot, and Laura subsequently became an author and illustrator. 
She's written three books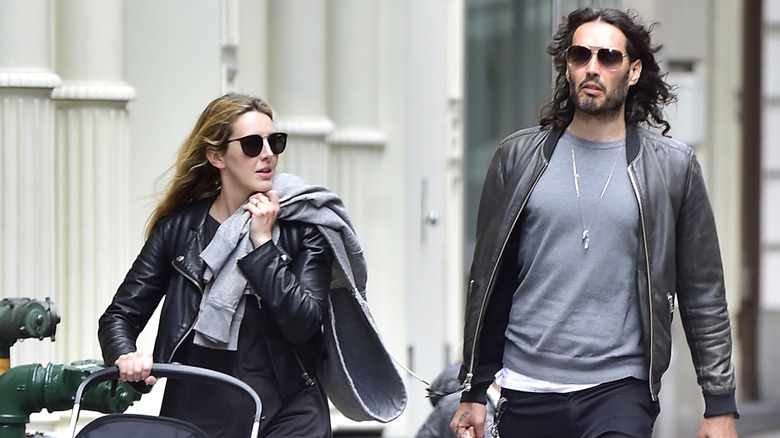 Alo Ceballos/Getty Images
Russell Brand and Laura Gallacher share two children, with a third on the way as of June 2023. Though the couple couldn't be happier with their two daughters, they didn't initially plan on having a third because the pregnancies weren't easy on Gallacher. The author admitted to Grazia magazine that she endured excruciating morning sickness throughout both terms and even ended up in the hospital. In the end, it all worked out and motherhood actually reignited her creative spark. 
Amidst the 2020 lockdown, she released her first book, "The Joy Journal," a collection of fun ideas that helps parents connect with their children through hands-on playtime activities. The journal unsurprisingly included some of her daughters' favorite activities. In 2022, Gallacher released an adult version of "The Joy Journal" followed by "Slow Down and Be Here Now," a gorgeous illustrated work that nurtures meaningful connections with nature. Though her work primarily targets children, she believes adults can find something meaningful in it, too.
During an appearance on the "Happiful" podcast, Gallacher shared that her childlike curiosity about nature helped her view the world from a different perspective and learn new things even in adulthood. She added that she shied away from exploring new ideas as a kid because the author felt boxed in by her dyslexia diagnosis. Gallacher also described how her creative burnout sparked new passions: "When I was burnt out, I decided to learn massage. I wanted to do something calming and mind-body related. I got a certificate in that and Reiki healing."