The Tragic Event That Reunited John Stamos With The Olsen Twins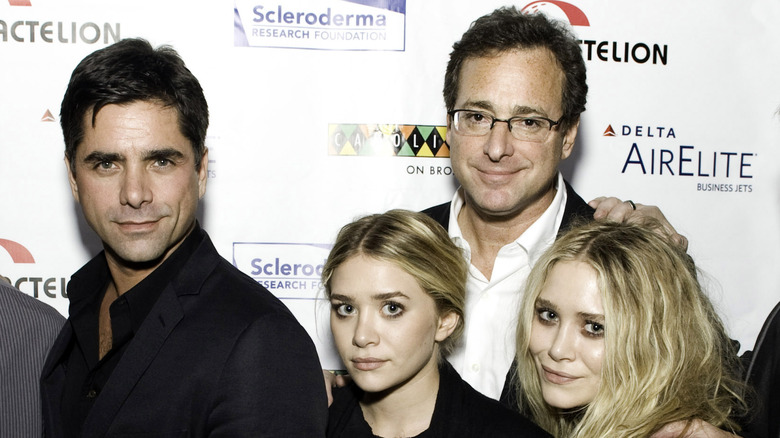 Shawn Ehlers/Getty Images
The beloved '90s sitcom "Full House" has raised generations of audiences, and that includes the actors who grew up on the show before our very eyes. For eight years, Candace Cameron Bure, Jodie Sweetin, Mary-Kate Olsen, and Ashley Olsen portrayed the three Tanner sisters — the latter two taking turns playing the lovable Michelle Tanner. There was nothing sweeter than their relationship with Uncle Jesse, played by John Stamos. But it turns out that as time went by, relationships between castmates became strained at times.
Stamos famously shared that he was angry with the twins after they refused the offer to return for the "Fuller House" reboot. Even though Mary-Kate almost returned to her role as Michelle Tanner, her busy schedule prevented it from happening. The new series, which aired from 2016 to 2020, was led by original cast members Candace Cameron Bure, Jodie Sweetin, and Andrea Barber. Stamos, Saget, and other "Full House" vets all made appearances. Notably missing were the Olsens.
After Saget passed away in 2022, the Olsens reconnected with their TV uncle. Stamos told the "And That's What You Really Missed" podcast of his reunion with Mary-Kate and Ashley: "You hear rumors, 'Oh, they hated their childhood' or 'They hated being on the show' or whatever ... but they were like, 'We loved our childhood. We loved being with you. We miss Bob.'" The "Big Shot" actor also shared that Saget was the main cast member who kept everyone in contact.
The Full House cast came together over Bob's passing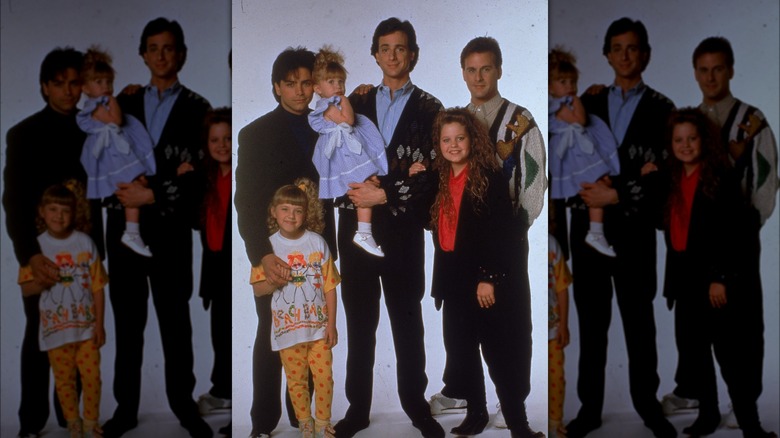 Fotos International/Getty Images
There's no doubt that Bob Saget's untimely passing rocked the world. In his role on "Full House" during its run from 1987 to 1995, he became one of America's favorite TV dads. Even when Saget continued his career as a raunchy comedian, his role as Danny Tanner remained a staple in popular culture. In January 2022, Saget passed away while on the road for his standup comedy tour, "I Don't Do Negative." In the months following his death, police records revealed that Saget died due to head trauma. It was reported that he fell and was found unresponsive in his hotel room in Orlando (per Entertainment Weekly).
The impact that Saget had on his castmates was evident. Upon hearing news that the "America's Funniest Home Videos" host had died, tributes began to flood in. The "Full House" cast released a joint statement via Instagram, in addition to sharing their own individual tributes: "Thirty-five years ago, we came together as a TV family, but we became a real family. And now we grieve as a family ... [Bob] was a brother to us guys, a father to us girls, and a friend to all of us."
Stamos told the "And That's What You Really Missed" podcast of his late co-star's influence, and claimed that Saget was key to keeping the cast in contact. His passing even pushed Mary-Kate and Ashley Olsen to show up at Stamos' home to make amends all those years after the series ended.
John Stamos originally got the twins fired from Full House
As twins, Mary-Kate and Ashley Olsen shared the role of Michelle Tanner up until they were eight years old. But according to John Stamos, in the early days, the crying of two babies on set was just too much to bear. "They kept switching: 'This one's not gonna cry.' I couldn't deal with it," Stamos recalled to the "Good Guys" podcast. "And I said, 'This is not gonna work.' So they got rid of them."
Eagle-eyed "Full House" fans may notice that for one episode, two other redheaded baby actors were subbed in for the Olsens. A short time later, Stamos urged the producers the bring Mary Kate and Ashley back –- it turns out, all babies cry. After Full House ended, the Olsen twins went on to build their tween empire. From book series to movie franchises, Mary-Kate and Ashley Olsen ruled the '90s and early '00s. But as they entered adulthood, the twins famously chose to lead discreet lives and now run their luxury fashion line, "The Row."
Nearly 30 years after "Full House," it appears that the Olsens and Stamos are now on good terms. After Ashley welcomed her first child in August 2023, Stamos shared a sweet message to Instagram: "If you would have told me those blue-eyed babies I met on set nearly 40 years ago would still be in my life at 60 years old, I wouldn't have believed you. I am blessed."