Diamond Pro Tells Us The Price Tag On Katrina Bowden's 'Timeless' Engagement Ring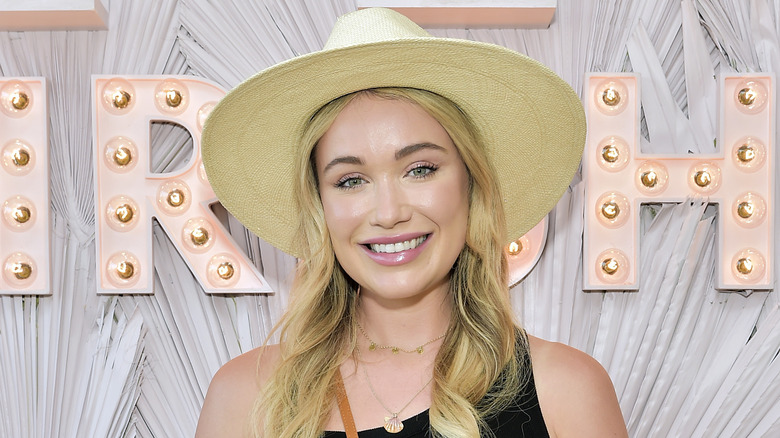 Stefanie Keenan/Getty Images
Whether you're a fan of sitcoms, soap operas, or the Hallmark Channel, you're probably familiar with Katrina Bowden. Bowden played the ditzy but lovable Cerie on NBC's "30 Rock," the divisive Flo Fulton on CBS' "The Bold and the Beautiful," and Bowden has starred in a couple of Hallmark movies. Now, she's playing the real-life role of bride-to-be. If you just looked at the caption of her recent Instagram post, you might think there was trouble between her and her musician boyfriend Adam Taylor. She wrote, "Happy to announce ... we are no longer dating," but it wasn't a break-up announcement, rather an engagement announcement.
Taylor popped the question while the two were on vacation on Italy's Amalfi Coast, and along with sharing a pic of Taylor on bended knee, she shared her engagement ring. It's an absolutely beautiful round-cut diamond on a gold band, and The List spoke with Mike Fried, CEO of The Diamond Pro, to find out some more details about Bowden's ring, including just how much he thought it was worth.
Fried told us that it looks like Bowden's engagement ring is: "3 to 4 carats. I'd estimate the value is near an impressive $100,000." Impressive indeed! Part of what may have upped the price point is its round cut; circular-cut diamonds cost more per carat than other diamond shapes like princess cut or oval.
Katrina Bowden's engagement was a surprise
What we particularly love about Katrina Bowden's engagement ring is its classic styling, and CEO of The Diamond Pro Mike Fried noticed that too. "The subtle vintage design makes the ring original and personalized without being flashy and overpowering," Fried said. "The craftsmanship of the ring is what makes it stand out the most. Her ring is unique, beautiful, and timeless — a winning trifecta." Fried also noted some details of the ring that a layperson might miss: "The ring style looks to be a cathedral setting with intricate milgrain detailing. The setting offers extra height and character to the stone." It's the milgrain detailing, the tiny beaded detail along the border, which helps give the ring its vintage feel; milgrain was particularly popular in the Art Deco era.
Bowden gave details of how Adam Taylor surprised her with the proposal and the ring in her Instagram announcement. It sounds like things were already pretty romantic, as they were on a secluded beach, and then, as Bowden explained: "[Taylor] set up a mini tripod to take a photo of us since all we have are selfies so far. Then he came in to take the shot and got down on one knee and gave me the most special, surprising, beautiful moment[.] I cried like an absolute loser ... also the ring blinded me so my eyes were in pain[.] happiest most perfect day of my life." Congrats to the happy couple!