Odell Beckham Jr. Was Connected To Another Kardashian Before Kim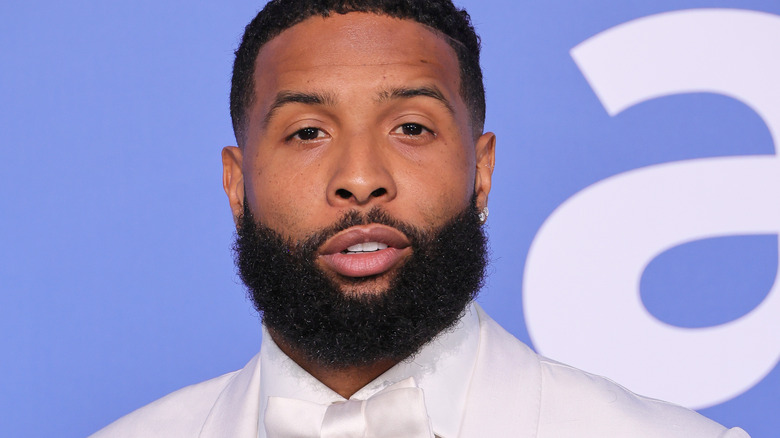 Neilson Barnard/amfar/Getty Images
We may receive a commission on purchases made from links.
NFL star Odell Beckham Jr. has been in the news quite a bit recently, though it hasn't been solely about his game. The Baltimore Ravens wide receiver has been reportedly dating Skims founder Kim Kardashian after a rumored split from his son's mother, Lauren "Lolo" Wood. Though neither party has confirmed nor denied talks of the new relationship, multiple sources close to Beckham Jr. and Kim have stated that sparks are flying. On September 19, an insider told People that the two were spending time together. The following day, another source reiterated this to Us Weekly, stating, "​​They're dating, but things are still fairly casual." 
While Beckham Jr. may be busy getting to know Kim, there was once speculation that he was getting close to her sister, Khloé Kardashian. Khloé and Beckham were first linked in 2016. The timing of their supposed fling coincided with the Good American founder filing for divorce from former Los Angeles Lakers player Lamar Odom. 
Though the timing seemed right for both Beckham and Khloé, the chatter surrounding their connection quickly fizzled out. Nevertheless, it's hard to ignore the fact that the alleged newly single football pro has been associated with both of the famous sisters.
Odell Beckham Jr. and Khloé Kardashian were spotted together at two parties
The whispers surrounding Odell Beckham Jr. and Khloé Kardashian getting cozy began with back-to-back appearances at two separate parties. The first sighting was on May 27, 2016, at a birthday party for her sister Kourtney Kardashian's ex, Scott Disick, in Las Vegas. Then, on a few days later on May 30, the pair got a bit more touchy during Drake's Memorial Day pool party in California. In images obtained by TMZ, Khloé was pictured standing between Beckham Jr.'s legs. At one point, she leaned in close as if sneaking a kiss from the NFL player, though it doesn't appear they actually locked lips.
While the optics then suggested a new love could have been on the horizon, Khloé shut down the rumors rather quickly. Just days after the pictures from Drake's kickback surfaced, the reality star tweeted, "Sorry to burst your bubble. When a couple drinks, a little flirting, and an invasion of privacy collide, things may look crazy." A separate source also reiterated this to Us Weekly, confirming the two were simply having a good time.
It's not the first time Kim has been accused of having a guy in common with one of her sisters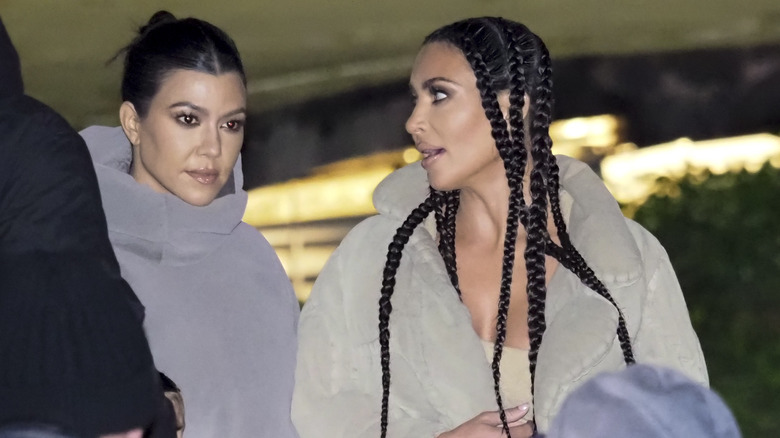 Arnold Jerocki/Getty Images
Kim Kardashian seemingly has a pattern of having similar taste in men as her sisters. In fact, in 2007, years before he married Kourtney Kardashian, Travis Barker briefly dated Kim. He made the revelation in his 2015 memoir, "Can I Say: Living Large, Cheating Death, and Drums, Drums, Drums." The two initially connected when he was dating Paris Hilton, whom Kim worked once for. Eventually, Kim began modeling for his company, Famous Stars and Straps. 
Before long, Kim and Barker went on several lunch dates. However, he maintains things never went too far despite being extremely attracted to Kim. Fast forward to January 2021, Barker and Kourtney began dating before walking down the aisle in Las Vegas in April 2022. The following month, they held an extravagant Italian wedding.
With her Barker era long behind her, Kim has her eyes set on Odell Beckham Jr., who may have been within reach for a while. Kim was spotted at his birthday party in November 2022 while he was still dating Lauren Wood. With the fitness model now likely out of the picture, at least romantically, Beckham Jr. and Kim have free reign to pursue one another. And hopefully, that's with the blessing of Khloé Kardashian, though she seems preoccupied with her own happiness in her post-Tristan Thompson single life.