David & Victoria Beckham's Son Romeo Is Growing Up To Be His Dad's Twin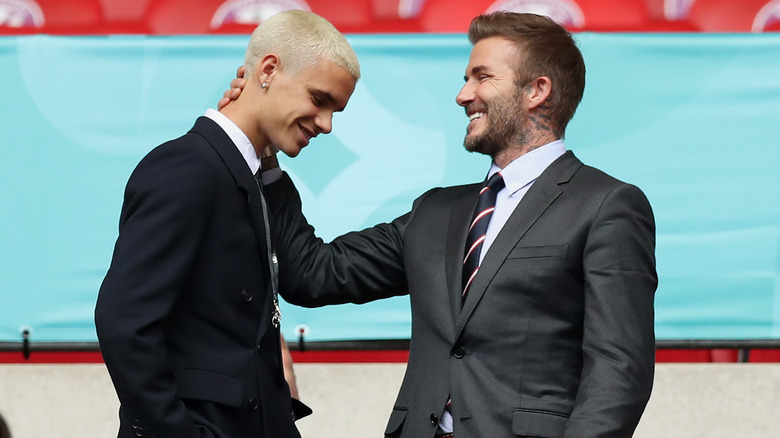 Alex Morton - Uefa/Getty Images
Time and genes have woven their magic, and as he's grown into a young man, Romeo Beckham is suddenly the spitting image of a young David Beckham. Being the son of two fashion icons, Romeo's looks have always been a major topic of conversation. As a baby, his footballer father memorably claimed that Romeo had "Brooklyn's nose and Victoria's chin," (via The Guardian).
Currently sporting a goatee and mustache like his father once did, Romeo is creating a delightful feeling of nostalgia. The younger Beckham has always oozed style with an impressive modeling career featuring appearances in a Burberry Kids campaign at just 10 years old and the generation issue of L'Uomo Vogue at 18. Compared to his father's classically British style, Romeo's is contemporary and bold. 
While he may never attain David Beckham's stunning net worth and considerable fan base, it's impossible to ignore just how similar-looking father and son now are.
David and Romeo have shared several twinning moments
Romeo has always been open about his admiration for his famous parents. After all, his father has a bronze statue of his likeness in front of the LA Galaxy home stadium, and his mother was a Spice Girl. However, Romeo is often found in his father's corner when it comes to fashion. Who can forget when he and David took a heartwarming photo while on a family holiday in the summer of 2022 in matching outfits?
They had on the same shirt and shorts but in different colors. David approved his son's post by replying, "Someone's been in my wardrobe," with a red heart emoji. Their heights differ only slightly, with six-foot Romeo slightly taller than his dad, who's 5ft 11. The father-son duo enjoyed another twinning moment in August 2023, when Romeo revealed a buzzed head with a line on the left side on his Instagram Story (via Hello! magazine). 
It was exactly like his father's iconic buzz cut from 2001. Romeo even copied his dad's eyebrow slits. They also seem to have the same taste in women. The British tabloids claimed that Romeo was secretly engaged to his girlfriend, Mia Regan, who, like his mom, is a model (via the Daily Mail). We have high hopes for this couple as Romeo undoubtedly has insider knowledge of David and Victoria Beckham's secret to their long marriage.
Romeo is also following in his father's football footsteps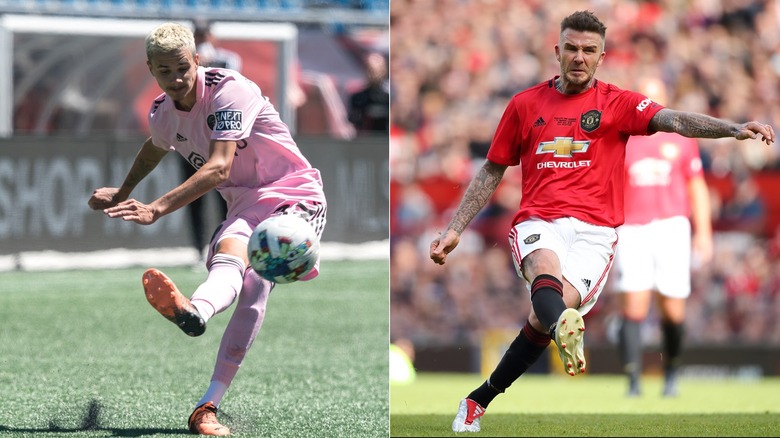 Andrew Katsampes/isi Photos/Getty & undefined
David and Victoria Beckham have always been supportive rather than imposing parents. Consequently, Romeo has had his pick of careers ever since he was a boy, from modeling to tennis, and of course football. Unsurprisingly, Romeo ultimately chose to follow in his father's footsteps — and what big shoes he must fill. David is one of the greatest players of all time and a living legend in his home country. 
Romeo started his early football career at the Arsenal Football Academy in England. However, this chapter ended before he turned 13. Fans were surprised when Romeo quit the sport and moved on to tennis instead. Though he had training sessions with tennis legends like Andy Murray, Romeo's genes steered him back to football at age 19 with Fort Lauderdale, a sister club to Inter Miami, his father's co-owned club.
The younger Beckham's impressive stats and name earned him a transfer to Brentford's B team on a six-month loan in January 2023, before the trade was made permanent the following June. Although Romeo also enjoyed a stint playing for Inter Miami, he ultimately settled back in the UK, suggesting Romeo wants to follow in his famous father's footsteps. Loverboy or brewing English legend, Romeo is just like his dad.