Brooke Forever? Katherine Kelly Lang Plans To Stay On The Bold And The Beautiful For Long Haul
As the fashion war between father and son, Eric (John McCook) and Ridge Forrester (Thorsten Kaye), heats up on "The Bold and the Beautiful," life wonderfully imitates art — albeit not quite so dramatically — as star Katherine Kelly Lang (Brooke Logan) recently went to Australia to promote her luxury kaftan clothing line. On Monday, September 25, she appeared on the Australian talk show "Studio 10" and was interviewed not only about her fashion wares but also her time on "B&B."
The interview was posted on Instagram, and when asked if she would be present for the 40th anniversary, Lang happily responded, "Oh gosh, yes! Maybe even the 50th. I love the show. I'm really grateful to be there. I just can't believe [that] after 36 years I still love it." She exuberantly continued with, "Actually, I love it even more than I ever have, so it's just a blessing to me. I feel like I've grown up there and I will stay as long as I possibly can." The show captioned the video with, "We all LOVE Brooke on @boldandthebeautifulau so we were thrilled to have Katherine Kelly Lang right here on the desk today."
Lang began playing Brooke in 1987 as one of the original cast members when the sudser debuted that year, and her fan base is worldwide.
Katherine Kelly Lang wants to play Brooke until she's 95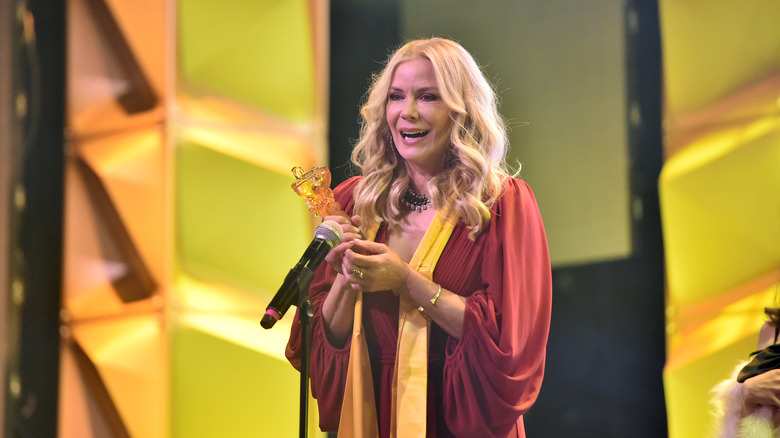 Alberto E. Rodriguez/Getty Images
"The Bold and the Beautiful" is seen in over 100 countries, and according to Parrot Analytics. In the last 30 days, it was 98.4% more in demand than any other dramatic TV series in the U.S., and in Italy, over 20% of TV viewers watch it, with similar staggering numbers found globally. With stats like that, it's likely that Katherine Kelly Lang will achieve her dream of playing Brooke Logan for years to come. 
Her recent comments  on "Studio 10" echo her previous sentiments about continuing to play the beloved "Bold and the Beautiful" character. In March 2017, Soap Opera Digest posted an interview with Lang and her co-star, John McCook (Eric Forrester). At the time, it was around Lang's 30th anniversary on the show and when asked if she was prepared for another 30 years, she remarked, "I am! Somebody actually asked me, 'Would you like to play Brooke until you're 95?' Hell, yes! Why not? I want to continue. I want to see Brooke grow old. I want to see what happens to her and I want to be a part of the show." 
Fans are delighted to know that Lang is in it for the long haul and flooded the "Studio 10" interview post on Instagram with comments. Amongst the praise and gratitude for Lang's 36-year portrayal of Brooke, one fan lovingly applauded her with, "You're Bold, You're Beautiful, You're Amazing Katherine (AKA Brooke) We love you."