A Look At Tom Hiddleston And Zawe Ashton's Relationship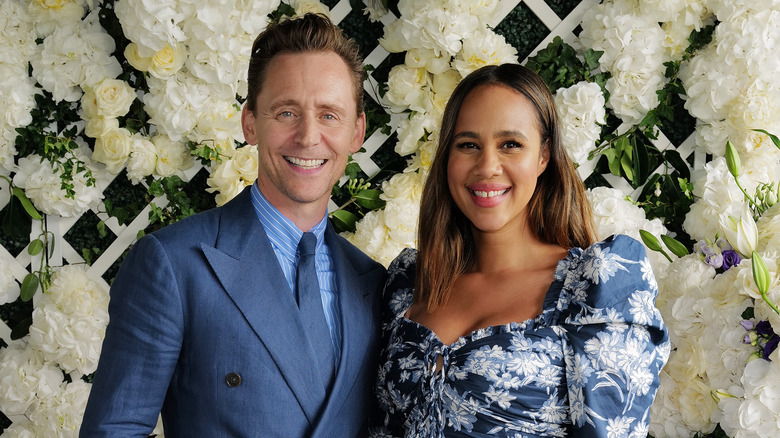 Darren Gerrish/Getty Images
When it comes to press interviews, their social media presence, or even architectural digest tours, some celebrity couples are pretty outspoken — Blake Lively and Ryan Reynolds, for instance, leave little to the imagination, and Kristin Bell and Dax Shepard have publicly discussed their couples counseling sessions. On the flip side, Tom Hiddleston and Zawe Ashton like to keep their relationship under the radar.
Like many ship-worthy celebrity couples, they were co-stars before they became partners. In the March 2019 West End revival of "Betrayal," Ashton played a married woman cheating on her husband, played by Hiddleston. Their connection was obvious both on and off stage. "They were very private publicly, but behind the scenes, you could just see a lovely chemistry," an insider told People, adding, "There were twinkles in both of their eyes and the entire company, including Charlie Cox, were all very close." 
Later in August 2019, "Betrayal" transferred to Broadway — it was over the summer that they first sparked dating rumors. "Tom has always been a very, very private person. Behind the scenes, they would just privately be affectionate and hugging and sitting next to each other and holding hands," said People's source. Clearly, the COVID-19 Pandemic didn't get in the way of their budding romance — the actors have been together ever since. 
They haven't made many public appearances together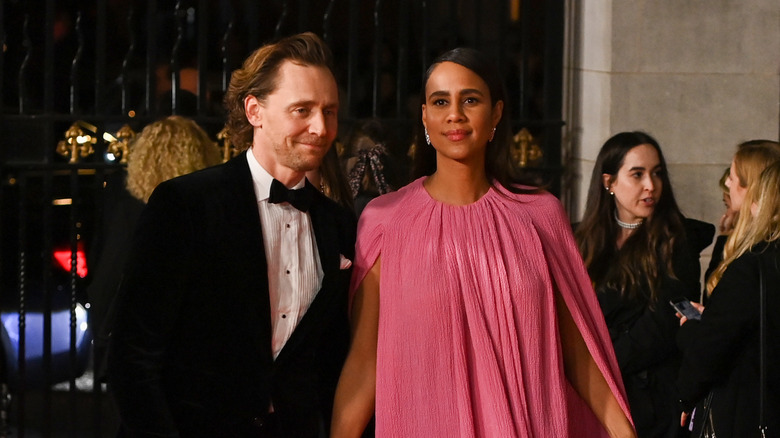 Kate Green/Getty Images
Although Tom Hiddleston is notoriously private when it comes to his dating life, he did reveal to The Los Angeles Times that he is "very happy" with Zawe Ashton. In August 2019, the pair cozied up at the U.S. Open (much like Timothy Chalamet and Kylie Jenner did in 2023). However, their romance wasn't made official until September 2021 when they were photographed kissing on an Ibiza vacation — it's likely they have the Pandemic to thank for the relative privacy in the early days of their relationship. Not long after traveling to Ibiza hand-in-hand, Hiddleston and Ashton made their red carpet debut at the 2021 Tony Awards, confirming their celebrity couple status.
In March 2022, they stood side-by-side on the BAFTA red carpet. It was during this outing that the it-couple seemingly confirmed their engagement (the "Mr. Malcolm's List" star wore a diamond on her left ring finger). In October 2022, they welcomed their first child together. "Tom and Zawe are loving being new parents and are filled with joy," an insider close to the couple told Us Weekly, adding, "They have been having the struggles of new parents and aren't sleeping much but are thrilled." Parenthood hasn't stopped them from advancing their careers (Hiddleston has his own Marvel series, "Loki") or checking out the occasional tennis match, however. They even coordinated their Ralph Lauren outfits at Wimbledon in July 2023. 
Tom Hiddleston and Zawe Ashton have a franchise in common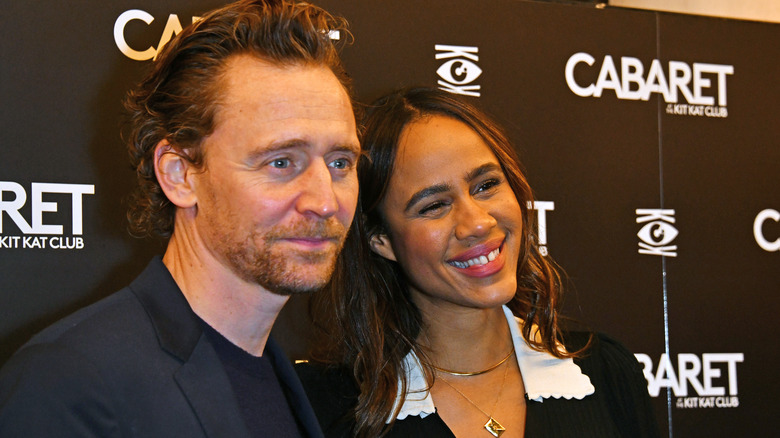 Dave Benett/Getty Images
Beyond their shared on-stage acting credit, Tom Hiddleston and Zawe Ashton have quite a few similarities. "They love the finer things in life," one source told Us Weekly, pointing out that, "They also love to let loose and rock out with friends, whether it's at a house party or heading to a local bar or restaurant." What's more, they now both have roles in the Marvel Cinematic Universe. Since 2011, Tom Hiddleston has played everyone's favorite anti-hero, Loki. Meanwhile, Zawe Ashton was cast to play the supervillain Dar-Benn in "The Marvels" alongside MCU staples like Brie Larson (a.k.a., Captain Marvel) and Samuel L. Jackson (Nick Fury).
According to Ashton, Tom Hiddleston gave her some expert advice before she signed on to the franchise. "One of the main takeaways from our conversations was: 'What you put into Marvel, you get back,'" she told Entertainment Weekly. "He said, 'If you go into this with an open heart and a great work ethic and just want to provide an amazing experience for the fans, you'll have an amazing experience on those sets.'" He also communicated the importance of zippers when it comes to form-fitting costumes ... They're helpful when using the bathroom.
Ultimately, Tom Hiddleston believes in privacy when it comes to dating, something which became abundantly clear after his public relationship with Taylor Swift in 2016. "My work is in the public sphere and I have a private life. And those two things are separate," he told The Telegraph.