How GH's Kelly Monaco Sparked Romance Rumors With DWTS Star Val Chmerkovskiy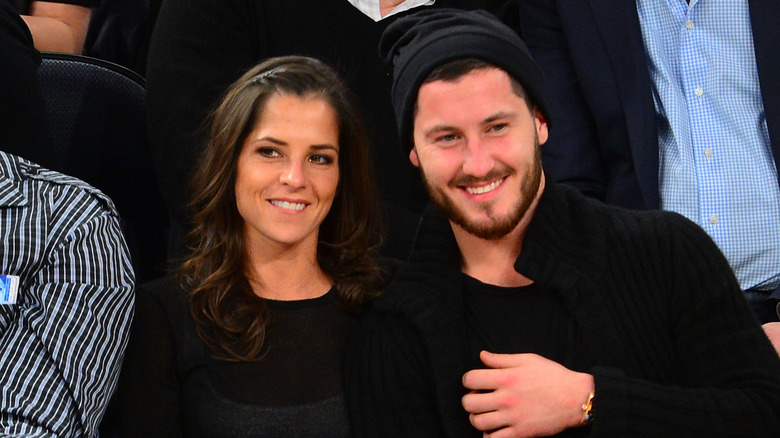 James Devaney/Getty Images
"General Hospital" actor Kelly Monaco (Sam McCall) is a household name in the soap world, but she's someone who absolutely separates her personal life from her professional one. You will never hear her talk about her family, her dog, or even her favorite color or meal. Yet, there's always been a lot of speculation about Monaco's secretive love life. Even though she never confirmed her romance with her former co-star Billy Miller, photos of them in the ocean hinted that they were more than just friends, according to Soaps.com. While her fans have also flooded her social media feeds with questions about her love life, she's never answered them. 
There are a lot of things that fans don't know when it comes to Kelly Monaco. However, there was a time in Monaco's life when she did open the door to her private life when she was on "Dancing With the Stars." She was on the first season of the show, which she won, and then again for Season 15. While she didn't win the Mirror Ball during her second time around on the show, there was a lot of speculation about her 'close' relationship with her dancing partner, Valentin Chmerkovskiy. That itself gave fans a reason to tune in that year.
Did Kelly Monaco date Valentin Chmerkovskiy?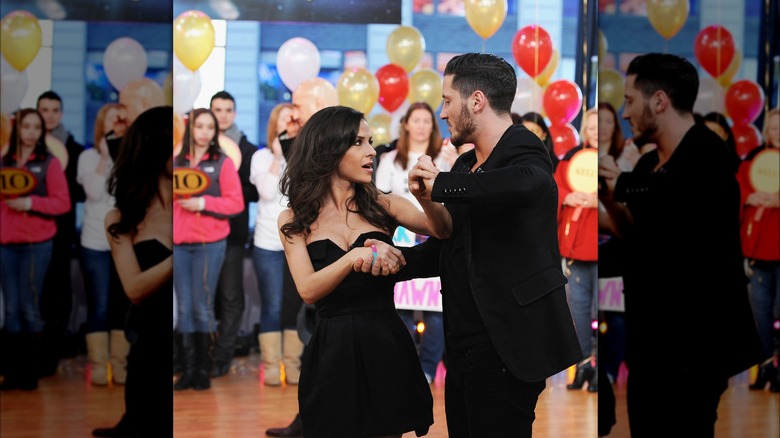 Slaven Vlasic/Getty Images
Back in 2012, Kelly Monaco told Michael Fairman TV that she decided to appear on "Dancing With The Stars" because she wanted to step out of her comfort zone. She said at the time, "I mean, this is not my thing. I like to cry on camera and I like to study lines, I really do. I like my routine. I have been doing soaps for 13 years now." 
While Monaco managed to impress everyone with her fancy footsteps, it was the way that she interacted with her dance partner Val Chmerkovskiy on the dance floor that certainly raised a few eyebrows during Season 15. Their Cha Cha was pretty frisky, and during another dance, they shared a lollipop. Their closeness even prompted judge Carrie Ann Inaba to wonder if they were really dating off-camera. She even asked the pair after one of their routines. "It's so awesome to be called out on national television. I don't (care). Whatever," Monaco stated afterward, according to USA Today.
Monaco and Chmerkovskiy's chemistry was such a hot topic that even the Daily Mail couldn't help but wonder if they were dating. Because there were so many questions about whether or not they were a couple, Monaco finally decided to set the record straight. 
Kelly Monaco set the record straight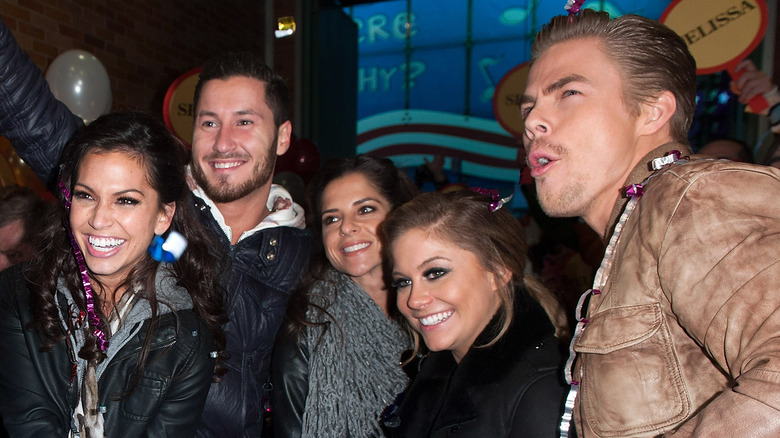 D Dipasupil/Getty Images
According to the "Today" show, Kelly Monaco stated that what she had with Val Chmerkovskiy was a "friendship" and nothing more. She was quick to take out the 'girl' in girlfriend. The dancer himself even added, "We have a great time when we're together. We have great conversations. We make fun of the same people. We compliment the same people. We like similar things and that's that."
Plus, Monaco had a rumored boyfriend at the time, actor Heath Freeman, who she was supposedly in a long-term relationship with, per Soap Hub. Freeman was also reportedly in the audience during a lot of Monaco's performances on "Dancing With The Stars." While Monaco never made any comments about her relationship with Freeman either, they sure were hanging out a lot that same year, according to his Instagram page. Monaco might never utter a single word about her dating life, but then again, everything you would need to know about her is probably in her Cha Cha moves.