The Real Meaning Behind Taylor Swift's Cruel Summer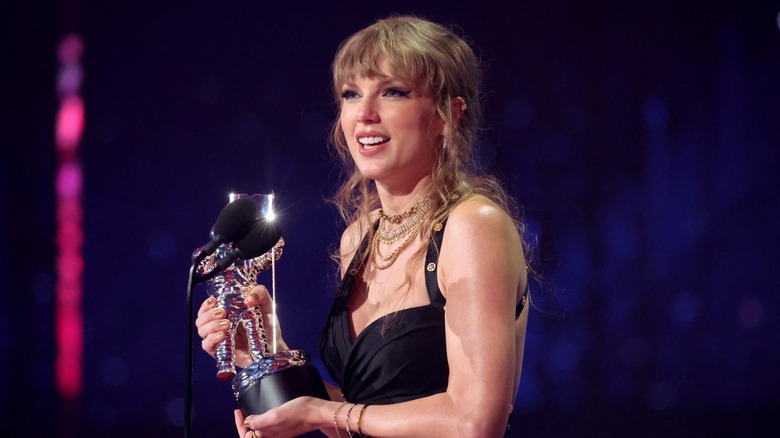 Mike Coppola/Getty
Taylor Swift's "Cruel Summer" was initially released with the "Lover" album in 2019. At a Pittsburgh Eras Tour show in June 2023, Swift explained that "Cruel Summer" was supposed to be a single back in 2020, but COVID-19 threw a wrench in those plans (via X, formerly known as Twitter). Fate is a mastermind like Swift herself, and due to "Cruel Summer" charting so well, she said her record label decided to finally give "Cruel Summer" the single treatment. But what do the lyrics mean, and what secrets did Swift reveal about her relationships on this "Lover" track?
Most people assume the song is about Swift's ex-boyfriend Joe Alwyn. Alwyn and Swift split in April 2023, and it's speculated they met in May 2016 at the Met Gala. Swift and Calvin Harris broke up in June 2016 and Swift dated ex-boyfriend Tom Hiddleston until September 2016. According to a journal entry from January 2017, she secretly started dating Alwyn around October 2016 (via Buzzfeed).
Hollywood Life and the Genius "About" annotation posits that "Cruel Summer" is about Swift falling for or secretly seeing Alwyn while still dating Hiddleston. Swift refers to her lover (most likely Alwyn) as a "Bad, bad boy, shiny toy with a price / You know that I bought it." Perhaps the "price" in question is breaking Hiddleston's heart — or, maybe Swift worries about her own heart being broken, but she's willing to take the risk, no matter the cost.
What did Taylor Swift say about the meaning of 'Cruel Summer'?
At the "Lover" Secret Sessions in August 2019, diehard Swifties (Taylor Swift superfans) were able to listen to the album with Swift herself. Swift did a Secret Session with iHeartRadio as well and spoke about the meaning behind each song. For "Cruel Summer," she said it's a song, " ... about the feeling of a summer romance, and how oftentimes a summer romance can be layered with all these feelings of, like, pining away and sometimes even secrecy. It deals with the idea of being in a relationship where there's some element of desperation and pain in it, where you're yearning for something that you don't quite have yet, it's just right there, and you just, like, can't reach it."
That desperate feeling is reflected in the lyrics, where Swift seems to fall hard for her summer fling (presumably Joe Alwyn). She sings that yearning with, "What doesn't kill me makes me want you more." More yearning is shown in the chorus, when Swift says she's "blue" and adds, "It's cool, that's what I tell 'em / no rules in breakable heaven." She really likes being with Alwyn, and she's telling him the same things she may have told her past lovers (that she's "cool," and there are "no rules" or expectations for a serious relationship), but that seems to be the opposite of what she wants.
What other song about Joe Alwyn connects to 'Cruel Summer'?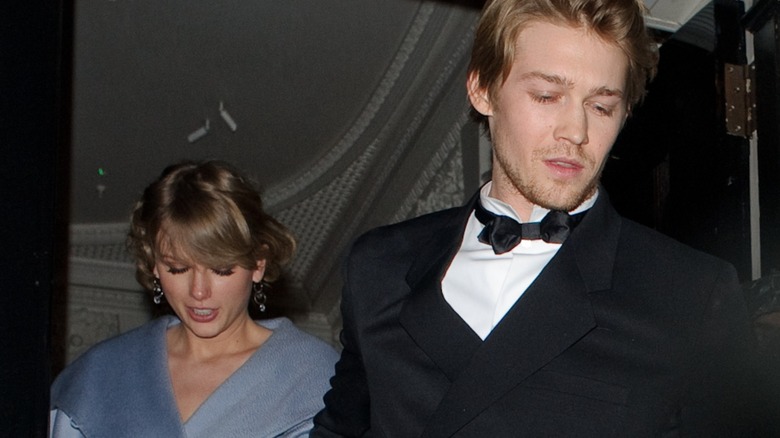 Gor/Getty
In the second verse of "Cruel Summer," Taylor Swift sings, "We say that we'll just screw it up in these trying times / We're not trying (Oh yeah, you're right, I want it)." This implies Swift and Joe Alwyn agreed not to make their relationship serious. However, Swift can't keep it casual anymore. This is solidified in the iconic bridge when Swift sobs in the car and lies about being okay. She says, "I don't wanna keep secrets just to keep you," which could allude to their super-secret relationship mentioned in her 2017 journal entry. That could also mean Swift wants to stop hiding her true affection for Alwyn.
Swift sings, "And I snuck in through the garden gate / Every night that summer just to seal my fate (Oh)." One TikToker pointed out that The Garden Gate is a pub in Hampstead, London, so that could be a place Swift and Alwyn used to go. The bridge continues: "And I scream, 'For whatever it's worth, I love you, ain't that the worst thing you ever heard?'" Swift thinks Alwyn won't feel the same way, but, "He looks up, grinnin' like a devil." That line bears resemblance to a line from the "Midnights" track "Mastermind," when Swift sings, "Yeah, all you did was smile / 'Cause I'm a mastermind."
"Cruel Summer" is a song about yearning and summer love, but it's great to jam to any season of the year.