Tom Cruise Has A Bigger Age Gap With Ex-Wife Katie Holmes Than We Realized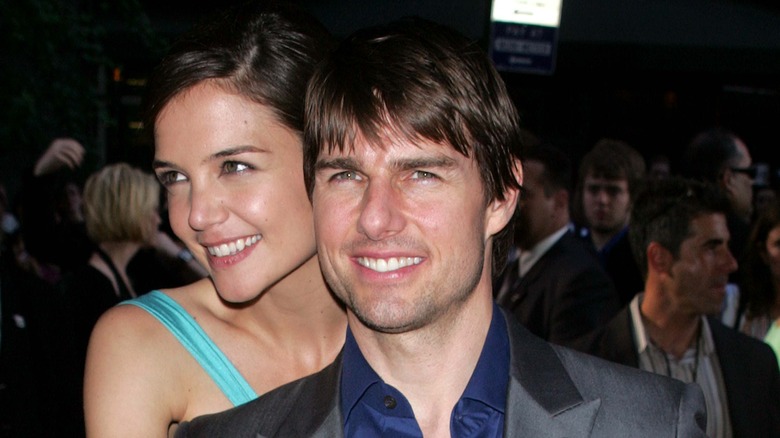 Jim Spellman/Getty Images
In Hollywood relationships, differences in age are more common than not. Leonardo DiCaprio has been dating women under 25 for the past 25 years, and Blake Lively's age gap with Ryan Reynolds is surprising — she was just 22 when she started going out with the 33-year-old actor. What's more, Sofia Richie was still a few years under the legal drinking age when she and 34-year-old Scott Disick became an item.
Katie Holmes might be a few inches taller than her ex-husband Tom Cruise, but she's quite a bit younger — 16 years, to be exact. In 2005, Tom Cruise expressed his love for the "Batman Begins" star on "Oprah," jumping on the host's couch and alluding to an upcoming engagement. Cruise, who was in his early 40s at the time, had already been married twice: First to Mimi Rogers, and the second time to Oscar-winning actor Nicole Kidman.
Before Cruise connected with Katie Holmes in the early 2000s, he was known for starring in high-budget action franchises like "Top Gun" and "Mission Impossible." Holmes, meanwhile, was fresh off of the teen series "Dawson's Creek" — she'd idolized Cruise for years. "When I met Tom, I was completely in love, and, yes, I admired him growing up — he's Tom Cruise!" she told T: The New York Times Style Magazine, according to People. Encouraged by The Church of Scientology (allegedly), the pair got engaged after just a few months of dating, welcomed their daughter Suri within the year, and got married shortly after that.
Katie Holmes was best known for playing a high-schooler when she met Tom Cruise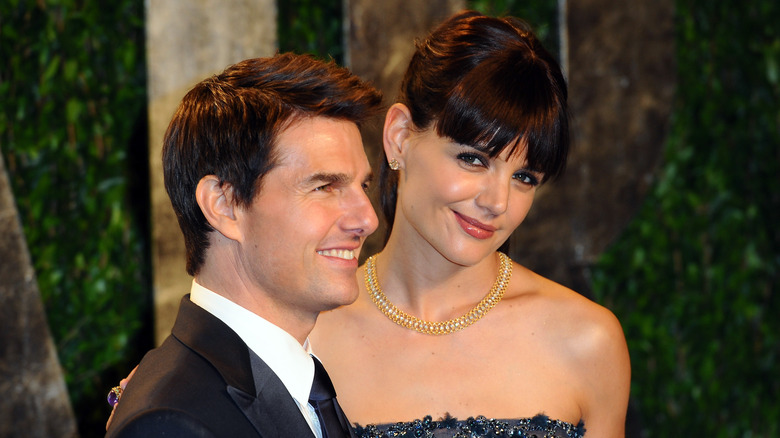 Anthony Harvey/Getty Images
Katie Holmes began starring in "Dawson's Creek" in 1998. She played Joey Potter, the girl next door in love with her childhood best friend, Dawson. The series ran until 2003, depicting Joey (a.k.a., Holmes) graduating high school and venturing off to college. By 1998, Tom Cruise had already been nominated for two Best Actor Academy Awards and was Hollywood's go-to leading man. Not only was there an age difference when Holmes and Cruise first connected, but there was also a fame disparity. 
Growing up in Toledo, Ohio, Katie Holmes had posters of Tom Cruise — she even fantasized about marrying him one day. "I think every little girl dreams about her wedding," she told Seventeen Magazine in 2004, just a year before she and the "Mission Impossible" lead became official. "I used to think I was going to marry Tom Cruise," she specified (via Vogue).
Meanwhile, Cruise split from Nicole Kidman in 2001. Between his divorce and third marriage, Cruise allegedly "auditioned" several women to be his wife ... All with the help of Scientology (via The Independent). Katie Holmes converted to the controversial religion in 2005 ... She was 27 and Cruise was 44 when they tied the knot. In the immediate aftermath of their 2012 divorce, she struggled with public scrutiny. "Sometimes you don't want to leave the house because it's just too much," the "Dawson's Creek" alum remembered in a 2022 conversation with InStyle.
Katie Holmes wasn't Tom Cruise's first age gap relationship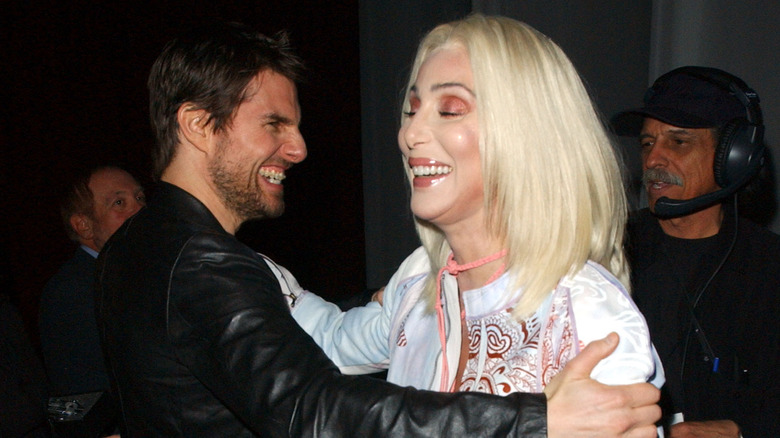 Michael Caulfield Archive/Getty Images
Before meeting and marrying Katie Holmes, Tom Cruise had already had quite a few age-gap relationships. The actor dated Cher, who was 16 years his senior, in 1985 — they reportedly bonded at Madonna's wedding to Sean Penn. "It was pretty hot and heavy for a little minute," Cher revealed to Andy Cohen on "Watch What Happens Live, per InStyle. According to the "If I Could Turn Back Time" singer, Cruise ranks in her top five lovers ... Her other partners have included the likes of Val Kilmer and Richie Sambora of Bon Jovi fame.
In 1986, Tom Cruise met Mimi Rogers — she was six years older. According to Rogers, known for her starring role in "Austin Powers," the public's fascination with their age gap always bothered her. "What did annoy me was the age thing," she told The Telegraph in a 2001 interview, adding, "Every six months, [the press] seemed to add another year to my age. If we were still married, the press would have me in my 60s by now." They finalized their divorce in 1990, and Cruise moved on to Nicole Kidman (five years his junior). Looking back, Kidman can't believe she married Tom Cruise so young — she was 23 and he was 28. "I was so young when I got married. I look back now and I'm like, 'What?'" she told Red in 2017.