How Julie Chen Felt About Sharon Osbourne's Dramatic Departure From The Talk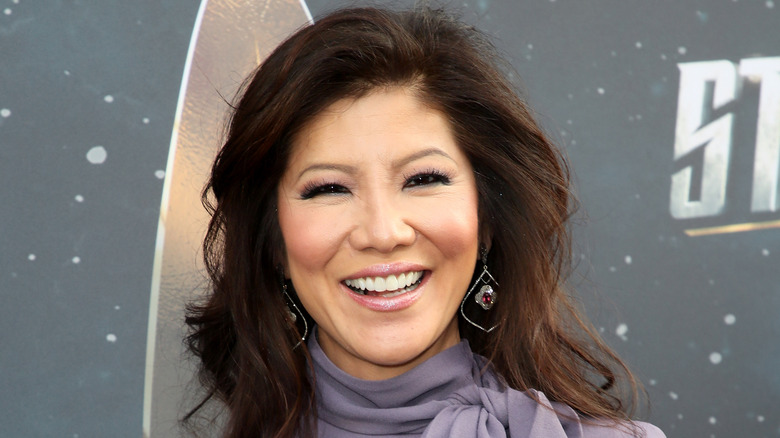 David Livingston/Getty Images
Julie Chen and Sharon Osbourne were, at one point, two of the faces that defined the daytime talk show fittingly called "The Talk." Along with Holly Robinson Peete, Leah Remini, and Sara Gilbert, Chen and Osbourne completed the five hosts who made up the original panel for the show. Chen's playful yet collected attitude balanced well with Osbourne's high energy and saucy jokes, and together the two often made for some hilarious TV moments.
In 2018, Chen would step down from her position as cohost. Per The New Yorker, Chen's husband, Leslie Moonves, was accused of sexual harassment and left his position as president and CEO of CBS. Chen followed suit with her exit from "The Talk." 
That wouldn't be the end of the drama for the talk show. In 2021, amidst cries of racism and a flurry of social media backlash, Osbourne would be the next to leave her position as host. Chen has long stayed quiet on the subject of Osbourne's drama-riddled departure from "The Talk," but she finally broke her silence this year. In a new interview, Chen admitted that Osbourne's handling of the situation was a "trainwreck."
Sharon Osbourne's fight with Sheryl Underwood was 'sad,' says Chen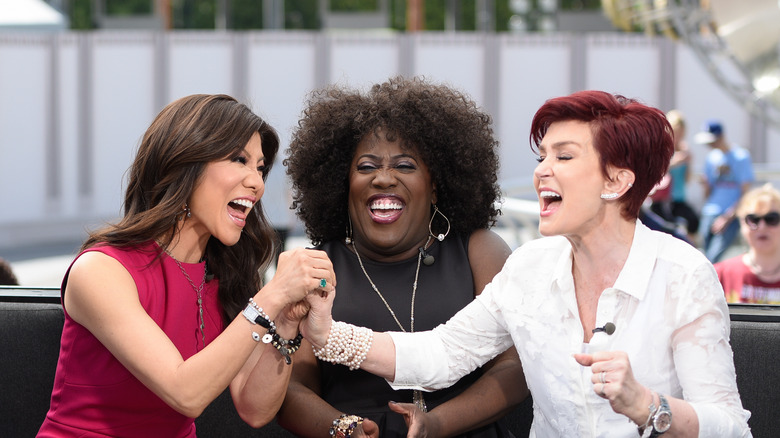 Noel Vasquez/Getty Images
The drama began in March 2021. British TV personality Piers Morgan made multiple controversial remarks about Megan Markle, Duchess of Sussex, involving her race and mental health. After more than 40,000 complaints were issued to ITV, Morgan stepped down from his position as a host of "Good Morning Britain" (via BBC). On March 9, Sharon Osbourne took to X, formerly known as Twitter, to voice her support of Morgan. "@piersmorgan I am with you. I stand by you," she wrote. "People forget that you're paid for your opinion and that you're just speaking your truth."
The tweet swiftly came back to haunt her. Just a day after Osbourne penned the tweet, Sheryl Underwood confronted her about it live during "The Talk." Underwood asked: "What would you say to people who may feel that, while you're standing by your friend, it appears that you give validation or safe haven to something that he has uttered that's racist?" The question put Osbourne on the defensive and sparked an intense argument between the two, leaving both visibly shaken by the end of the conversation.
Julie Chen has been a loyal friend to Sharon Osbourne over the years, even dubbing herself, Osbourne, and Sara Gilbert as "The Three Musketeers" (via CBS). Still, Chen couldn't defend the way her former cohost behaved. During a sit-down with "Watch What Happens Live with Andy Cohen," the "Big Brother" host said, "I think the whole thing was handled really horribly. It was very sad to see."
She thought production made the situation worse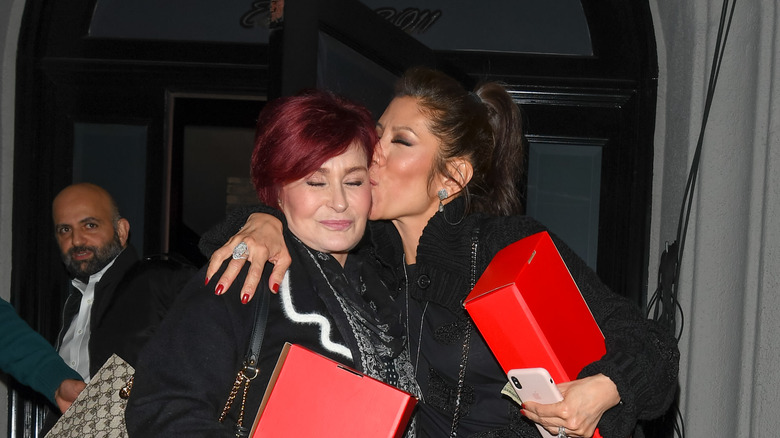 Pg/bauer-griffin/Getty Images
During Julie Chen's interview with Andy Cohen, Cohen called into question how "The Talk's" production handled the Sharon Osbourne and Piers Morgan situation. "It's a show called 'The Talk.' I think they should have gone on and talked it out," Cohen pointed out in the video call. 
Chen agreed, noting that production didn't handle the situation very gracefully. "I do feel like it was produced to the point where I don't think people knew what they were doing and getting themselves into," she admitted, before adding, "The whole thing was a horrible mess. It was a trainwreck."
Osbourne has expressed remorse over her behavior during the episode, especially her chagrined response to Sheryl Underwood. "I own up to what I did. I can't not own up," she said in an interview with Entertainment Tonight. "I said what I said. I got too personal with Sheryl. I should've never said stop her tears. She was hurting as I was hurting."