Dance Moms' JoJo Siwa Has Been Dying Her Hair Blonde For Much Longer Than We Thought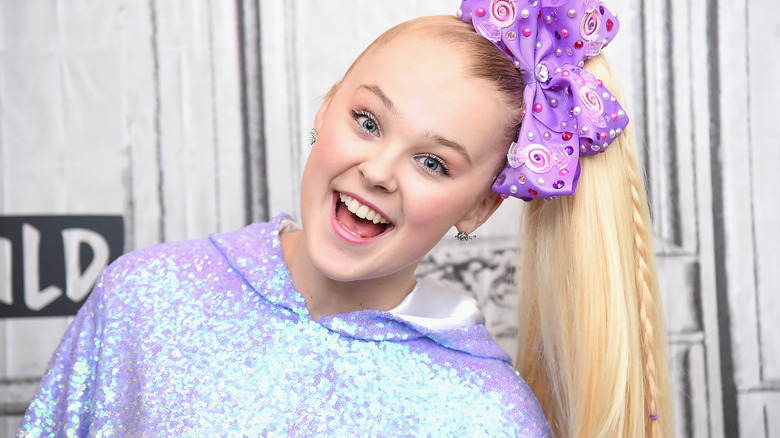 Gary Gershoff/Getty Images
JoJo Siwa practically has her own empire these days, but we remember when she was just another girl on the "Dance Moms" squad. She joined Abby Lee's studio for the show during Season 4 but had been a part of the spin-off series, "Abby's Ultimate Dance Competition" during its second season at the age of 9. On both occasions, it was Siwa's iconic blonde hair that helped her stand out from the other dancers.
Though it was often pulled back into a tightly secured bun, there was one occasion when her locks were really on display. In Season 2, episode 7 of " Abby's Ultimate Dance Competition," Siwa's fairytale came to life when she was picked to play Rapunzel, donning a long blonde extension for the part. Fans were shocked to learn that not only was the shade not her natural color, but also that her God-given brunette hadn't been seen since she was a toddler.
During the episode, Siwa revealed that her Barbie blonde comes from a bottle, which is evident as her mother, Jessalynn, puts more dye on her strands, while the young dancer explains, "I have been dying my hair since I was 2, maybe 1 ½. I'm not a natural blonde. I'm actually a natural brown."
It may have been her mom's idea
When JoJo Siwa admitted that she has been dying her hair since she was two, very few fans actually thought it was her decision to cover her natural brunette. During the "Abby's Ultimate Dance Competition" candid interview, Siwa stated, "I get brown roots — so I have to dye it so it looks like I'm a natural blonde," meaning that someone in her life is facilitating the coloring of her hair and likely encouraging her to keep her iconic champagne locks.
Most fans quickly assumed it was her mother. Social media boards took turns guessing as to why, with many concluding that her mom wanted her to stand out in the world of dance and Hollywood at large, noting that the super light blonde is a rare color to come by. In the interview, Jessalynn claims, "Nothing is off limits when it comes to doing what I think will benefit JoJo."
Siwa has never addressed why her hair was colored from toddlerhood or why she chose to keep the blonde for so long. It's likely that the color and her ever-present side-ponytail paired with a huge glittery bow evolved into her signature look. Once she reached a certain level of fame, it was hard to let those easily identifiable features go. Indeed, when she eventually ditched the accessory, "The Masked Singer" contestant admitted that it was really difficult telling her mom she wanted to change up her style.
JoJo Siwa has since switched it up -- sort of
The "D.R.E.A.M." singer has since switched up her look, but rarely stays away from blonde for long. In 2020, JoJo Siwa surprised many when she went full brunette. In a TikTok video also posted on Instagram, she took part in the trend, "Girl don't do it, it's not worth it. I'm not gonna do it girl. I was just thinking about it. I'm not gonna do it," before walking on-screen with loose chocolate-colored locks. However, it wasn't long before she returned to her Barbie-esque look, posting a picture with a caption that read, "Brown hair was fun ... but blonde is my thing!!!"
Since then, we've seen the dancer chop off some serious inches and experiment with hair extensions featuring black lowlights. From time to time, Siwa will turn heads with her hair by rocking a rainbow of colors, though they're only courtesy of wash-out hair dyes like sprays or chalks. We imagine that if blonde was the only color you've ever known (even if it is dyed), it'd be pretty hard to commit to any other shade permanently.
Similarly, her mother, Jessalynn, seems to have a hard time breaking with her daughter's signature style too. Since "Dance Moms," Jessalynn has built her own business, Bling Bitz Rhinestones, selling the centerpiece feature of her daughter's once ubiquitous bows.