JoJo Siwa's New Hairstyle Is Turning Heads
Matt Winkelmeyer/Getty Images
Singer, dancer, and outspoken LGBTQ icon JoJo Siwa has had a huge few weeks. The star revealed she's in a new relationship — though her partner's identity is still under wraps — and made a splash on the GLAAD Media Awards red carpet, adorably styled by her mom Jessalynn Siwa, who is also a former "Dance Moms" cast member. She also shared some massive career news; the singer and dancer will serve as a judge for the next season of "So You Think You Can Dance," sharing the good news via Instagram. It's also a milestone that fellow "Dance Moms" alum Maddie Ziegler achieved in 2016 for the franchise's "Next Generation" spin-off for dancers 8 to 13 years old (per Deadline). 
Siwa shared her excitement about the new gig in her post, saying, "FINALLY!.... 'So You Think You Can Dance' is coming to FOX this summer and I am so grateful that I am going to be a judge!" She also shared with fans, "It's such an honor to be a part of this shows come back [sic]!!!" 
This isn't the first time JoJo Siwa has transformed her look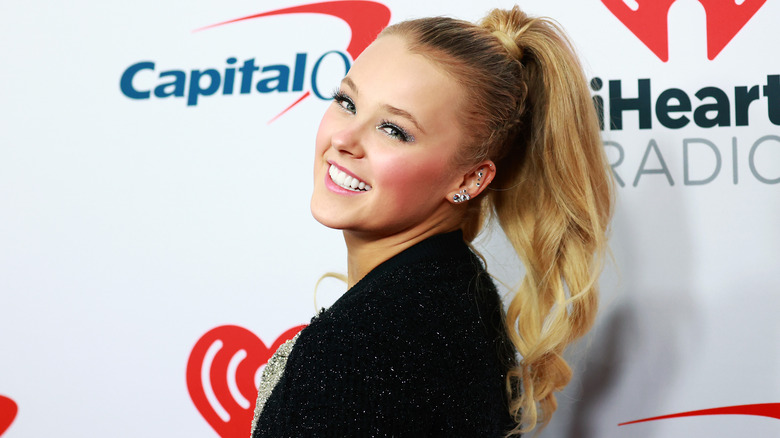 Matt Winkelmeyer/Getty Images
In 2020, JoJo Siwa dyed her blonde locks brunette, debuting the new look via Instagram. Even when she first started wearing her hair down in place of her signature ponytail, fans had a huge reaction. She told Entertainment Tonight, "It's hilarious ... I knew it would be a shock to people ... I knew it was going to be like, 'Oh my gosh, JoJo put her hair down,' because people just don't see that. But I also did not expect it to go as [viral] as it did."
In the interview, she also shared the personal significance of the huge bows she's worn since her "Dance Moms" days, which have since grown into a merchandising phenomenon and sold by global brands including Walmart and Claire's. Siwa shared, "The bow will never be over. ... I mean, the bow is my life. I loved it ever since I was little. It's become who I am." Siwa was 17 at the time, and she had full license to mix up her looks and experiment until she found styles that felt like who she was at the moment. As she's gotten older, JoJo Siwa has continued to forge her own path forward, and fans couldn't be happier to see her next steps.
Her new 'do has the internet freaking out
Before posting her adorable reveal photo, JoJo Siwa took to Instagram to give fans a heads up that she was changing her look in a big way. She captioned the video, "Mayyyyy have done something todayyyy," with the haircut emoji. It showed Siwa's stylist twisting the bottom layer of her long locks and chopping the whole thing off. Needless to say, followers knew the transformation wouldn't be subtle.
The same day, Siwa posted the shocking reveal on Instagram, which was a super chic pixie cut with a bit of length on the top and buzzed sides. The post was flooded with compliments for the new 'do, and the loving comments came from fellow celebrities and fans alike. It also lit Twitter on fire, and received particular attention from fans who've supported Siwa's journey within the LGBTQ community. 
The singer captioned her reveal post, "HAPPPPPY." It seems likely that the performer's newfound happiness might also be connected to progressions in Siwa's new relationship, which she gushed about in the weeks leading up to her big cut. On the podcast "Rachel Uncensored," she gave host and close friend Rachel Ballinger the scoop, and the star even dished to Access Hollywood on the GLAAD red carpet. She responded to her interviewer's inquiry about her relationship status, "I can tell you that I'm not single ... I can tell you that I'm very, very, very happy." Whatever the source of JoJo Siwa's seemingly continuous stream of good vibes these days, one thing is for sure — the internet is a better place for her joyful presence.