Inside Teyana Taylor & Iman Shumpert's Decade-Long Relationship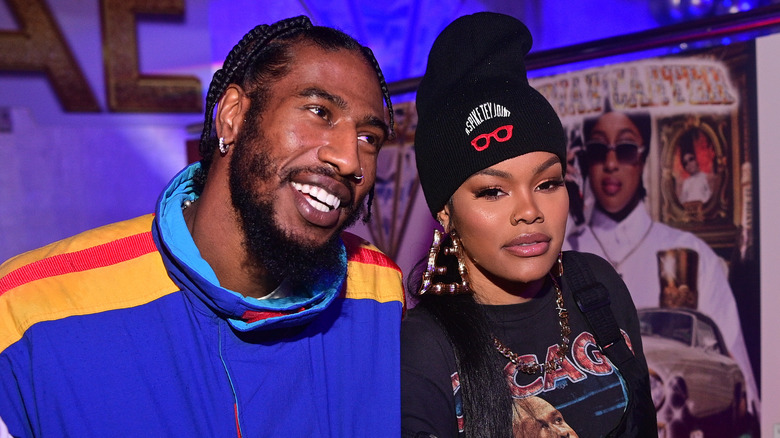 Prince Williams/Getty Images
Teyana Taylor and Iman Shumpert have been adored for years because of their striking good looks and adorable family. The two met in 2011, not long after the New York Knicks drafted Shumpert. However, they did not begin dating until 2013, when Taylor supported him during a knee injury. Since going Instagram official with their relationship in June 2014, the couple seemed inseparable. After welcoming their first daughter, Iman "Junie" Tayla Shumpert Jr., born on December 16, 2015, the couple tied the knot in 2016. The pair fully displayed their love in a VH1 reality series, "Teyana and Iman," which aired for one season in 2018. They got another shot at a new docu-series on E!, "We Got Love Teyana & Iman." During that series, fans saw them with a second daughter, Rue Rose Shumpert, who came along on September 6, 2020.
The couple displayed a unified front through many career changes, such as Taylor exiting Kanye West's G.O.O.D. Music label to Shumpert quietly stepping away from basketball. Unfortunately, as September 2023 rolled around, news surfaced that Shumpert was cheating on Taylor after a woman was seen getting cozy with the athlete. The story attracted much attention, leading Taylor to release a statement via Instagram. "In all fairness, Iman and I are separated and have been for a while. To be 1000% clear, infidelity ain't one of the reasons for our departure," she wrote. Though they have not announced plans to divorce, it's clear the two are living their lives separately.
The couple got married in a private ceremony
While Teyana Taylor and Iman Shumpert have had no problem showcasing their relationship for TV and divulging intimate details about their bedroom life, when it came to walking down the aisle, they chose to keep that private for a while. During a September 2016 interview with Wendy Williams, she referred to Shumpert as her "husband." However, the two did not actually tie the knot until October 2016. In an October 2017 Instagram post, Taylor celebrated her first year of marriage, showing off a photo of the couple wearing matching jackets on their wedding day.
"A year ago today, we became ONE, in our biker jackets, exactly where our child was born ... I said, "I Do," & I meant every bit of it from the bottom of my heart. I will forever love you, baby, Happy Anniversary, my husband, my lover, my best friend & my rock," Taylor sweetly wrote.
In October 2022, Shumpert and Taylor celebrated their sixth anniversary. Shumpert commemorated the big day by gifting his choreographer wife a vintage Corvette. It appears Shumpert was still madly in love at that point, so it's unclear when exactly they made the decision to split.
Taylor and Shumpert were plagued with breakup rumors in 2018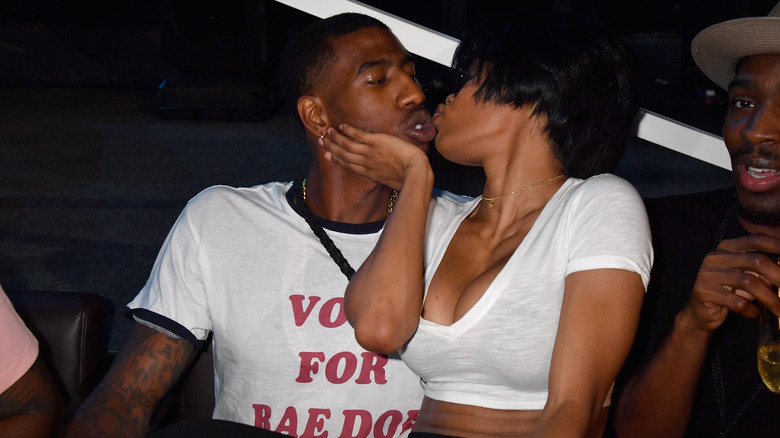 Jeff Kravitz/Getty Images
The recent breakup news is nothing new for the couple. In 2018, the gossip mills reported that the "Maybe" performer had broken up with Shumpert. At that time, it was alleged that Taylor found a secret mobile device that the "Dancing With the Stars" alum was supposedly using to cheat. However, she shot down the rumor in an Instagram Story. Lies such as this continued to follow the pair throughout their time together. In February 2022, a viral TikTok video claimed that Taylor had overdosed on drugs after learning that Shumpert was unfaithful to her. Once again, Taylor was forced to debunk such outlandish claims in a now-deleted social media post.
Despite past internet hearsay, it seems that the couple has actually chosen to part ways this time. However, in Taylor's announcement of the split, she maintained that the two remain close friends. It's unclear if Taylor and Shumpert still cohabitate in their Atlanta home. With neither eager to share what led to the breakup, this will surely work in keeping things amicable.