Lauren Boebert's Ex-Husband Jayson Blames Himself For Their Divorce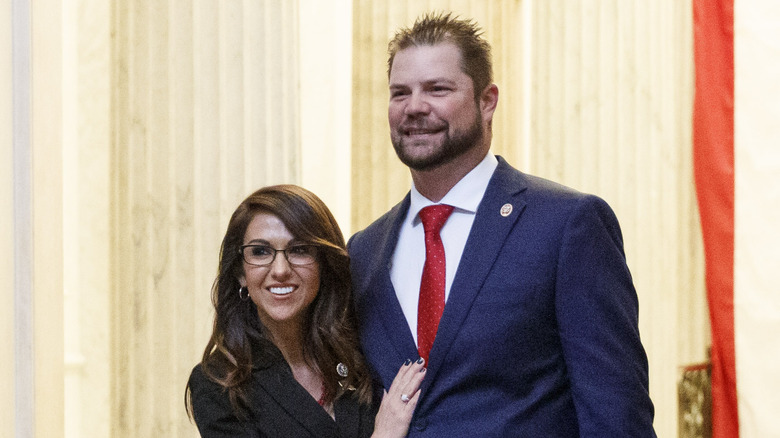 Bloomberg/Getty Images
In May 2023, Colorado Representative Lauren Boebert divulged that she and her husband, Jayson Boebert, were getting divorced. The couple was married for 18 years, and their dating history goes back even further, to 2003 when 16-year-old Lauren first met 22-year-old Jayson. Following the announcement, Jayson shared his grief with the Daily Mail, stating, "A horrible moment in my life. I love her too much to say anything bad about her." Months later, on September 18, Jayson took the opportunity to explain the couple's marriage breakdown and come to Lauren's defense after the congresswoman was ejected from a theater for inappropriate behavior. 
"Watching the attacks against Lauren, I feel the people should know the truth of our broken marriage and [the] burden she has carried for too long," Jayson posted on Facebook. He added, "This has been a devastating divorce that I hold all responsibility for." Jayson went on to dispel rumors that the split occurred due to Lauren's "fame or a new lifestyle." Instead, Jayson alluded to having let her down due to infidelity.
While he didn't get into specifics, Jayson admitted, "My actions were selfish and thoughtless, and I failed to consider the consequences they would ultimately have on the person I hold dearest in my heart." Lauren shared her reaction to the post with the Daily Beast, noting simply that she appreciated him speaking up and asking for understanding and privacy during what is undoubtedly a tough time for their family.
He's trying to move forward with positive changes
Lauren Boebert's former husband was reportedly shocked when he was served divorce papers in April 2023. "He started yelling and using profanities, and told me that I was trespassing, and that he was calling the Sheriff's Office," process server Mike Estep wrote in a statement obtained by the Daily Mail. Estep claimed beer and a gun were present when he spoke with Jayson Boebert. 
The congresswoman's ex denied these allegations, telling the Daily Beast, "I was not drinking and I was not cleaning any gun." He continued, "The divorce is sad, I did not expect this." It's worth noting that Lauren also refuted Estep's story on X, formerly known as Twitter. In the months since, Jayson has indicated he's focusing on navigating the changing world of his divorce. 
"It feels like I'm constantly being attacked by countless daggers every day, but I still have to take care of my boys, go to work, take them to their football games, cook, and provide for them," Jayson explained to the Daily Mail. In addition, Jayson has indicated that he's spent time thinking about what went wrong and is trying to learn from the experience, as he wrote on Facebook. Jayson also promised to do better in the future, again acknowledging, much like he did while speaking to the Daily Mail, that the breakup of the Boeberts' marriage was entirely his fault.