How Chrisette Michele's Performance At Donald Trump's Inaugural Ball Flatlined Her Career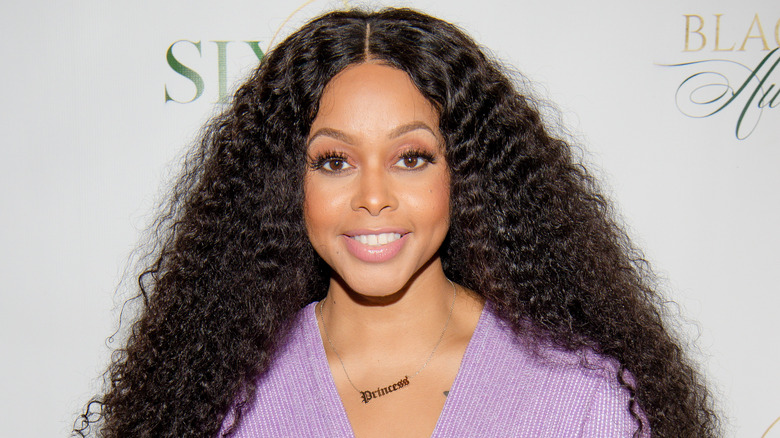 Marcus Ingram/Getty Images
When neo-soul artist Chrisette Michele agreed to perform at former President Donald Trump's inaugural ball, she considered it to be a form of silent, pacifistic protest — an opportunity to serve as a bridge between the new president and the Black community that felt alienated throughout his campaign, with Michele acting as a representative of color on stage. In reality, the decision proved to be a nail in the coffin of an otherwise thriving career.
Michele was already an accomplished singer before receiving her invitation from the White House, having won the Best Urban/Alternative Performance Award for her track "Be OK" at the 51st Annual Grammy Awards in 2009. The Washington Post reported that Michele's now ex-husband and manager, Doug "Biggs" Ellison, said the White House was looking for a visibly successful Black artist to perform at the ball, and Michele fit the bill. 
The singer told Billboard in January 2017 that she "didn't think twice" about her decision to say yes, but unfortunately, her acceptance was catastrophic to her artistic reputation.
Chrisette Michele thought she had a responsibility to perform at the ball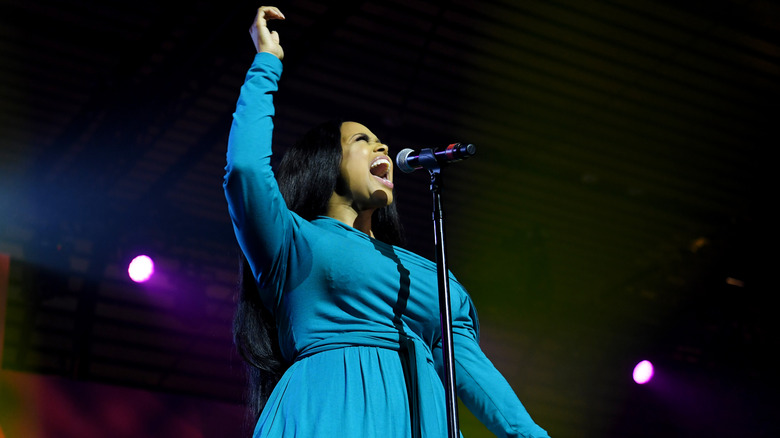 Paras Griffin/Getty Images
Chrisette Michele visited CBS News in January 2017 to explain her decision to perform, clarifying that she didn't vote for Trump in the November 2016 election but that she "wanted to start a conversation. I want everybody to know what everybody's going through so we can all fight together. But if we're all shouting and yelling and nobody really knows what the real issues are, it might take no political genius to talk about them." 
Michele's comment directly references the spoken word single she released following the backlash from her inaugural ball performance titled "No Political Genius." In the song, Michele calls herself "the black sheep disguising the scared wolf" and "the black elephant in the red room, scared shook," which the soul singer told CBS referred to the presidential stage. Still, Michele defended her comments, saying that she felt like her performance could spark conversations across tense party divides and act as an example of Black excellence in a racially split political realm.
Moreover, Michele didn't accept the invitation for free, as she had when performing for the Obamas or troops in Iraq years prior, per The Washington Post. The singer earned a staggering $75,000 for her short performance, but the collaborations and support she lost in the aftermath proved far more costly. 
The soul singer's professional and personal life spiraled after her performance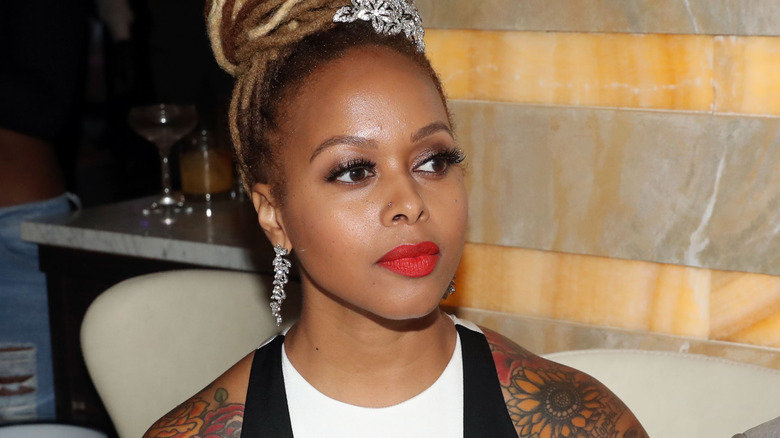 Johnny Nunez/Getty Images
When word of soul singer Chrisette Michele's upcoming inaugural performance got out, the Black art community quickly condemned her decision. Successful and wealthy director Spike Lee posted Michele's album cover on Instagram with the caption, "I Wuz Sorry To Read That "Sistuh Girl" Is Singin' At [Donald Trump's] Inauguration (And To Use His Fav Word-SAD). I Wuz Thinkin' 'bout Using Chrisette's Song – BLACK GIRL MAGIC In My Netflix Series SHE'S GOTTA HAVE IT ... NOT ANYMORE. And Dat's Da Truth, Ruth." 
Drummer Questlove echoed similar sentiments with a tweet that read, "I'd pay Chrisette to NOT perform," with a sad-faced emoji. Later that year, Michele revealed that she had been fired from her record label, Caroline/Capitol Records, in a since-deleted Instagram post. The singer's personal life also declined as she struggled with depression and substance abuse. She later suffered a miscarriage that Michele said was her turning point to get her life back on track and start the healing process (via Global Grind). 
Michele pushed back against her cancellation in 2021, asking in an Instagram post why her backlash was far harsher than rapper Kanye West, who also sparked controversy with his views on Donald Trump. It's taken her years to rebuild her reputation, but the neo-soul singer is still trying to pursue her dreams. Michele still performs, though to far smaller crowds, and is working on moving past this unfortunate, career-defining moment in her life.