The Sweetest Speech Blake Lively Ever Gave About Ryan Reynolds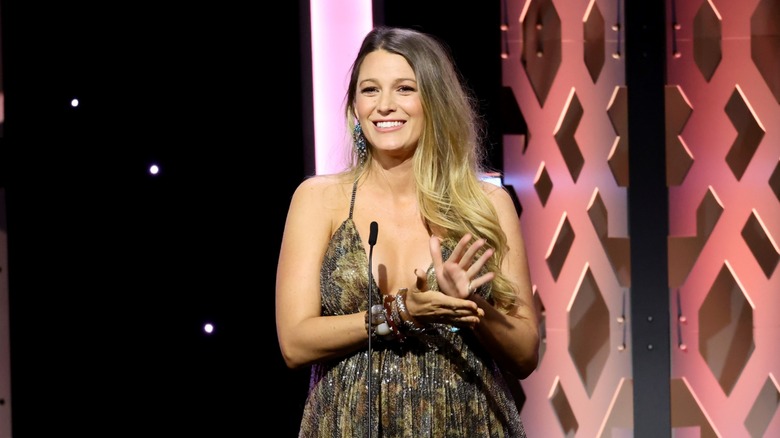 Emma Mcintyre/Getty
In November 2022, Ryan Reynolds was awarded the American Cinematheque Award for his work in the entertainment industry. Many of the actor's friends and former costars gave speeches at the ceremony, including Reynolds' wife, Blake Lively. Her words were heartfelt and moving, so it's no surprise that a clip of the speech went viral on TikTok in May 2023. In the full version, which Reynolds uploaded to his YouTube channel, Lively notes that he's the first Canadian to win this award. 
The "Gossip Girl" star thanked her husband's home country for providing the world with Reynolds, due to his multitude of contributions to society — both related to his personality and the work he puts out into the world. Lively told anecdotes about him and discussed the actor's devotion to Canada including how he used to drive back home every weekend after moving to America. She pointed out that the family they've built together is his home now, and Reynolds still has the drive to return.
Reynolds began to noticeably get teary-eyed during the speech as Lively spoke more about their family and how "he creates magic" in both his professional endeavors and his personal life. Lively added, "If anything defines this man, it's the way that he lives his life to honor and value his home. [...] Home is where his heart is which is why he gives so much of his heart back to his home."
Reynolds described Lively as his 'favorite collaborator'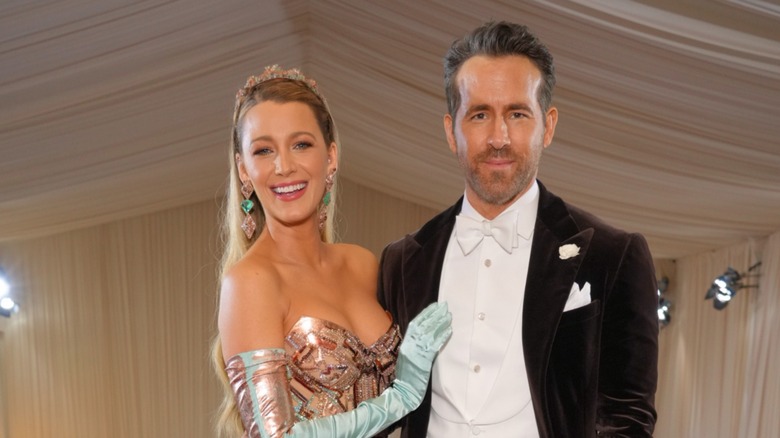 Kevin Mazur/mg22/Getty
After Blake Lively's speech (and a cameo from Justin Trudeau!), one of Ryan Reynolds' closest friends and collaborators, Shawn Levy, gave one final speech before presenting the "Deadpool" star with his American Cinematheque Award. Levy compared Reynolds to Superman and explained how in the comics, Superman only became super when he arrived on Earth as a baby. Levy continued, "Blake is Earth, and she's certainly [Ryan's] world." 
The line made Reynolds visibly emotional once again while Lively smiled encouragingly at him. When it was finally time for the Canadian star to come up onstage and accept the award, the crowd gave him a standing ovation. Reynolds spoke highly of his family in his acceptance speech, saying, "So much of what I do is for my daughters." 
He also took the opportunity to shout out Lively: "But most importantly, I get to spend my days working with my favorite collaborator of all: My wife, Blake. You are the greatest ghostwriter in Hollywood history. You have literally authored me into this moment." The actor was shown with a big grin on her face as Reynolds spoke about her.
Lively values their friendship first and foremost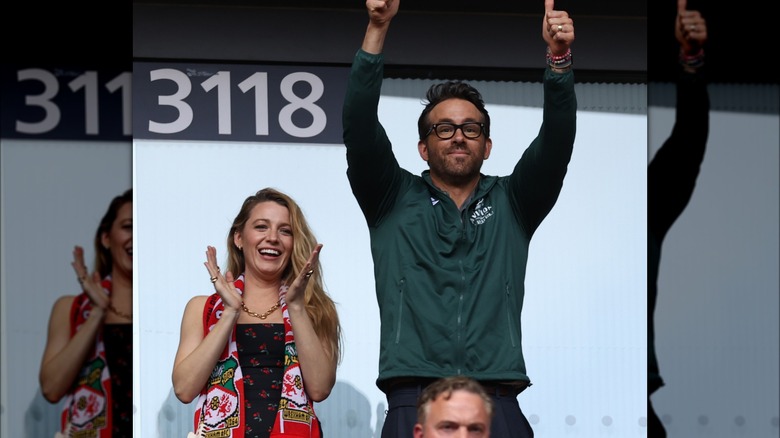 Eddie Keogh - The Fa/Getty
If any celebrity couple could be considered soulmates, it would be Blake Lively and Ryan Reynolds. The adorable moment they fell in love included a romantic dance, and Reynolds and Lively decided to move in together after only a week of dating (when you know, you know!). However, it took them a while to go from costars and friends to something more.
In a video interview with People, Lively was shown a clip of a Reynolds interview, where he discussed the time they went on a double date with different partners prior to falling in love themselves. The "Gossip Girl" breakout joked that she did not feel the same spark with Reynolds that he felt on that date. Lively also clarified how she and Reynolds were really great friends before anything romantic happened between them. 
In fact, at first, they even tried to help each other find romance with other people. After over a year, Lively and Reynolds realized they should probably try dating each other instead. Lively reasoned, "But that's what I appreciate about our relationship is that he really is — he's my friend, first and foremost, still." Moreover, according to the actor, being friends over anything else with her husband is "the secret to my happiness."