Tom Cruise And Brooke Shields Had Some Very Public Drama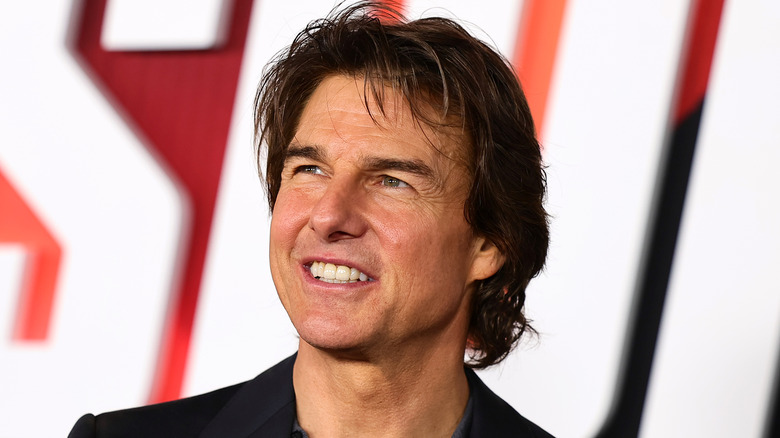 Theo Wargo/Getty Images
Before the days of X, formerly known as Twitter, celebrity feuds were relegated to the pages of gossip magazines and talk show interviews. Lindsay Lohan and Paris Hilton famously used the paparazzi to fling insults at one another in the mid-2000s. In 1992, a rift between David Letterman and Jay Leno formed when the latter was chosen to host "The Tonight Show." Bette Davis and Joan Crawford were well-known Hollywood rivals for decades ... As long as there have been celebrities, there's been public beef.
Considering his association with The Church of Scientology, Tom Cruise is no stranger to controversy. A-listers like Mark Wahlberg, ex-Scientologist Leah Reminini, and even Judd Apatow have all spoken out against the "Mission Impossible" star. "The only thing he seems to be afraid of is co-parenting and antidepressants," Apatow joked at the 2023 DGA Awards (via Variety), a reference to Cruise's public criticisms of actor, former model, and author Brooke Shields.
In her 2005 book, "Down Came the Rain: My Journey Through Postpartum Depression," the "Pretty Baby" star discussed her use of antidepressants after giving birth to her first child. Cruise, who along with many of his fellow Scientology members rejects the use of therapy and psychiatric medication, called her beliefs "dangerous." 
Tom Cruise criticized Brooke Shields on The 'Today Show'
After welcoming her daughter into the world in 2003, Brooke Shields experienced a bout of postpartum depression, a phenomenon that impacts approximately 1 and 10 people who give birth. "I really didn't want to live anymore," she wrote in her 2005 book (via WebMD). For Shields, antidepressants and therapy ultimately proved helpful. Tom Cruise, meanwhile, spoke out against the field of psychiatry and the "Blue Lagoon" star's use of prescription medications.
"Before I was a Scientologist, I never agreed with psychiatry, and then when I started studying the history of psychiatry, I started realizing more and more why I didn't agree with [it]," the "Top Gun" actor told Matt Lauer in a heated "Today Show" interview. According to Cruise, medication and talk therapy "mask" the underlying problem — instead, he recommended alternatives, like vitamins and exercise. "The thing I'm saying about Brooke [Shields] is that there's misinformation and she doesn't understand the history of psychiatry," Cruise told Lauer. He went so far as to call psychiatric medications "dangerous," also calling his interviewer "glib."
Although Cruise disagreed with Shields' preferred form of mental health care, he explained that he still wanted the best for the former model. "You gotta understand, I really care about Brooke," he told Matt Lauer. Still, he believes that psychiatry is a "pseudoscience." The two actors first connected in the early '80s on the set of "Endless Love." 
Brooke Shields publicly responded via a 'New York Times' op-ed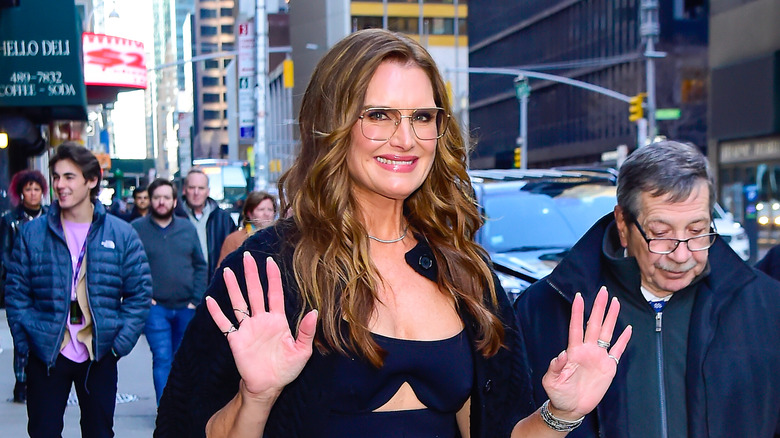 Raymond Hall/Getty Images
Brooke Shields decided to respond to Tom Cruise's "Today Show" comments through another very public platform: The New York Times. In 2005, the Princeton-educated actor wrote an op-ed for the publication, speaking up in defense of people suffering from postpartum depression. "While Mr. Cruise says that Mr. Lauer and I do not 'understand the history of psychiatry,' I'm going to take a wild guess and say that Mr. Cruise has never suffered from postpartum depression," she wrote. Shields went on to call his rant "ridiculous," adding, "To suggest that I was wrong to take drugs to deal with my depression and that instead I should have taken vitamins and exercised shows an utter lack of understanding about postpartum depression and childbirth in general."
After their public disagreement, Cruise apologized. He invited Shields to his 2006 wedding to Katie Holmes and even added her to his Christmas cake list. According to the former model, the action star sends members of his inner circle a $126 coconut bundt cake from Doan's Bakery in Los Angeles every holiday season. Unfortunately, she's slowly been phased out ... "I was on the list for a while," Shields told People, adding, "I had a good 10-year run, and I got the coconut cake every year, which I was very happy [about]." Eventually, the cakes started to arrive more sporadically, at first every couple of years, and then not at all. "I want to get back on that cake list. It's the best cake," she joked.