Prince Andrew's Controversial Friendship With Jeffrey Epstein Explained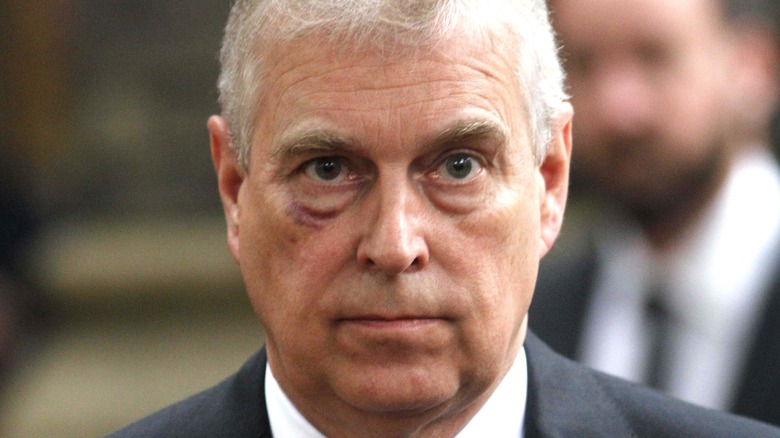 Wpa Pool/Getty Images
The following article includes mentions of sexual abuse.

Few royals have faced a downfall as epic as Prince Andrew. For all the scandals that have rocked the royal family, Andrew's indiscretions arguably trump them all. Seemingly overnight, the Duke of York went from a decorated war hero to a national disgrace. Dubbed the "problem prince," Andrew's downfall was catalyzed by his association with Jeffrey Epstein, the mysterious financier and sex offender who apparently had a sizable hold over the prince. Epstein spent decades abusing and trafficking girls and young women. In 2019, it appeared as though his victims would finally get justice when he was arrested and jailed, awaiting trial for his multiple crimes. Their hopes were dashed, however, when Epstein died by suicide in his jail cell.
All of this begs the question: why would an esteemed royal like Prince Andrew ever become acquainted with a man as reviled as Epstein? Some have suggested that Andrew isn't the brightest of the Windsor bunch, and was simply in awe of the billionaire's lavish lifestyle. But others paint a less forgiving portrait of the prince, one of a man so arrogant that he thought little of the consequences of the company he kept. "In the end, Andrew's fatal calling card is pomposity, arrogance, and stupidity," a royal insider told Vanity Fair. "He's very bad at taking good advice, but very good at taking bad advice."
Let's get to the heart of the relationship between these two men of disparate worlds. Here's Prince Andrew's controversial friendship with Jeffrey Epstein, explained.
Ghislaine Maxwell first introduced Prince Andrew to Jeffrey Epstein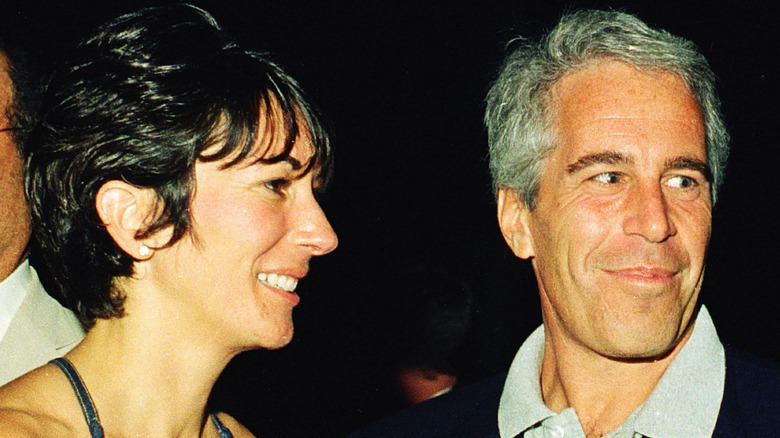 Davidoff Studios Photography/Getty Images
It remains a matter of dispute when exactly Prince Andrew first crossed paths with Jeffrey Epstein. Andrew claims the pair met in 1999, but the duke's own private secretary has suggested that they had known each other since the early '90s. Meanwhile, journalist Guy Adams has claimed they met in 1998 after Sarah Ferguson and her two young daughters vacationed on Epstein's private island. Ferguson had reportedly become friendly with Epstein's accomplice and erstwhile girlfriend, Ghislaine Maxwell.
It was reportedly through Maxwell that the two men became acquainted. Andrew, who was believed to have been best friends with the socialite, had known Maxwell since her Oxford University days. As a 2003 Vanity Fair profile noted, she was responsible for organizing Epstein's social life. As such, she introduced her royal pal to the elusive financier.
It remains unclear what drew the prince to the dodgy billionaire. Insiders have argued that Andrew was enticed by the lack of pomp in Epstein's world, which was in stark contrast to restrictive royal protocol. It has often been noted that, despite all his riches, Epstein opted for jeans and sweatpants over suits and ties. "I remember when Andrew and Jeffrey Epstein first became friends," an insider told Vanity Fair in 2011. "Jeffrey had Andrew put on a pair of sweatpants for the first time in his life. He had him wear blue jeans for the first time. It was Jeffrey who taught Andrew how to relax."
Prince Andrew invited Epstein to Sandringham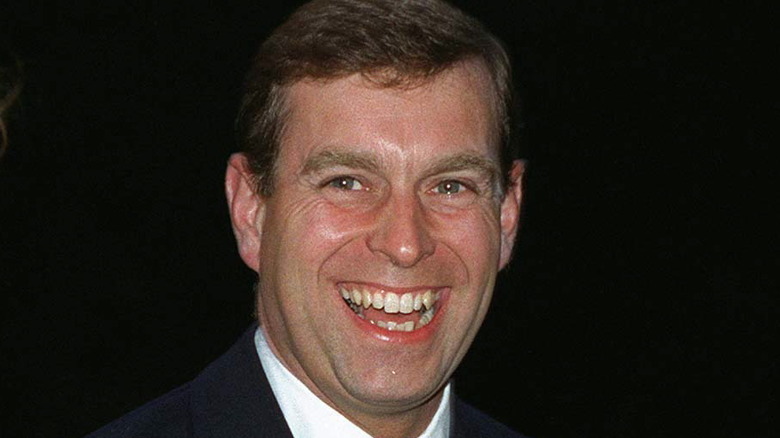 Tim Graham/Getty Images
Despite his ties to the wealthiest people in the world, it's been said that Jeffrey Epstein was in awe of the British royal family. So, when Prince Andrew invited his new friend to Sandringham for a pheasant shoot in 2000, it was likely a dream come true for the conman from Coney Island. However, Andrew has insisted that it was Ghislaine Maxwell, not Epstein, whom he invited to Sandringham, with the businessman simply being Maxwell's plus one.
Be that as it may, the royal mingling didn't end there. Epstein also attended a party celebrating four royals' birthdays (Princess Margaret, Princess Anne, the Queen Mother, and Prince Andrew), which was hosted by Queen Elizabeth II in 2000. Moreover, he was a guest at Princess Beatrice's 18th birthday party in 2006, along with Harvey Weinstein. "He brought these people into the royal fold, to Windsor Castle no less, where they could rub shoulders with the great and good," an insider told The Sun. "It is an astounding lack of judgment at the very least." At the time, Epstein was set to be arrested for child abuse.
In his infamous Newsnight interview, Andrew was asked why he invited Epstein to his teenage daughter's party despite the serious criminal charges he was facing. Again, he claimed that he'd invited Maxwell, not Epstein, and was unaware of his impending arrest. "You see this is the problem is that an awful lot of this was going on in the United States," the prince said. "And I wasn't a party to it and I knew nothing about it."
The prince was simply known as 'Andrew' to Epstein and his friends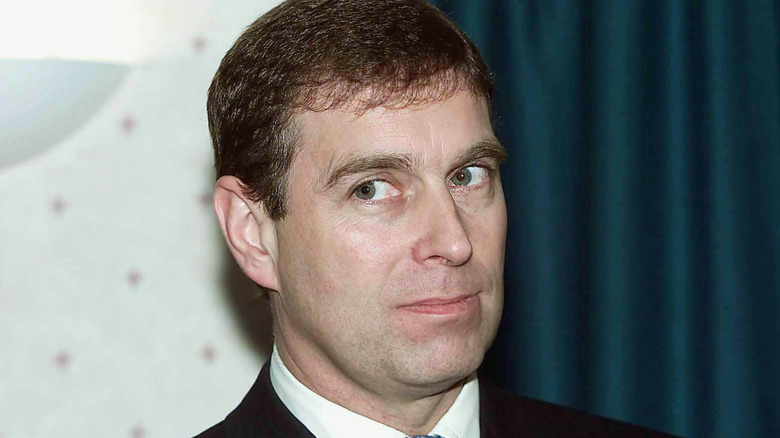 Tim Graham/Getty Images
It has been suggested that Prince Andrew was merely a pawn for Jeffrey Epstein, who loved showing off the prince to his friends. To Epstein, the Duke of York was simply known as "Andrew," with the billionaire delighting in the fact that he was on first-name terms with the royal. However, others have said that Epstein referred to the prince by the all the more casual moniker of "Andy." In 2000, Epstein and Andrew attended a party at Donald Trump's Mar-a-Lago, where the future president excitedly announced that the prince, who had been introducing himself as Andrew York, was in attendance.
Subsequently, insiders have argued that Andrew became a vital asset for both Epstein and Ghislaine Maxwell. "Ghislaine is manipulating him and he's too naïve to realize it," an insider told the Evening Standard in 2001. "She's his social fixer and he's going along with it — why? Because I think Epstein's fantastically impressed by it all."
Despite being on first-name terms, Andrew insisted to Newsnight that Epstein wasn't a close friend of his and that he didn't see the billionaire much when he traveled to the U.S. "It would be, to some extent, a stretch to say that as it were we were close friends," he claimed. "I mean we were friends because of other people and I had a lot of opportunity to go to the United States but I didn't have much time with him."
Prince Andrew and Epstein frequently jetted across the globe together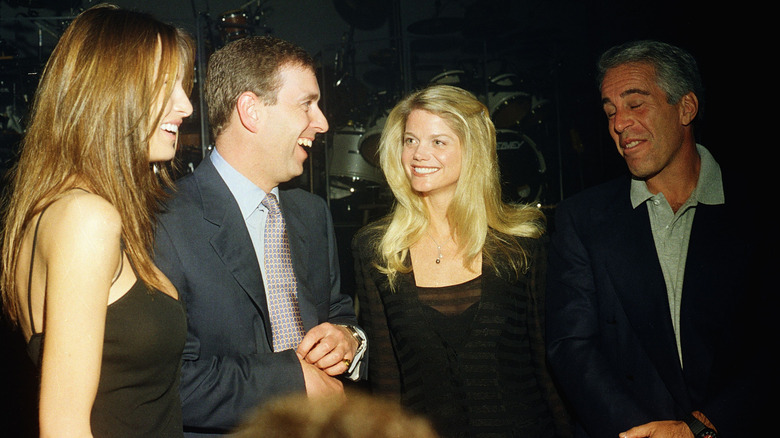 Davidoff Studios Photography/Getty Images
By 2000, the friendship between Prince Andrew and Jeffrey Epstein was in full swing. Over the course of a year, the pair had been on five vacations together, always with Ghislaine Maxwell in tow. Then there's the matter of Epstein's island, Little St James (dubbed "Pedophile Island"), which Andrew first visited in 1999 and would go on to frequent at least two more times. During his 1999 excursion to the notorious island, Andrew brought a female guest, whom he made a crude joke about. "One day he came back into the house in great mirth, claiming his guest had stepped on a sea urchin and he urinated on her foot as a remedy. 'The royal member has done its duty,' he chuckled," Cathy Alexander, who worked on the island, told the Daily Mail. 
Some have suggested that the trio became a throuple of sorts, as Andrew was rarely spotted without Epstein, who in turn was never seen without Maxwell. Indeed, a 2002 New York Magazine profile noted that Andrew was a staple of Epstein's inner circle.
However, Andrew refuted this in his chat with Newsnight, claiming that he only saw Epstein a couple of times a year. "If I was in the United States and doing things and if he wasn't there, he would say 'well, why don't you come and use my houses?'" he claimed. "So I said 'that's very kind, thank you very much indeed.'"
Friends were concerned about the prince's relationship with Epstein from the outset
Uk Press/Getty Images
As the pair's friendship blossomed in 2000, Prince Andrew's ex-wife, Sarah Ferguson, was reportedly unhappy that he was spending so much time with Jeffrey Epstein. Meanwhile, his two young daughters, Princesses Beatrice and Eugenie, were confused as to why the billionaire had become such a prominent fixture of his life.
At the time, sources argued that Andrew was too naïve to realize what he was getting himself into. "Andrew's a very poor judge of character, easily impressed," a friend told the Evening Standard. "He's gone from this couch potato to man about town, with nothing better to do than go from one holiday to the next." It's also been suggested that Andrew was suffering from a midlife crisis, the catalyst for his unusual dalliance with the financier. "He's spiralling out of control," the source added. "He's even started dressing like a 25-year-old in jeans and blazer."
Conversely, some insiders have argued that Andrew remained friends with Epstein (despite disapproval from the place) due to arrogance. "Andrew has a stubborn streak. He does stupid things out of hubris, to show that he can do them," a source told Vanity Fair in 2011. "If he likes someone, he'll ignore the truth about that person. And that goes both for Jeffrey and Sarah." Such behavior was reportedly exacerbated by the fact that Andrew was Queen Elizabeth II's favorite child, who, in her eyes, could apparently do no wrong.
Prince Andrew attended lavish parties hosted by the billionaire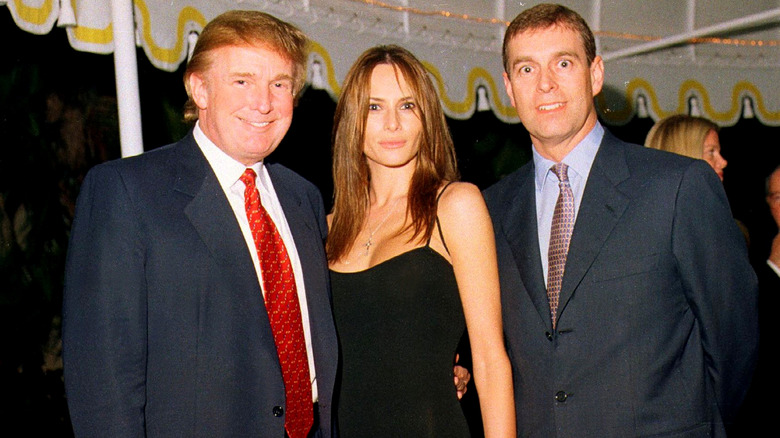 Davidoff Studios Photography/Getty Images
Soon enough, Prince Andrew got swept up by the excesses of Jeffrey Epstein's lavish lifestyle. In May 2000, he went on vacation to Florida with Epstein and Ghislaine Maxwell, where he became a regular of the Crowbar nightclub and reportedly began spending money like water. He was later photographed in numerous other compromising situations, including getting cozy with topless models and sweating excessively at a nightclub (despite the prince's assertion that he can't sweat due to a war injury). In 2003, a young woman who was working for Ghislaine Maxwell told Vanity Fair that Andrew was present at questionable parties hosted by Epstein. One such party featured numerous young Russian models who were dressed in eyebrow-raising attire. "Some of the guests were horrified," the woman recalled.
These antics led to embarrassment for the royal family, with Andrew being dubbed the "party prince." "[He] doesn't give a damn about what anyone else thinks anymore, just what pleases him," an insider told the Evening Standard. "He is not listening to reason."
However, Andrew insisted to Newsnight that he didn't have a penchant for partying, despite his frequent dalliances with Epstein. "I never have really partied," he claimed. "I was single for quite a long time in the early 80s but then after I got married I was very happy and I've never really felt the need to go and party and certainly going to Jeffrey's was not about partying, absolutely not."
Prince Andrew's ex-wife accepted a loan from Epstein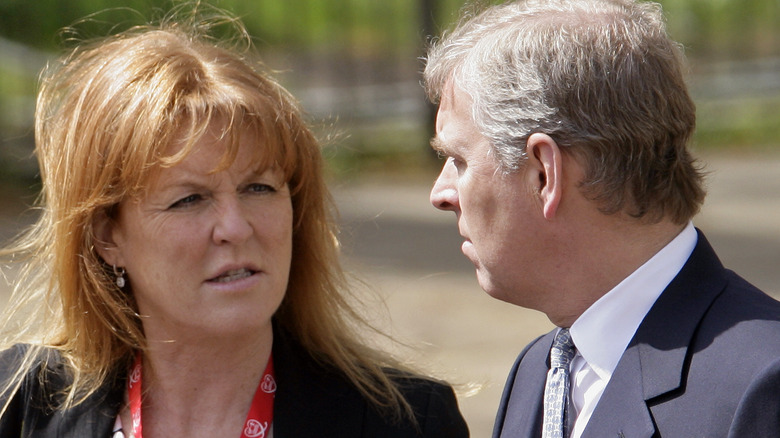 Max Mumby/indigo/Getty Images
The friendship between Prince Andrew and Jeffrey Epstein was curious, to say the least. Though there has been much speculation as to what the prince saw in the shady conman, some have claimed that his motives for striking up a friendship with Epstein were money — or lack thereof.
Specifically, Andrew's ex-wife, Sarah Ferguson, was severely in debt. The duchess' money woes have long gained tabloid notoriety; by 2010, she was over $2 million in debt and facing bankruptcy. Accordingly, she accepted a substantial loan from Epstein. "The major reason Andrew hung out with Jeffrey was to get money for Sarah Ferguson," an insider told Vanity Fair in 2011. "Andrew feels responsible for Sarah. There have been newspaper reports that Sarah got £15,000 [$24,500] from Jeffrey, but I think that Sarah has actually received hundreds of thousands of dollars from him."
In an interview with the Evening Standard, Ferguson expressed penitence for accepting the loan but also admitted that Epstein's financial offering was of great benefit to her, as she was debt-free for the first time in her life. "It allows me to go forward to do what I do, being a good mother, a philanthropist for children and also an author of children's books," she said. "I cannot state more strongly that I know a terrible, terrible error of judgment was made, my having anything do with Jeffrey Epstein. What he did was wrong and for which he was rightly jailed."
Prince Andrew acted as a go-between in Epstein and Ghislaine Maxwell's relationship when the financier refused to marry her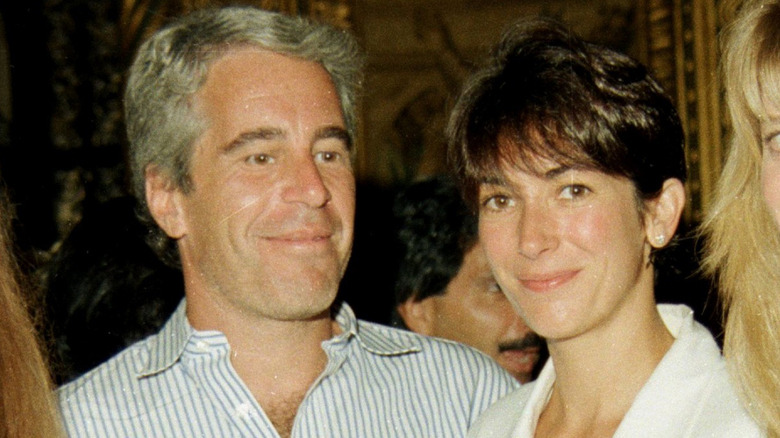 Davidoff Studios Photography/Getty Images
There remains much mystery surrounding Jeffrey Epstein and Ghislaine Maxwell's relationship. According to a 2002 New York Magazine profile, the pair dated on and off, but Epstein remained a bachelor. "It's a mysterious relationship that they have," journalist David Patrick Columbia told the outlet. "In one way, they are soul mates, yet they are hardly companions anymore. It's a nice conventional relationship, where they serve each other's purposes."
In 2001, around the same time Prince Andrew became involved with Epstein, Maxwell was reportedly desperate for the billionaire to marry her. Subsequently, sources told The Scotsman that she used Andrew as an intermediary between herself and Epstein, hoping that the royal could convince his pal to propose to her, to no avail. There are even unverified claims that Andrew had sex with Maxwell in 2001, with the latter supposedly bragging about the encounter.
As such, some insiders have argued that Andrew was a hapless pawn in the duo's bizarre relationship, unaware that he was being manipulated by both parties. "She is able to entrance anyone she chooses and Epstein can pay for anything anyone wants," a source told the Evening Standard. "She is very manipulative, and winds people round her little finger. The whole Andrew thing is probably being done for Epstein. Epstein will not marry her and it is incredibly likely she's doing it to keep in with him."
Prince Andrew continued seeing Epstein despite his criminal convictions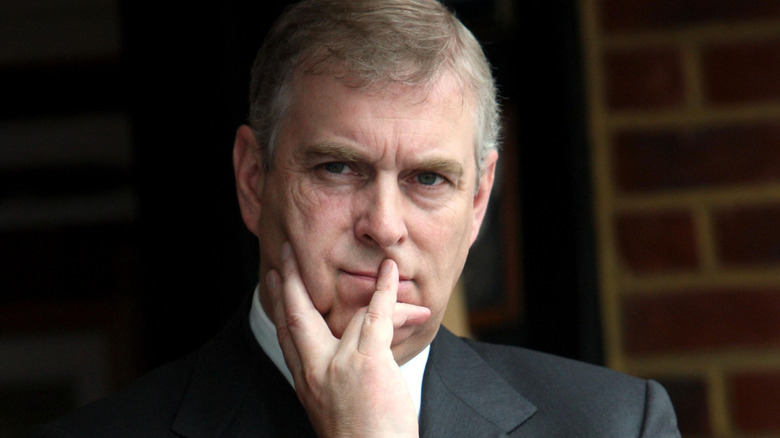 Wpa Pool/Getty Images
In 2010, Prince Andrew was photographed walking with Jeffrey Epstein through Central Park. At this point, there was no doubt about Epstein's pedophilia, with the financier having been convicted of soliciting a minor in 2008. He was sentenced to 18 months in jail. Andrew went to stay at Epstein's New York home shortly after his release and was guest of honor at a dinner party hosted by the sex offender.
When asked by Newsnight why he continued his friendship with Epstein despite his criminal convictions, Andrew claimed that he had to break up with Epstein in person, as opposed to over the phone, even if that meant flying to New York to stay at his home. "It was definitely the wrong thing to do," he admitted. "But at the time I felt it was the honourable and right thing to do and I admit fully that my judgement was probably coloured by my tendency to be too honourable but that's just the way it is."
This admission falls in line with what insiders have said regarding the duke's decision to continue seeing Epstein. "After Jeffrey was convicted, I phoned Andrew and told him, 'You cannot have a relationship with Jeffrey. You can't do these things,'" an insider told Vanity Fair in 2011. "And he said, 'Stop giving me a hard time. You're such a puritan ... Leave me alone. Jeffrey's my friend. Being loyal to your friends is a virtue.'"
One of Epstein's victims alleged that Prince Andrew abused her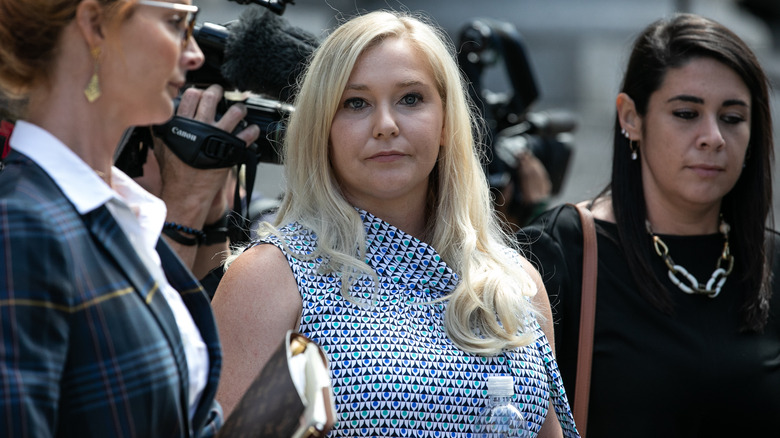 Bloomberg/Getty Images
Juan Alessi, who worked for Jeffrey Epstein, has claimed that Prince Andrew was present during parties that prominently featured naked underage girls. It was during one of these parties that Prince Andrew first met sex trafficking victim Virginia Giuffre, who accused the prince of sexually abusing her when she was 17. According to Giuffre, Epstein trafficked her to London in 2001, where she was allegedly first assaulted by Andrew.
Speaking to the BBC, Giuffre claimed that she was abused by the prince on two subsequent occasions — in New York and on Epstein's private island. During their second meeting, Epstein gifted his royal friend an unusual present: a leather puppet in his likeness from the British TV series "Spitting Image." In her unpublished book (via the Mirror), Giuffre alleged that Andrew used the puppet to grope her breast. "Ghislaine wanted to take a picture of the bizarre scene and even got Johanna (Sjoberg), another one of Jeffrey's so-called personal assistants to come sit on his other knee for the snapshot," she alleged. Sjoberg has also accused Andrew of groping her.
Epstein died by suicide in jail in 2019, meaning that Giuffre and his other victims would never get to see him face prosecution. However, Giuffre did pursue legal action against Andrew, filing a civil suit in 2021. The following year, the case was settled out of court for an undisclosed amount. Andrew has always maintained his innocence throughout the proceedings.
In a disastrous interview, Prince Andrew attempted to explain his relationship with Epstein
Prince Andrew's 2019 appearance on the BBC's Newsnight is arguably the interview to end all interviews. Although the sit-down was an opportunity for him to explain his friendship with Jeffrey Epstein, he ended up raising more questions than answers. He disputed Virginia Giuffre's recollection of events, claiming that the photograph of himself, Giuffre, and Ghislaine Maxwell posing may be fake. "It is a photograph of a photograph of a photograph," he said. "So it's very difficult to be able to prove it but I don't remember that photograph ever being taken."
He also argued that Giuffre's claims that he sweated all over her were false since he supposedly has a medical condition in which he is unable to sweat (due to an injury during the Falklands War). Additionally, he argued that he was actually at an oddly specific pizza restaurant on the night that the alleged abuse took place.
But in her aforementioned interview with the BBC (via Time), Giuffre in turn accused Andrew of lying. Namely, she called out his now infamous assertion that he is incapable of sweating. "It was raining basically," she said. "Everywhere I was just like grossed out from it but I knew I had to keep him happy because that's what Jeffrey [Epstein] and Ghislaine [Maxwell] would have expected from me." Indeed, Andrew has been photographed sweating profusely on multiple occasions, leading to speculation that he lied to the BBC.
The repercussions of Prince Andrew's friendship with Jeffrey Epstein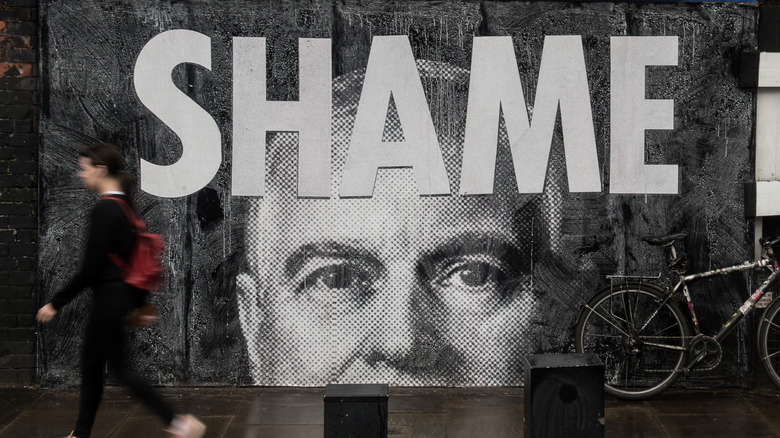 Guy Smallman/Getty Images
Prince Andrew has effectively become a pariah in the Windsor family. Following his association with Jeffrey Epstein and disastrous Newsnight appearance, he made the decision to step down from royal duties in 2019. In a statement (via The Guardian), he expressed regret over his friendship with Epstein, though stopped short of acknowledging any impropriety. "I continue to unequivocally regret my ill-judged association with Jeffrey Epstein," he said. "His suicide has left many unanswered questions, particularly for his victims, and I deeply sympathise with everyone who has been affected and wants some form of closure. I can only hope that, in time, they will be able to rebuild their lives."
Soon after, he was stripped of his "HRH" honorific and military titles. Seeing as Andrew was always Queen Elizabeth II's favorite son, the situation was particularly difficult for Her Majesty. "It must have been incredibly hard for the queen ... but she recognized that there was a huge amount of damage being done to the monarchy," royal expert Katie Nicholl told Entertainment Tonight. "He had no option, the queen had no option, but for Andrew to step back from royal duties."
In December 2022, King Charles III evicted Andrew from Buckingham Palace and he is also no longer entitled to private security, which had cost taxpayers millions of dollars a year. "The King has made it clear," an insider told The Sun. "He isn't a working royal. He's on his own."
If you or someone you know may be the victim of child abuse, please contact the Childhelp National Child Abuse Hotline at 1-800-4-A-Child (1-800-422-4453) or contact their live chat services.
If you or anyone you know has been a victim of sexual assault, help is available. Visit the Rape, Abuse & Incest National Network website or contact RAINN's National Helpline at 1-800-656-HOPE (4673).