How Tim Scott's Love Life Became A Topic Of Debate For The 2024 Presidential Election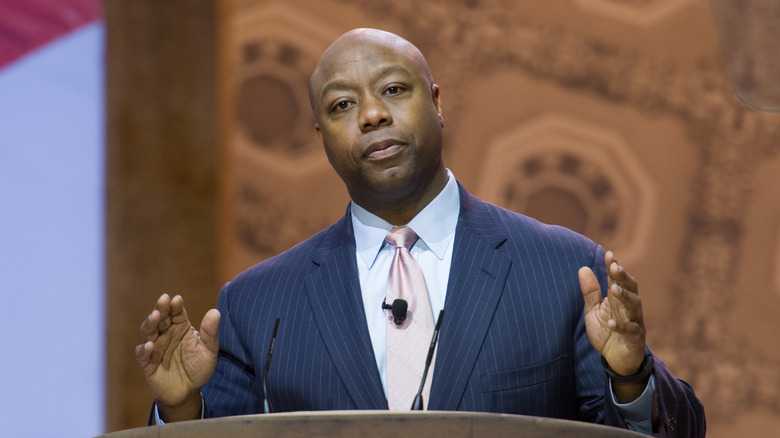 Christopher Halloran/Shutterstock
As the 2024 presidential election heats up, aspiring politicians across the country are revving up ahead of the primary elections. The first GOP primary debate of election season took place in August 2023, setting an uneasy tone for the upcoming race. The debate was fronted by presidential hopefuls Chris Christie, Mike Pence, Ron DeSantis, Doug Burgum, Vivek Ramaswamy, Tim Scott, and Nikki Haley. Several viral moments came from the night, such as the ripped-off Barack Obama quote Ramaswamy used during his opening speech.
Famously missing from the debate was former president Donald Trump, who faces four federal indictments in relation to overthrowing the 2020 election. But these charges haven't stopped his campaign plans. Even if Trump were to face prison time, the charges legally couldn't stop him from running again. Despite Trump's lead in the Republican polls, his running mates are not backing down. In the world of politics, controversy is fuel –– even when the "scandal" isn't really a scandal at all.
Such is the case for Scott, a South Carolina senator and GOP candidate whose love life has been called into question. Of course, every president is expected to have a first lady by his side. As a 57-year-old bachelor, Scott's lack of a wife was deemed concerning for conservative voters and donors. Traditional values such as marriage and children are highly valued by Scott's voter demographic, but his past romantic partners remain a mystery.
Tim Scott once used his virginity as a political platform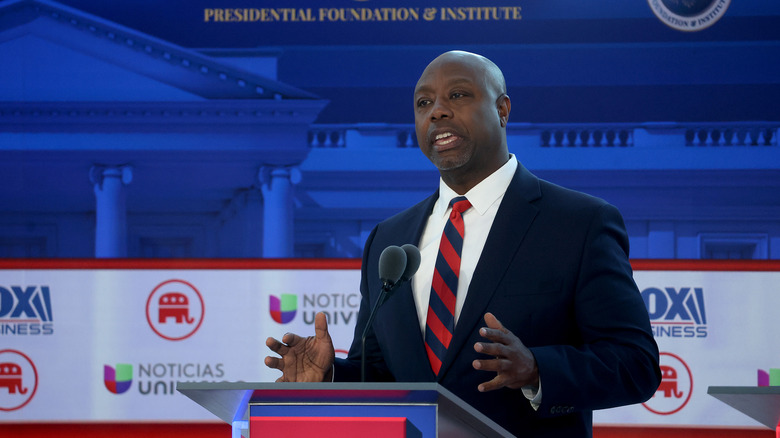 Justin Sullivan/Getty Images
There's nothing new about the personal life of politicians being of public interest. But when it comes to the highest office in the nation, those interests are heightened. Senator Tim Scott has been open about his personal life before — specifically, his sexual relationships. During his early political runs in the '90s, Scott proudly claimed he was a virgin at age thirty.
This candor gained Scott a co-sign from the National Abstinence Education Association, which he worked with throughout his career. He eventually worked his way up from city councilman in South Carolina to state Senator, while maintaining a conservative platform built upon traditional Evangelical values. Once in the Senate, Scott supported the Abstinence Education Reallocation Act in 2013 –– which didn't pass.
Since then, Scott has remained dedicated to passing conservative legislation. He agrees with many of his fellow Republican nominees on matters such as passing anti-trans education laws or stricter abortion regulations. Now that he is a candidate for the 2024 election, the South Carolina congressman has doubled down on right-wing policies to appeal to voters and donors alike. But one thing Scott just can't seem to get past is concerns about his relationship status.
Critics speculate that Tim Scott's girlfriend might not exist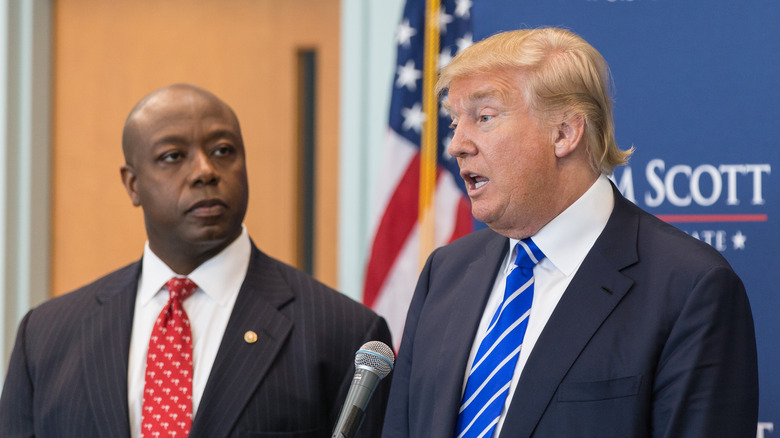 Crush Rush/Shutterstock
GOP presidential nominee Tim Scott has had to defend his relationship status and fight off rumors about his sexuality. The senator confirmed that he has a girlfriend, and made it clear he is not gay. However, Scott has also condemned the endless questions about his love life as unimportant in the face of his campaign. "...To suggest that somehow being married or not married is going to be the determining factor of whether you're a good president or not — it sounds like we're living in 1963 and not 2023," he told Axios.
However, opponents think the situation is fishy. In 2017, Scott claimed that he had been engaged once, which a close friend couldn't confirm (via Intelligencer). Fast forward to his current run for office –– his new girlfriend's identity has never been revealed or confirmed. After doing some digging, The Washington Post reporter Ben Terris said there was no proof of Scott's girlfriend existing. Even his friends were in the dark about the new relationship. Only his campaign manager said that she had met the mystery woman.
Scott rebutted these attacks on his single status as a cover for the obvious: he is the only Black Republican candidate. "It's like a different form of discrimination or bias," he told The Washington Post. "You can't say I'm Black, because that would be terrible, so find something else that you can attack."