The Worst Dressed Stars At The 2023 People's Choice Country Awards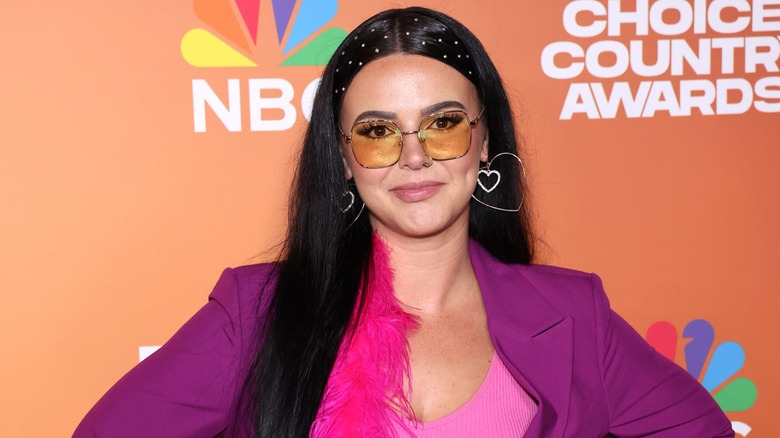 Terry Wyatt/Getty Images
As far as we're concerned, there's no such thing as too many red carpets. It seems that the world of country music is in agreement on that since they've added another award show to their annual lineup. The first-ever People's Choice Country Awards made its debut at the Grand Ole Opry this year, and country music's favorite stars were all in attendance. It's a rare opportunity to attend the debut of an awards show, and "with great power comes great responsibility." No two awards shows have exactly the same attire. Consequently, the ensemble each individual sported to the first People's Choice Country Awards helped to set the tone of this red carpet for years to come. And, boy did they set one interesting tone. 
This red carpet was truly all over the place, and it made for one seriously fun night of fashion. Some stars looked amazing, and others made some very bizarre choices, but across the board, these celebs stayed away from playing it safe. If you love a seriously stacked Worst Dressed list, then you're going to love the red carpet from the 2023 People's Choice Country Awards. 
Little Big Town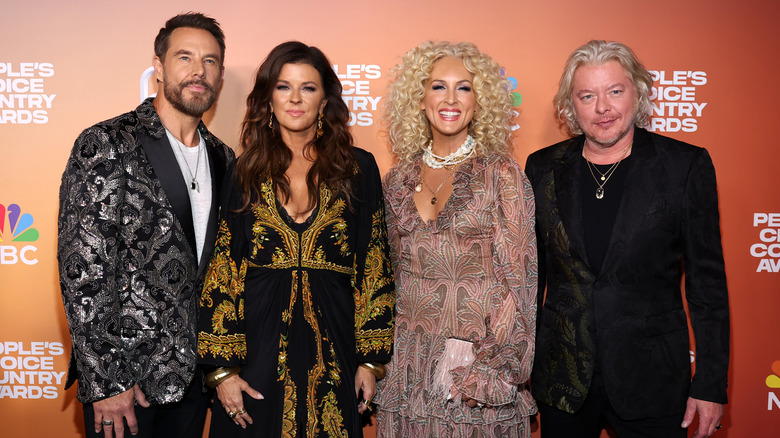 Terry Wyatt/Getty Images
Just because they make up Little Big Town doesn't mean that Jimi Westbrook, Karen Fairchild, Kimberly Schlapman, and Phillip Sweet have to coordinate with each other everywhere they go. When they hit the People's Choice Country Awards red carpet together, however, coordinating with their bandmates was key. It actually seems like they made an attempt to coordinate, as they all chose big, intricate prints, but they aren't working together, and for the most part, they aren't working alone, either. This group is clashing, which isn't what you want from the show opener. 
Hannah Dasher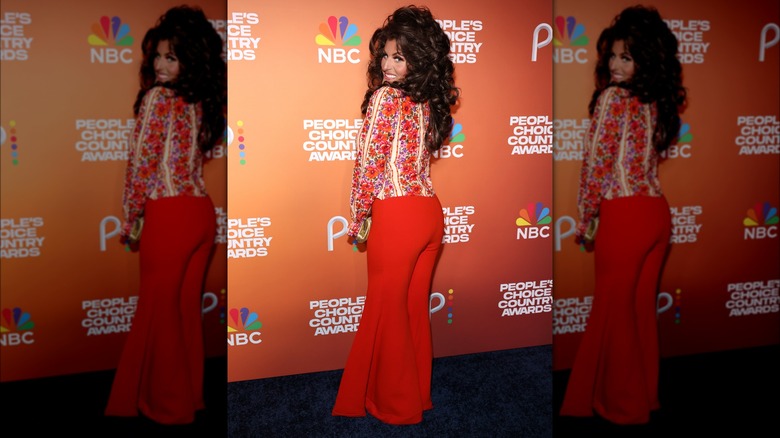 Terry Wyatt/Getty Images
Hannah Dasher always seems to take the saying "the higher the hair, the closer to God" very seriously. As a result, we can't say that we're shocked that she hit the red carpet with such overpowering hair. The overpowering outfit, however, did manage to surprise us. The bright orange hue just might be her color, but with the match-y match-y top and the overall strange fit of both pieces, this whole outfit just isn't working. Not to mention, we think it's just a little too casual for the occasion. 
Drew McIntyre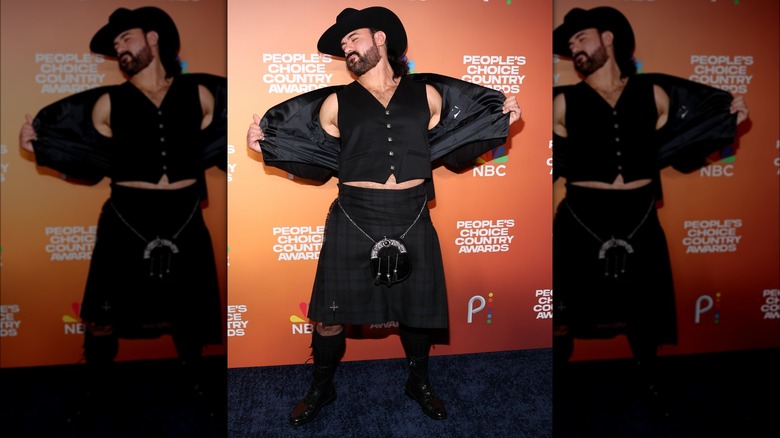 Terry Wyatt/Getty Images
We have a feeling that Drew McIntyre won't be surprised to find himself on the Worst Dressed list tonight, considering the fact that he seemed to, in some way, be joking about his ensemble. Still, despite his silly red carpet poses, we still don't get the joke that this outfit seems to be making. The vest, the jacket, the kilt, the knee-high boots, the cowboy hat... he's wearing so many outfits all at once, and not one of them makes much sense. Next time, he needs to pick a theme and stick to it. 
Tony Evans Jr.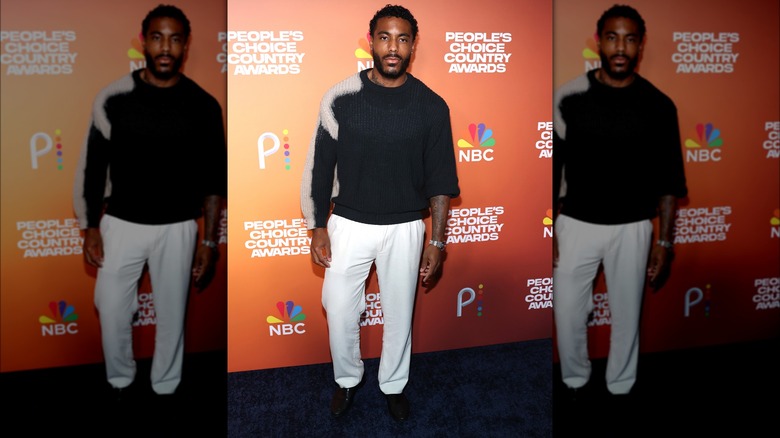 Terry Wyatt/Getty Images
In Tony Evans Jr.'s defense, he has far less of a place on the Worst Dressed list than some of his peers. Still, this outfit is just a little too "blah" for the red carpet. The "blah"-ness of these loose-fitting white pants and black sweater with strangely asymmetrical sleeves, alone, may not have been enough to land him on the list. However, the kicker was the odd white pattern on one of his sleeves that gives the look of totally misplaced faux fur. 
Caitlynne Curtis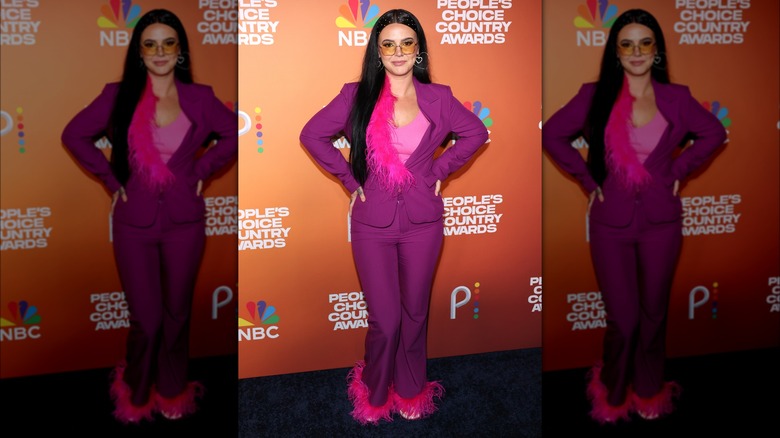 Terry Wyatt/Getty Images
There's no time like the present to channel Barbie-core. Caitlynne Curtis has made it clear that she's in her Barbie girl era, but at what cost?! Plenty of stars hit this red carpet hoping to take home an award, but it seems that Curtis was after the Most Baffling Ensemble award. The Barney-colored pantsuit, pink and purple color combo, and over-the-top hair jewelry, earrings, and Y2K sunglasses may have all tied for first place when it comes to the weirdest part of this 'fit. Since the marabou feather boa trim is there, though, that takes the cake. 
Chase Matthew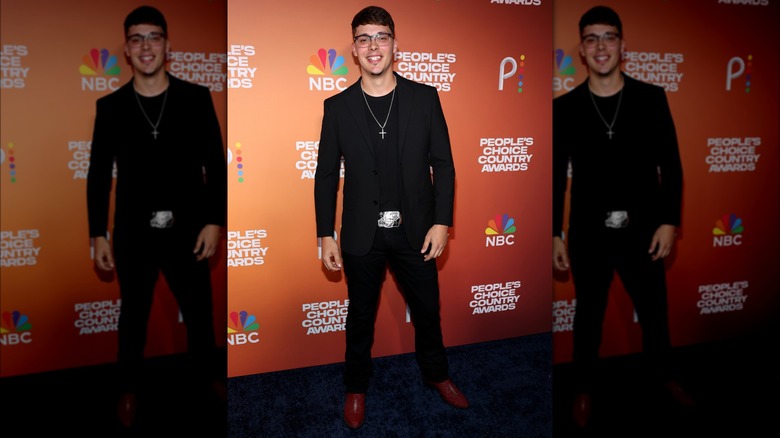 Terry Wyatt/Getty Images
Accessories can make or break an outfit. In Chase Matthew's case, this was a "break" situation. Without that necklace and belt buckle, this sleek, all-black outfit definitely wouldn't have landed him on the Worst Dressed list. In fact, it would have been a great look for the occasion. Still, these jewelry pieces are so bright and eye-catching that they completely distract from the rest of the outfit and who's wearing it. It's easy to see why adding jewelry may feel like a great way to add pizzazz to a simple look, but sometimes less really is more. 
Nikki Garcia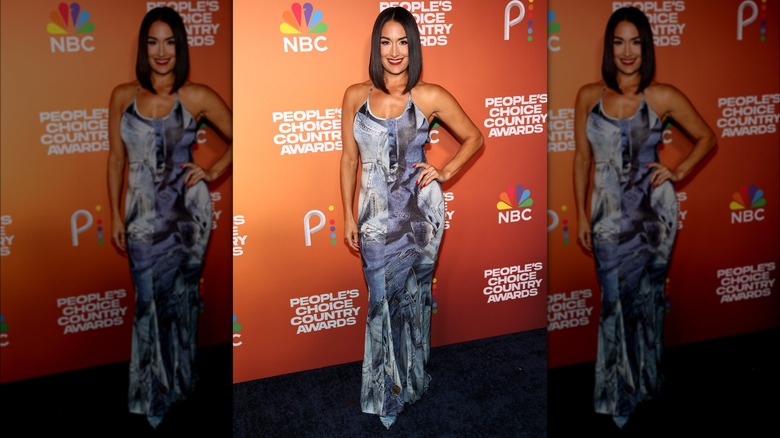 Terry Wyatt/Getty Images
It appears that Nikki Garcia has once again fallen into the sale rack at the Gap on her way to the red carpet. We jest, but she is, in fact, wearing the worst iteration of the phrase "jean dress" that we could imagine. Worst case scenario, Garcia thought that this was a good look. Best case scenario, she was paying heavily veiled homage to the great Justin Timberlake and Britney Spears denim red carpet look of 2001. Either way, we encourage Garcia to choose between jeans or a dress next time instead of trying to do both. 
Lainey Wilson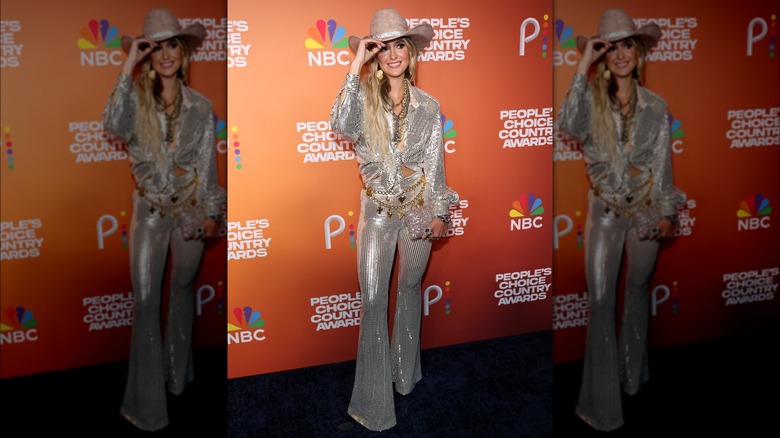 Terry Wyatt/Getty Images
Lainey Wilson came to the People's Choice Country Awards to take home some awards, so we understand why she'd want to dress like one. She certainly succeeded in scoring some wins, but her outfit wasn't one of them. Instead of a People's Choice Country award, Wilson looks like a disco ball trophy. This outfit is just plain complicated, and it would have been nicer to see her rocking a cool look without the look wearing her. With way fewer accessories and a sleeker hairstyle, this set may have worked, but as is, it's just plain bad. 
Lady A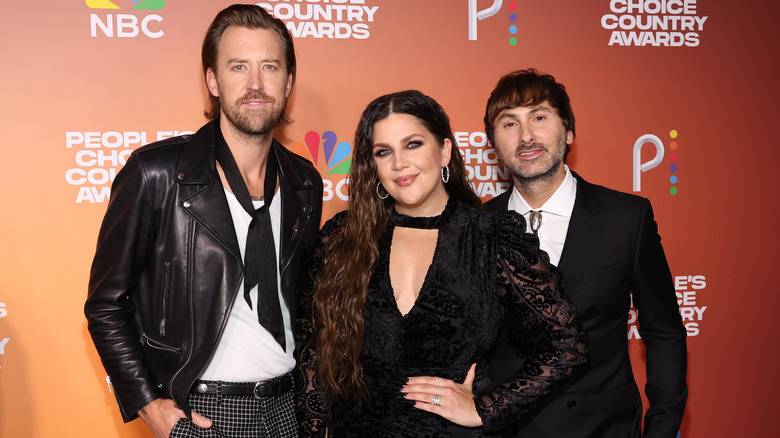 Terry Wyatt/Getty Images
Individually, we may have given the members of Lady A a pass. Together, though, they look like they raided a costume closet and put everything on. Hillary Scott is overpowered by her intricate, lacy dress and heavy hair and makeup. Charles Kelley looks like he just finished a production of "Grease," and Dave Haywood's look is just plain boring. If these three can better coordinate with each other and keep things a bit lighter and more fun, Lady A will have a much better red carpet moment next time around. 
Wynonna Judd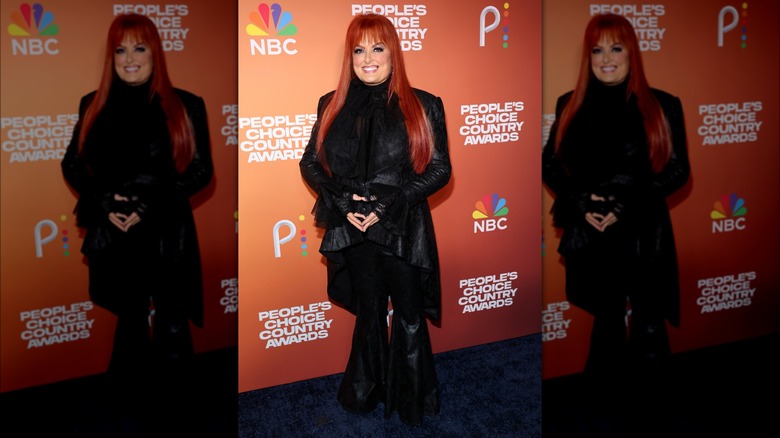 Terry Wyatt/Getty Images
In her defense, it's nearly October. Still, Wynonna Judd needed a quick reminder before she left the house that Halloween isn't for another month, so she needs to hold off before debuting her Dracula costume. There's nothing quite as classic as an all-black 'fit. Still, this version of an all-black ensemble is anything but simple and sleek. It has way too much detail, and the strange silhouette and the head-to-toe leather are too heavy and overwhelming for Judd. 
Priscilla Block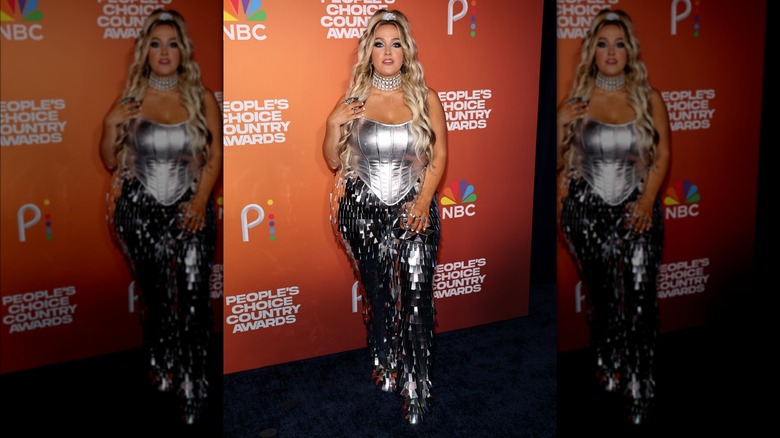 Terry Wyatt/Getty Images
We've heard enough of Priscilla Block's songs to know that she definitely has a heart, so why oh why is she dressed like the Tin Man? There is way too much silver in this ensemble, but it's only because of the pieces she chose to pair together. This corset top would have looked cool with some black pants or a skirt, and the silvery pants could have worked with a simpler top in a non-metallic shade. Together, though, it's a definite silver overload. 
Chapel Hart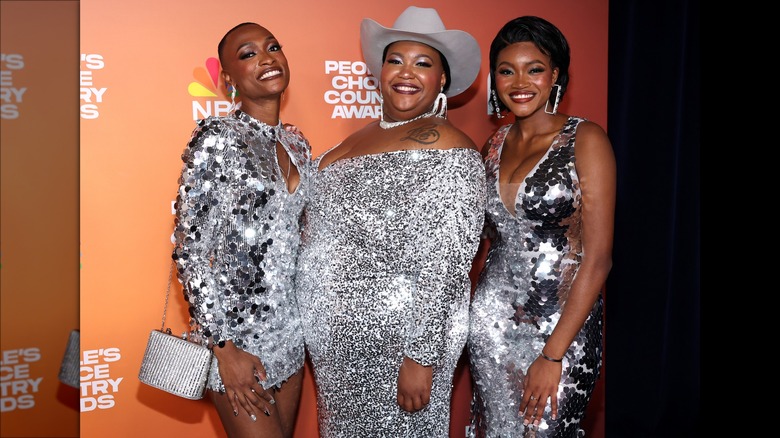 Terry Wyatt/Getty Images
Speaking of "too much silver," it seems that this was a trend this year... a very, very bad trend. Sure, we appreciate that Chapel Hart was well-coordinated, unlike some other groups on the red carpet. Still, Trea Swindle, Danica Hart, and Devynn Hart's head-to-toe silver outfits were so shiny that these beauties weren't able to shine, themselves. Each dress is way too much on its own, but when stuck together and styled with huge jewelry, purses, and cowboy hats –– all metallic –– it's just an explosion of extra. 
Meghan Patrick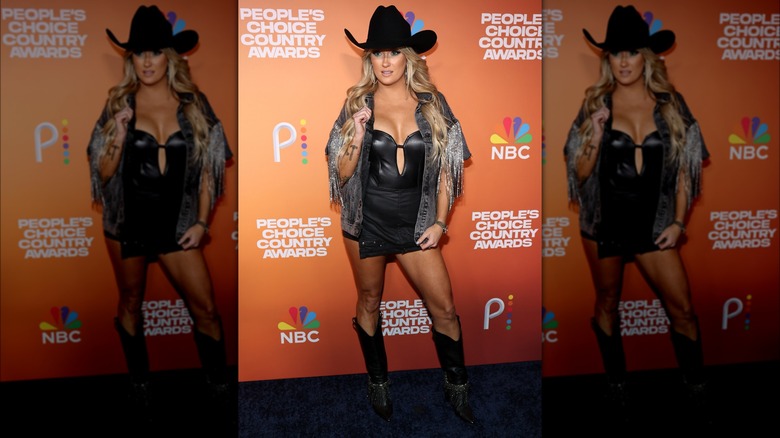 Terry Wyatt/Getty Images
With legs like Meghan Patrick's, who wouldn't want to show them off? With a dress this itty bitty, we can't believe that this outfit still managed to have way too much going on. Between its short skirt, complicated neckline, and skintight leather fabric, this dress just doesn't work for the occasion on its own. Then, add a glitzy denim jacket, cowboy boots, and a cowboy hat, and this 'fit is too costume-y for the red carpet. Patrick can get another wear out of this 'fit on Halloween and sport something a little less cowgirl-chic at next year's awards.